Writing fiction has many challenging elements, with character development being at the top of the list for most. You need to have characters that are well rounded, complex, and believable. This is essential to know how to write a book.
Even though they are made up, they are still supposed to be a person in the mind of your readers. To make a story impactful and believable – regardless of genre – you need to have a dynamic and ever-evolving protagonist. This is known as a round character.
Knowing how to write a round character will help you learn how to become a better writer, as well as learn how to write a novel.
Origins of the Round Character
The concept of a "round character" originated from a British novelist named E.M. Forster. In addition to novels, he also wrote essays and was both a social and literary critic. The idea of the round character was first introduced in his 1927 book titled Aspects of the Novel.
Here he goes over the aspects of a round character as well as the direct opposite – the flat character. He is most well known for his novels Howard's End (1910) and A Passage to India (1924).
Characteristics of a Round Character
When creating a round character, you can try thinking about people you know well. Your friends, family, co-workers. Think about how deep and constantly evolving their views and personalities are.
[table id=17 /]
This is your basis for a round character – realistically complicated people.
A Round Character has a Complex Personality
A round character is one that is completely fleshed out. This requires careful planning on the part of the writer. You must comb through every aspect of their lives, even parts of them that won't be included in your story.
They will have in-depth feelings. They will be passionate about things and be too emotional at times. This character has strong opinions that are crafted and developed from a variety of circumstances and life experiences.
Create a rich and complete history for this character. It's true that some of the information might never leave your notes. However, knowing everything about their background will help you as their creator make sure they remain true to who they are as a complex, believable person.
Creating dynamic personalities is part of the process of learning how to write a book.
A Round Character Usually Changes
In addition to a rich, full, and compelling personality, your round character will probably go through a significant and life-altering transformation. This will happen over the course of the story, and the original personality you gave them will change.
This is another reason it is important to have the character fully fleshed out with complete history. You want to make sure they react appropriately to all situations and changes.
Conflict is at the heart of every story, and this is where the change will happen. Your character will experience the main conflict and will change as a result of it.
However, it is important to keep in mind that it is usually both a slow change and a major change.
By definition, a round character is one that is complex and lifelike. It is not a requirement that the character goes through significant change to be considered round, but it is common. Growth and change is a good way to show the personality and depth of a character.
The way they handle and come out of problems will say a lot about them.
The "main conflict" in your story is something that should last for most of the novel, and include an array of contradictory situations. It's through these multiple experiences that the character will slowly grow and evolve. It is never a sudden, overnight thing.
A Round Character Creates Believability
Your novel will be nothing if the readers can't believe it. This doesn't mean they are supposed to believe it happened – they know they are reading fiction. What this means, is that things need to happen in a way that makes sense.
Even the most magical and mystical fantasy novels remain grounded in a logical progression. For example, if you have your characters jumping around from planet to planet with no explanation, your readers will feel lost.
In the real world, no one travels to multiple planets in a short time span. In your fantasy novel, however, they absolutely can!
But, you need to show your readers how. Do they teleport? Do they travel in a lightspeed space ship? Even in a physically unrealistic situation such as this, readers need to be able to follow the events.
Similarly, no one is going to enjoy a story about a perfect character with no flaws and no depth. They won't like the character and won't care to see what happens to them. Hence, they won't read your book or recommend it to others.
A flawed character is more realistic. A character who feels things deeply and reacts to situations will be interesting. As your character reacts to the things and situations around them, your readers will relate.
They will begin to picture themselves in the shoes of your character and wonder what they would do. This stimulates their imagination and evokes emotions of their own.
Sad situations that make your character sad, will make your readers sad! A tough situation that ultimately grows your character's strength, will make your readers proud of them.
Showing Vs. Telling
So, how do you go about showing your readers what's going on, rather than just telling them everything? Take a look at the examples below.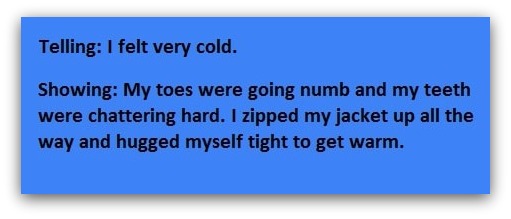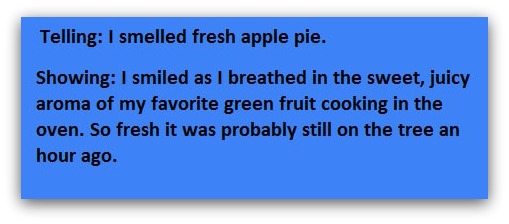 Showing better connects your reader to the situation you're writing about. It creates a mental picture that just telling them information can't.
For the spaceship example from earlier, it might look something like this:
Telling: "They beamed onto the spaceship."
Showing: "The giant, circular spacecraft came hurtling towards the earth at record speed. A bright ray of light came flooding from the bottom and swallowed each of them whole. They all flailed as it pulled them onto the lower deck and landed them in a heap on the floor. "
The second version is much more effective and interesting. This gives your reader something specific to imagine rather than filling in the details themselves.
A Round Character is Surprising
In the end, a good round character will surprise your readers, but in a good way – the most convincing way possible. Their transformation will be complete and your readers will have never seen it coming.
Your character has grown and matured. They have become a better person as a result of their circumstances, and your reader is pleasantly surprised.
On the other hand, maybe they didn't react well to their situation. Perhaps they have become bitter and angry. Maybe they walk around with a dark cloud over their heads, where they were once happy and care-free.
Not all stories need a happy ending, but if your readers are ultimately surprised by the outcome of your character, then you have done your job.
The Main Character is a Round Character
As a general rule, your protagonist should always be a round character. Any additional major players in your story should also be made round and dynamic. Keeping this in mind is key when learning how to become a better writer.
This is what keeps the story interesting, believable, and moving. If your main character is not well-rounded throughout and changed by the end, chances are, your story won't be at all realistic.
Your readers won't take it seriously. They will grow bored and lose interest before they even reach the climax.
All Rules Have Exceptions
You probably saw this one coming a mile away – it is true that all rules were made to be broken eventually! Learning how to break rules sometimes will help you learn how to become a better writer.
Author Elmore Leonard has been very open about his rule-breaking habits: "If it sounds like writing, I rewrite it. Or, if proper usage gets in the way, it may have to go. I can't allow what we learned in English composition to disrupt the sound and rhythm of the narrative."
Some writing and grammar rules that are often broken:
Sentence structure. Authors will sometimes write a very short and technically incorrect sentence. This can add an effect or make a point.
Write what you know. This is relevant in some cases, but much of the time, this can be broken. Only ever writing what you know is terrible writing advice. It would make for some pretty boring science-fiction, for one thing.
Show don't tell. Generally speaking, this is a good rule. But, sometimes, a writer just needs to tell.
Avoid adverbs. Some people avoid adverbs like they are the plague. While it's true that you should be careful not to overuse them, they aren't your biggest enemy. If it enhances your sentence, use it.
These are just a few of the most commonly broken rules. Another one pertains to the round characters we speak of now. Most of the time, your main character should probably be round. This just makes sense.
Over time, however, there have been a small handful of successful novels with flat characters as the protagonist. It's unconventional and often not the case.
Two of the most famous examples of this both come from Charles Dickens.
Oliver Twist and David Copperfield are both flat protagonists. Both are characters with very few personal qualities and almost no motivation. They are used, abused, and thrown about by other people – they don't stand up for themselves.
Rather, what changes in these stories are the conditions and circumstances surrounding these characters. This is the only reason they work even though they are flat.
They remain successful and effective not because of a focus on the character. They are well-known and revered for their exploration of social and economical injustice. The characters might not interest readers, but this highly controversial subject matter will.
While guidelines and "rules" are in place for a reason, understanding that there is an exception to everything is important when learning how to write a novel.
Round Character Examples
Good examples of round characters exist in many forms of media and literature. From children's books to modern horror movies, round characters are adding depth to stories everywhere.
Study these examples as you learn how to write a novel:
Elizabeth Bennet
Ponyboy
Harry Potter
Anakin Skywalker
Hamlet
The Beast
The Grinch
Jasmine from Aladdin
Round Characters in the Classics
The classics will always be classic for a reason. Every year there are books that reach the peak of popularity. Transcending this are the books that will never go out of style.
We can look to these famous stories for perfect examples of a round character.
Pride and Prejudice
Elizebeth from Jane Austen's Pride and Prejudice is a round character. Readers learn a lot about her thoughts, feelings, and emotions.
We see her pride getting in the way of her feelings for Mr. Darcy, but we also see how she works through it.
The Outsiders
In The Outsiders by S. E. Hinton, we see a round character in Ponyboy. Ponyboy is part of the "greasers" but we see quickly that he is not typical.
His thoughts and feelings make him stand out from the rest. His complexity and unique perspective allow us to see the real problems that exist between the greasers and the socs.
Harry Potter
Harry Potter is an example of a round character that is developed over the course of many books. His feelings, personality, and history are slowly revealed.
As we learn more about his family situation, we see how much it affects him as a person. We get a full view of how his motivations and decisions are all shaped by both past and present circumstances.
We watch Harry go through so much over the course of the series, and we see how he changes through what happens. By the end of the series he has grown so much he is barely recognizable as the shy little boy in the closet under the stairs.
Star Wars
Star Wars has a very round and dynamic character in Anakin Skywalker/Darth Vader. The complexity and depth of his character allow us to understand his turn to the dark side, even though we know it's a bad choice. We also get to see him reconciled with his son before he dies.
Shakespeare
William Shakespeare's Hamlet is an excellent example of a round character. He is undoubtedly complex. Hamlet is knowledgable, intelligent, thoughtful. He is charming but makes rash decisions.
He doesn't act fast enough and this is his ultimate downfall. His personality contradicts itself, which can be said for many real people. He also encounters a lot of unique and contradictory situations, where his personality and motivations are truly revealed.
Round Characters in Disney
Disney has a way of making stories simple and easy to understand while remaining enjoyable for all. Children, teens, and adults all find themselves watching Disney at some point, whether they want to admit it or not.
Looking at some of Disney's main characters and their storylines can make round characters easier to define and understand.
Beauty and the Beast
The beast from Beauty and the Beast is a fantastic example. He is angry, bitter, and hidden away in his tower. After some time, we learn why he is what he is, and why he hides. He was cursed long ago.
This revelation also tells us more about his personality – arrogant, entitled, prideful. Throughout the story, we see that he is mean and horrible, but also damaged and depressed.
His personality has many layers. We see him soften as he gets to know Belle, and he ultimately changes by the end of the story.
The Grinch
The Grinch is another example of a round character, with a similar story to the beast. He is mean and hides from the town.
We eventually find out, though, that this is due to being bullied and outcasted by the town in his younger days. This reveals deeper levels of personality and character. Thanks to little Cindy Lou Who, we see him overcome his fears and disdain.
He comes to love Christmas and is reconciled with the town he has been hiding from for so long.
Aladdin
Jasmine from Aladdin is an example of a round character that is also static. This is not a common combination, especially in a main character.
She is a complex, and lifelike with multiple facets of personality – all of which is revealed to the audience. She has many qualities and we see her desires and motivation.
While all of this makes her round, she does not change throughout the story. She is a kind, compassionate, but stubborn character. She remains this way from beginning to end.
Make Use of Your Round Characters
Having a solid knowledge of different types of characters is necessary when writing a novel. Look back on some of your favorite books and movies.
Practice picking out the round characters, and look at what makes them round. Keep the qualities of a round character in mind when you are writing your own stories. Use their complexity and depth to further your plot.
When you understand how to write a round character, you are well on your way to knowing how to write a book.