Every company requires a knowledge management solution to centralize all company knowledge, data, and help documents. That's why knowledge base software solutions are a necessity today, especially for SaaS companies. 
The knowledge management software acts as the central repository of all company knowledge for both your customers and your employees. 
However, most companies have an internal knowledge base for their employees and an external knowledge base for their customers. 
In this article, we'll go over some of the best knowledge base software in the market today that can work internally and externally. 
Let's dive right in. 
6 Best Knowledge Base Software 
There are a lot of knowledge management solutions in the market today. That can make choosing the best knowledge management software for your company a complex task. 
Therefore, here are a few things to keep in mind when choosing the right knowledge base software for your organization. 
Consider whether you need internal knowledge bases, private knowledge bases, or external knowledge bases (or, all of them). 

If you need multiple knowledge bases, think about whether you need a single knowledge management tool or separate ones. For example, you can have a separate internal knowledge management solution for customer support agents and customers. 

Check if the knowledge base tool can display content within the app or will the users have to reroute to another page. 

Consider the total number of people who will be managing and updating the content. 

Check whether the knowledge base solution has customizability and templates. The easier it is to customize pages, the better. 

Any good online knowledge base requires a robust search function. Research around the search capabilities of the knowledge base tools. 

Consider the reporting functions of the knowledge management system. 
The points above should allow you to choose an intuitive knowledge base software for your organization. Keep in mind that your knowledge base system also has to integrate with other company systems. 
Moving on, the following are some of the best knowledge base software solutions you can choose from today. 
1. ProProfs Knowledge Base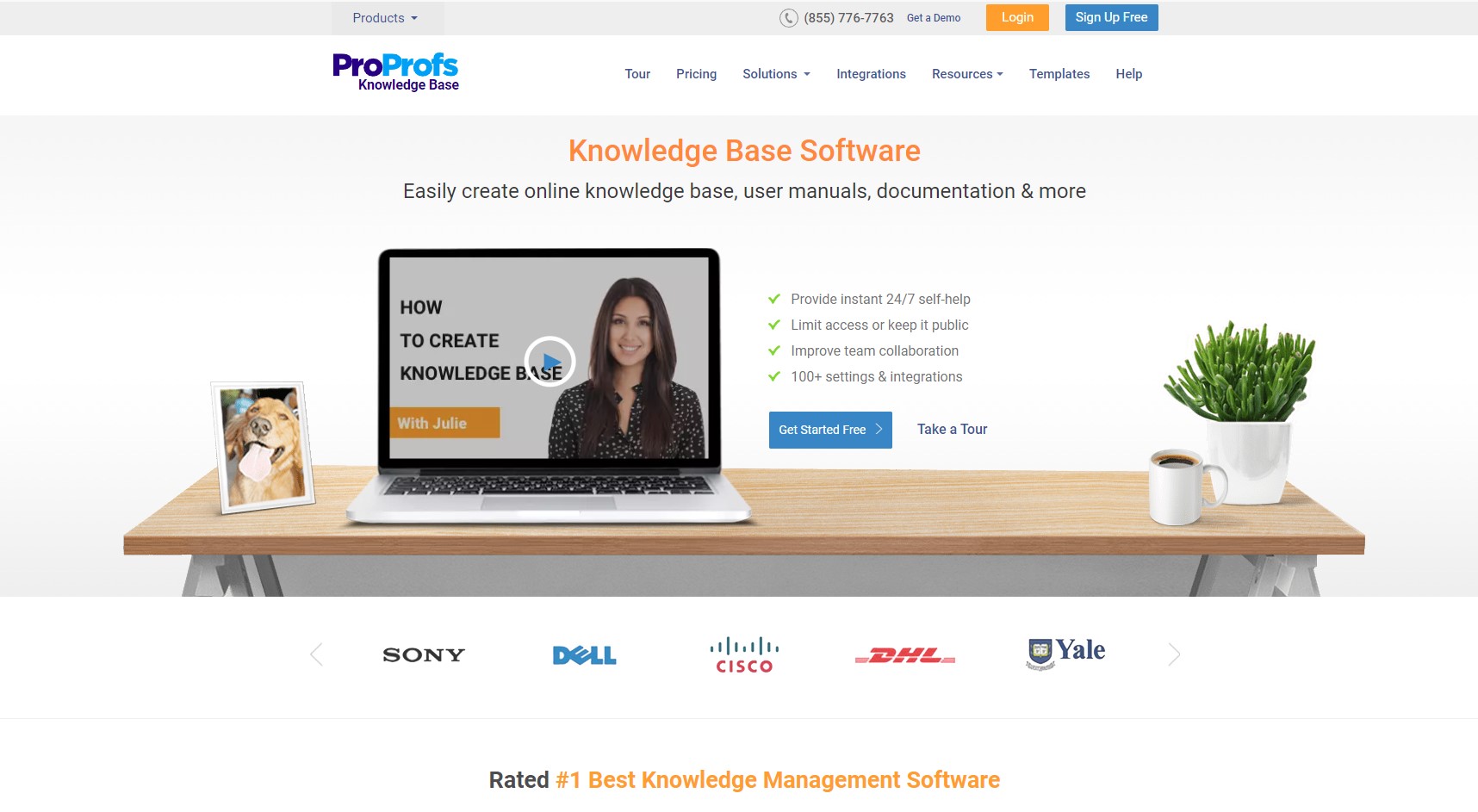 ProProfs knowledge base system is an extremely diverse knowledge management tool with complete integration support, smart settings, and several advanced features. 
It's great for companies that are looking to create self-service knowledge bases. The self-service portal enhances the customer experience while allowing companies to gather relevant customer service data. 
Furthermore, the process of creating content and maintaining it is extremely simple. Users can easily customize all aspects of the help desk software to better suit their customers. 
The best knowledge base tools tend to have an intuitive UI that automates all changes. ProProfs ensures that there are no coding skills requirements to set up the content. On top of that, users can easily integrate with other tools like Salesforce, Google Analytics, and Zendesk. 
Since the knowledge base solution is simple to use and flexible, it's a great option for small businesses. 
However, on the flip side, advanced customization of the entire knowledge base requires technical knowledge and skills. That includes knowledge of scripting in HTML, CSS, and Javascript. 
Key Features 
The following are some key knowledge base software features of ProProfs. 
The UI is extremely user-friendly and setting up a knowledge base is mostly automated 

Lots of robust integrations with other tools 

Several advanced features are available, including content authoring, permission management, and collaboration features 

There's a dedicated free plan 

Can act as an internal knowledge base tool and an external one, depending on the organizational needs 
As a knowledge management tool, ProProfs works well for companies of all sizes. 
Pricing 
Here's a breakdown of ProProf's pricing. 
Essentials plan with up to three authors – $30 per author per month 

Premium plan with three knowledge bases and collaboration features – $40 per author per month 

Enterprise plan with custom features and additional integrations – Custom pricing 
Companies can also opt for a dedicated private knowledge base for their support team and customer service representatives. 
To learn more about ProProfs Knowledge Base, you can go here. 
2. Helpjuice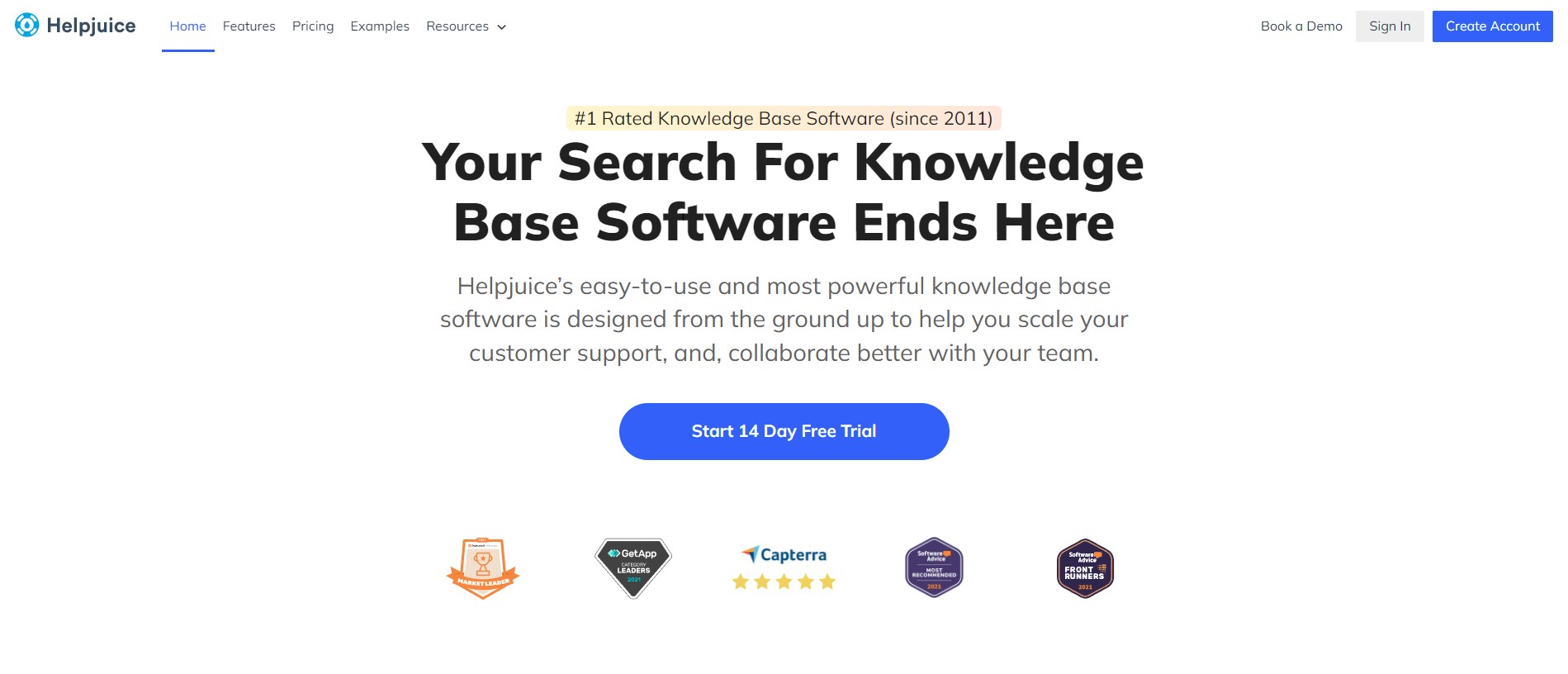 Helpjuice is a standalone knowledge base software that is good for internal and external knowledge bases. 
The software has an easy-to-use interface and there isn't a steep learning curve for new users. The support tools allow users to set up tier first knowledge base within a few minutes if they have the content ready. 
Other than that, users can also take advantage of advanced customization options and editing capabilities. If they have the skills, they can adjust the knowledge base's source code for further customization. 
Furthermore, the collaboration tools allow for real-time communication with remote teams. The software allows managers to assign tasks, request revisions, and make comments. 
Users can also track the entire version history for each piece of content. It's safe to say that Helpjuice's content management system is extremely well-optimized. 
On top of that, the reporting and analytics dashboard allows users to make improvements based on insights. You can check how much of a positive impact there is with customers or how much improvement there is in the team's productivity. 
Most importantly, regardless of your plan, users receive all the knowledge base features. 
Key Features 
The following are some key knowledge base software features of Helpjuice. 
Live commenting features allow users to collaborate with team members on multiple relevant knowledge base articles in real-time 

Complete article editor with markdown and WYSIWYG options 

AI-powered search engines help make search more efficient for all types of content 

Complete integration support with tools like Microsoft Word, Teams, and Slack 

Analytics tools help understand user search patterns and ideal knowledge base usage 
On top of that, Helpjuice provides hands-on user onboarding and free customization. 
Pricing 
Here's a breakdown of Helpjuice's pricing. 
Starter plan with up to four users with all features – $120 per month 

Run-up plan with up to 16 users – $200 per month 

Premium limited plan with up to 60 users – $289 per month 

Premium unlimited plan with unlimited users – $499 per month 
Users can opt for a 14-day trial, regardless of what plan they choose. 
To learn more about Helpjuice, you can go here. 
3. HubSpot Service Hub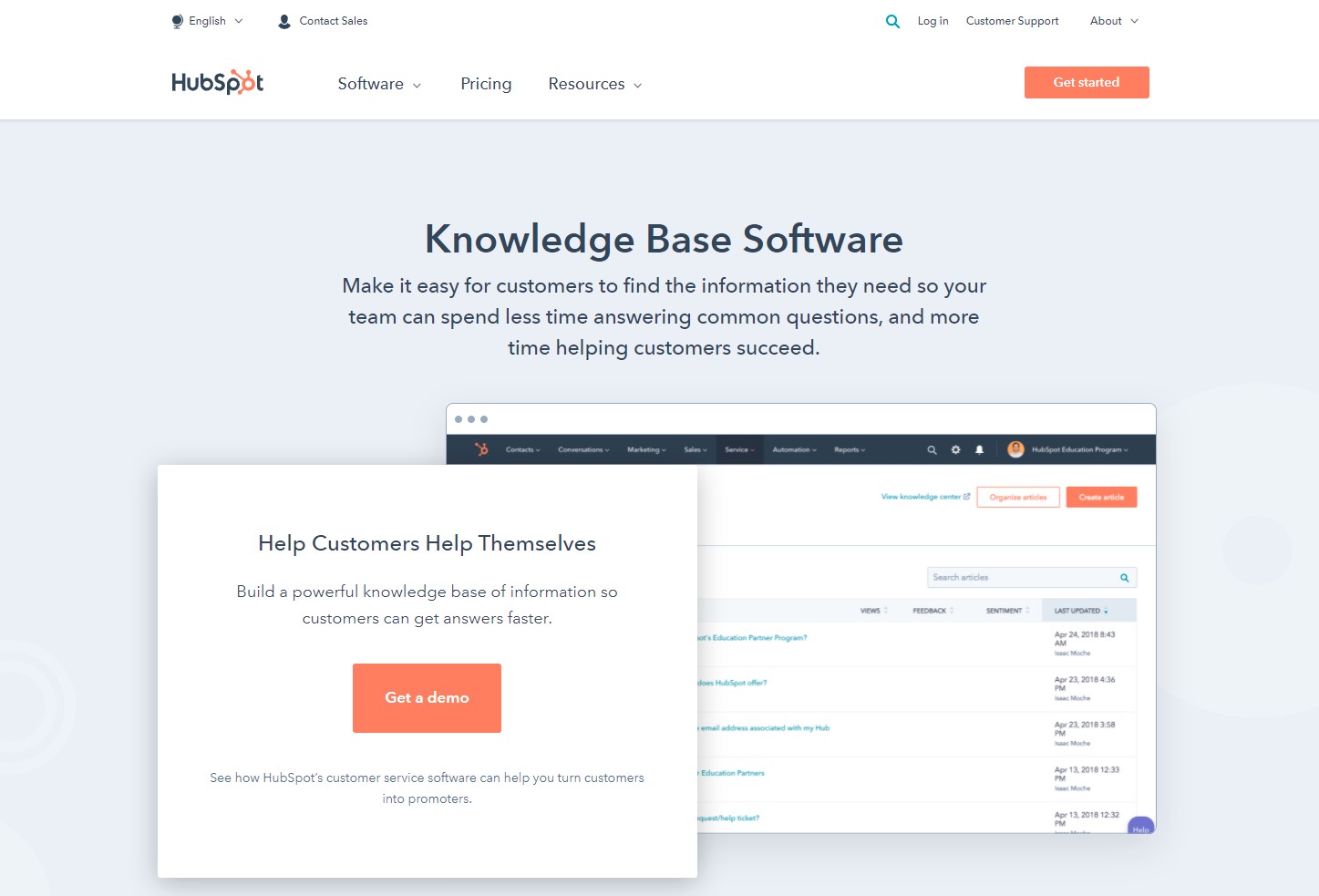 HubSpot is diversifying in multiple fields in its attempt to create a one-in-all service hub. Therefore, the company came up with their knowledge base software. 
If you already use HubSpot through your marketing and customer service team, then moving ahead with their knowledge base software won't be hard. HubSpot support agents can integrate the software with the rest of your tools. 
It can work as an internal knowledge base software and an external one. However, the all-encompassing tool better serves the customer experience. 
After CRM integration, you can track user engagement and provide need-to-know information to customers and each team member effectively. 
On top of that, interactive on-page surveys help make the right changes to your content. You'll also find plenty of templates and examples for everything from how-to articles to a guide on how to create knowledge base content. 
Key Features 
The following are some key knowledge base software features of HubSpot's Service Hub. 
Integration support via HubSpot App Collections allows thousands of third-party apps to integrate directly 

Built-in customer support solution ensures all support teams have what they need 

Real-time tracking and feedback management system ensures continuous  improvement 

Using the full HubSpot suite minimizes the need for other tools and software 

Community forums are available for support 
On top of that, the customer support system also offers a ticketing system to automate the process. 
Pricing 
Here's a breakdown of HubSpot's pricing. 
Professional plan with five users – $360 per month 

Enterprise plan with ten users – $1200 per month 
The starter plan does not contain internal knowledge base tools. Furthermore, if you want to add more users, the price per user per month will add to the total. However, you can offset the cost and save money by paying the annual amount upfront. 
To learn more about HubSpot's knowledge base software, you can go here. 
4. ServiceNow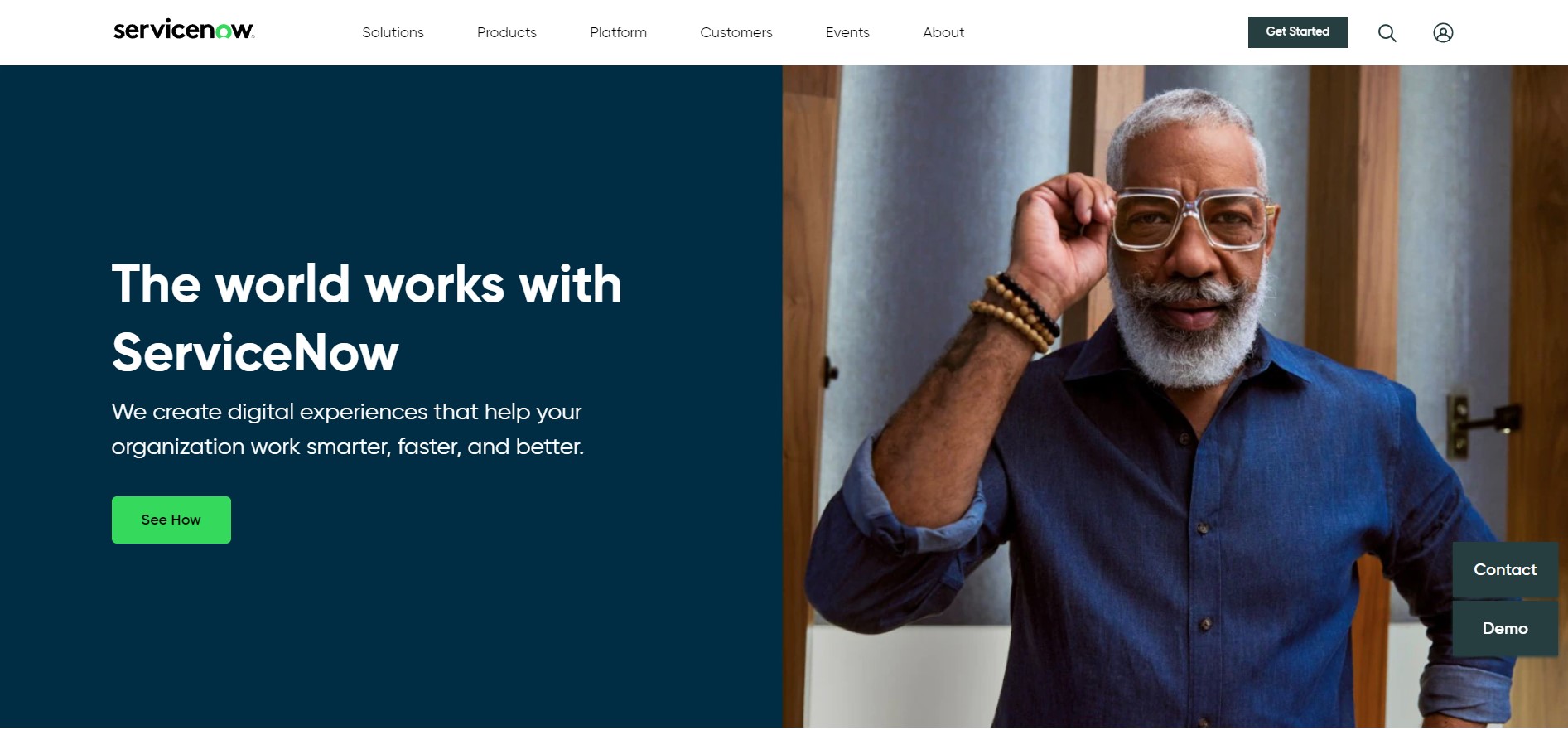 ServiceNow is a dedicated knowledge base tool that targets three different departments of organizations. 
They have different versions of their knowledge base software for HR, IT support, and customer service management. 
If you already use ServiceNow for other purposes, you can always start using their knowledge base solutions immediately. 
Their software emphasizes real-time knowledge collection and documentation to create a complete company knowledge base. As soon as new information is available, users can incorporate it within their knowledge bases. 
The knowledge base functionality adds to the complete suite of services that ServiceNow offers. It ensures that your category manager or other team members can control the flow of information from one place. 
Key Features 
The following are some key knowledge base software features of ServiceNow. 
Allows users to stay up-to-date with all changes in documents and domains 

Machine learning allows for better reporting 

Built-in AI-powered analytics provide answers and identify knowledge gaps 

Knowledge blocks ensure that relevant knowledge stays together, minimizing search time 

Filters ensure the reduction of redundant knowledge creation 
On top of that, if you use ServiceNow's full suite, you can centralize most of your operations in one place for more efficiency. 
Pricing 
ServiceNow doesn't provide any pricing information on its website. 
Each of the software packages is unique for individual users who can get a custom quote after contacting ServiceNow's sales team.  
To learn more about ServiceNow, you can go here. 
5. Notion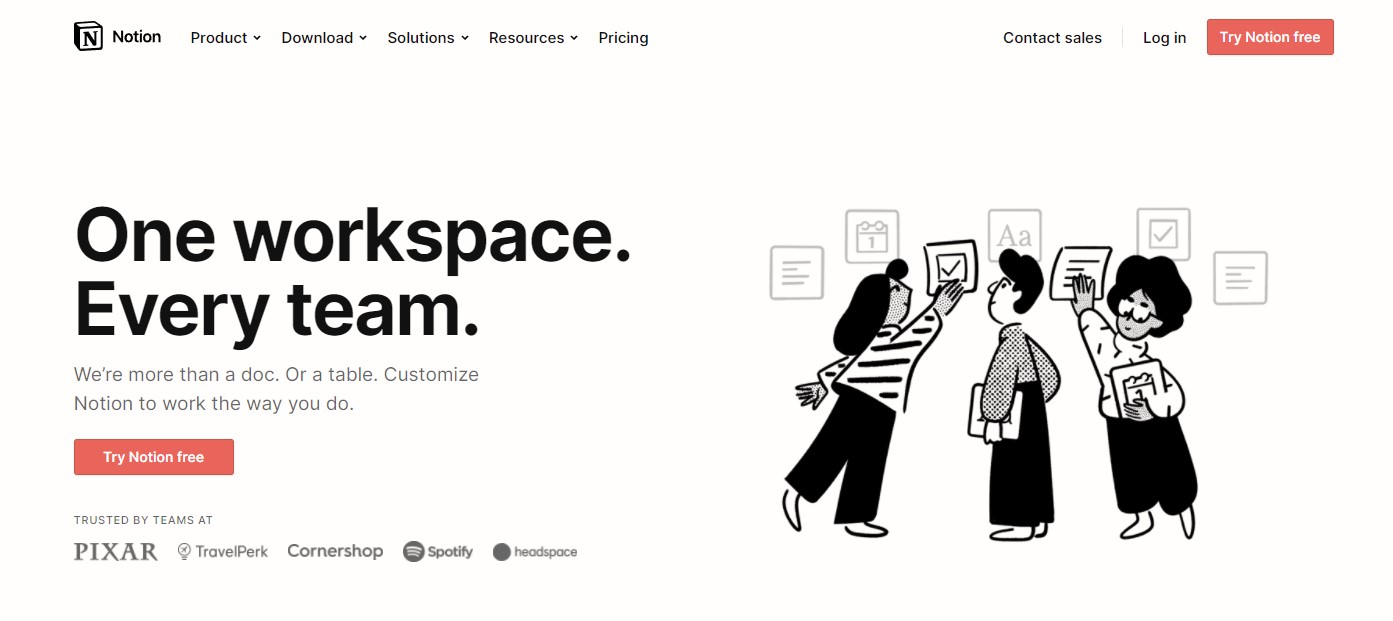 Notion is a multi-purpose tool for teams looking to create a wiki-style knowledge base. That's why it's better to use it for internal knowledge bases rather than external ones. 
It gives team members to handle knowledge management and project management in one place. Users can also set up procedural tasks, initiatives, and more. 
Furthermore, data migration in Notion is efficient, quick, and convenient. That means you can easily transfer the data from other tools, convert them into knowledge documents, and add them to your Notion account. 
Notion will then automatically organize all the knowledge content and prioritize it. The prioritization depends on the overall value of the content, its importance, and common use cases for the organiztion. 
This ensures that companies can create on-demand learning experiences, thus improving the productivity of all parties. 
Key Features 
The following are some key knowledge base software features of Notion. 
More than 100 fully customizable content templates provide the resources to quickly build a knowledge base 

The drag-and-drop interface allows for better creation, editing, and polishing 

Project management tool features help streamline company tasks 

On-app collaboration tools ensure effective communication 

The free plan allows for the creation of an initial knowledge base 
On top of that, Notion has one of the cleanest UIs in the market. 
Pricing 
Here's a breakdown of Notion's pricing. 
Personal plan for individuals with unlimited pages and blocks – Free 

Personal pro plan with unlimited file uploads and guests – $4 per user per month 

Team plan with unlimited team members and admin tools – $8 per user per month 

Enterprise plan with custom contracts, user provisioning, and advanced controls – custom pricing 
Users can save money by paying annually instead of monthly. 
To learn more about Notion, you can go here. 
6. Microsoft SharePoint 

Primarily a document management system, Microsoft SharePoint has a robust knowledge base tool. It comes with tons of wiki templates that can turn SharePoint into an internal knowledge base. 
That means you can not only have a knowledge base but can also manage your documents in one place. 
It's a great way of centralizing all your data and information in one place for easy access. 
On top of that, the storage, sharing, and collaboration tools make it much easier to set up a knowledge base. 
However, on the flip side, there are a lot of features that SharePoint doesn't provide. The cost makes up for the lack of features; however, if you're a large business or enterprise, you're better off investing in another tool. 
Key Features 
The following are some key knowledge base software features of Microsoft SharePoint. 
It can easily integrate with other Microsoft apps and SharePoint add-ins 

The entire UI and documents are extremely customizable 

Feedback tools and user-friendly survey templates help improve the knowledge base 

Collaboration tools are available on all platforms, including PCs, Macs, and mobile devices 

Microsoft SharePoint tech community can answer most queries quickly and accurately 
If you already use Mircosoft's myriad of software, using SharePoint should be a breeze. 
Pricing 
Here's a breakdown of Microsoft SharePoint's pricing. 
SharePoint Online's plan 1 with 1TB of OneDrive storage per user – $5 per user per month 

Plan 2 with enterprise capabilities and audit options – $10 per user per month 

Office 365 E3 plan that includes Microsoft Word and Excel – $20 per user per month 
Compared to other knowledge base solutions, Microsoft SharePoint serves as a budget alternative. 
To learn more about Microsoft SharePoint, you can go here. 
Wrapping It Up 
Every organization has a bunch of information and knowledge that needs storage. On top of that, all the information needs to be easily accessible. 
Therefore, a knowledge base software plays a vital role in helping companies scale. 
When choosing a knowledge base software for your organization, take all the features in mind. Most importantly, check whether your organization needs a full-suite knowledge base software or not. 
Then, check how good their integrations are and make a decision.