Grammarly Premium is a word checking tool that allows you to identify spelling and grammar errors and proofread your documents. While some people start out using the free Grammarly tool (which checks only basic errors), many are wondering if they should go all in with the Premium version.
Grammarly Premium's commitment is to give its users more. After all, writers would do anything for less stress and stronger writing skills. The premium feature thoroughly scans your content, looking for complex mistakes and typos. It also highlights if you need to change the entire sentence for better readability. Not to mention authors can use it to write drafts or even books.
We did a lot of asking around about whether you should go all the way and upgrade to Grammarly Premium or stick with the basic version. But first, let's find out how it works.
How to use Grammarly Premium
Grammarly Premium is quite easy to use and it only takes a few minutes to install. Its web extension is compatible with Google Chrome, Edge, Firefox and Safari web browsers. You can also download the Grammarly Premium app on your mobile phone (both iOS and Android).
If you are using the web extension, just paste your draft into Grammarly Premium and start editing as soon as you see the feedback.
If you have it integrated with your Microsoft Office (as in your Microsoft Word), it will be at the top right side of your Word document. Click on it, log in with your username and password and start editing.

Grammarly is looking to provide a service for every writer, so let's move on to their pricing plans.
Grammarly Premium Pricing Options
Grammarly Premium monthly subscription costs $29.95
Grammarly Premium quarterly subscription costs $59.95
Grammarly Premium annual subscription costs $139.95
Grammarly Premium Features
Although the layout is similar to the free version, Grammarly Premium comes with several features to help you breeze through the editing process and take your writing to the next level. Advanced grammar & spelling checks, as well as genre-specific writing style checks, are just a few to name.
Let's dive deeper into the most important Premium features.
Grammarly Premium Microsoft Add-in
One of Grammarly's promises is it catches over ten times more critical grammar and spelling errors than Microsoft Word. You can use it while you're writing Word documents or Outlook emails. While you're at it, you can choose which of Grammarly's seven categories of checks you want it to run on your document:
#1 Contextual Spelling
#2 Grammar
#3 Punctuation
#4 Sentence Structure
#5 Style
#6 Vocabulary enhacement
#7 Plagiarism
To make text corrections, simply click on the suggestion to apply the change in the text.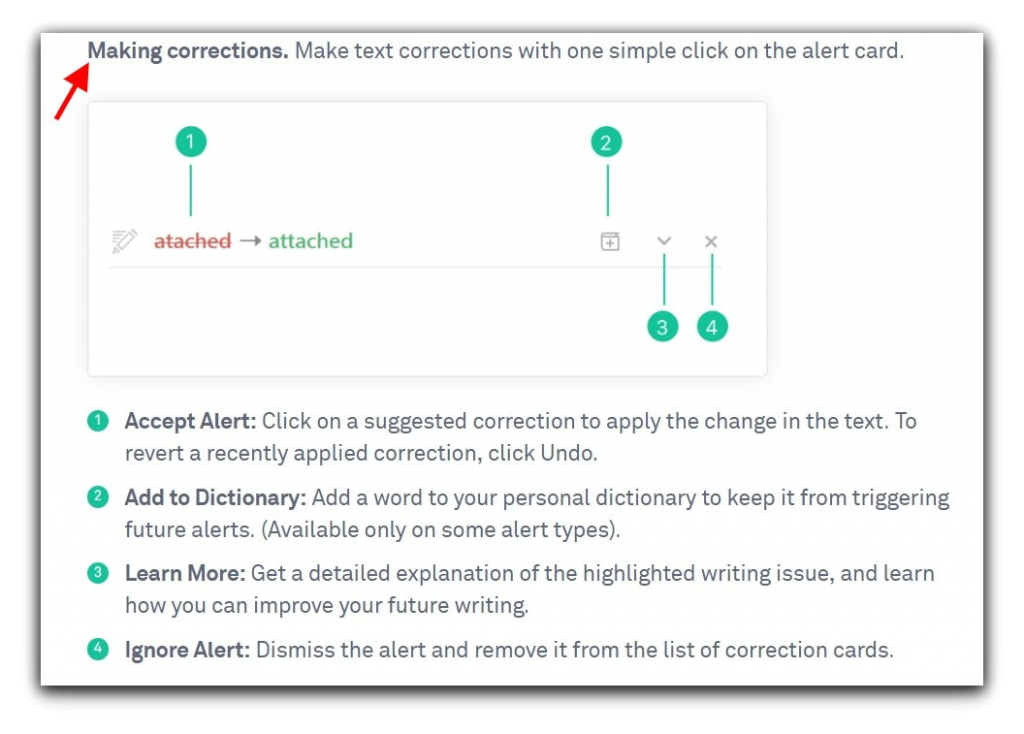 That's it. Let's move to the next feature.
Set the Domain of Your Article
Grammarly's on a mission to make your writing thrive and your editing life easier. For that, it needs to know your intentions and your style. You can select a type for your document to get the most relevant corrections. As soon as the goals widget pops up, the Premium tool will let you choose the domain of your article from the following options:
Creative
Casual
Academic
Technical
Business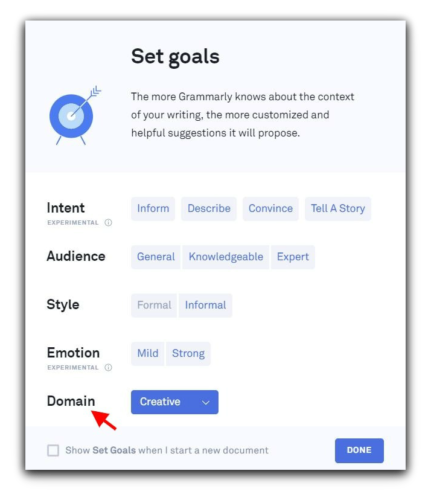 The more Grammarly knows about the context of your writing, the better its suggestions. Before you tell it to analyze your content, make sure you're familiar with your audience.
Check for Plagiarism
Another excellent Grammarly Premium feature is the plagiarism checking tool. It compares your writing to 16 billion web pages to find out if your content matches an existing one. It's a great way for writers and bloggers to crosscheck their articles and make sure they haven't forgotten to cite the resources they used and give credit to other authors.
Companies or contractors use it to confirm the writers they work with submitted unique content. It also helps teachers check if students are being fair about their projects.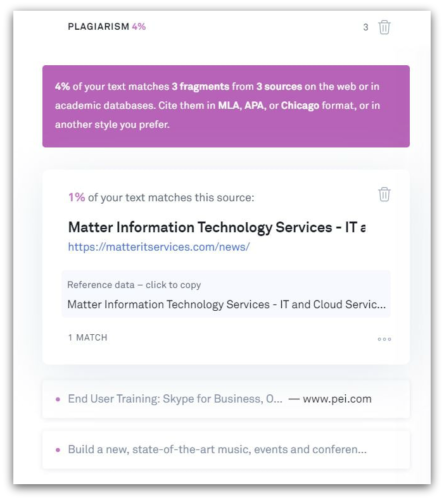 Sometimes, Grammarly picks up most-used words from websites and adds them to the list of plagiarized content. If we're not talking about a full sentence, there's nothing to worry about.
Spelling, Grammar Checker and Other Features
Grammarly Premium is a perfect fit for writers who want to take their writing up a notch, whether they're writing a novel, article, or email. It comes with advanced checks for punctuation, grammar, context, and sentence structure. For example, when you type "He said the wong name", Grammarly instantly suggests the correct word is "wrong."
The Premium feature also gives vocabulary enhancement suggestions, identifying twisted words and recommending others that are a better fit. Corrections come with detailed explanations, which help writers not to make the same mistake twice and refine their writing skills.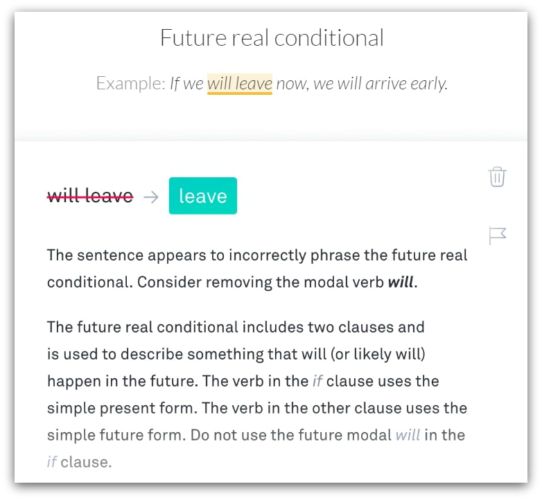 That's not all. With the Premium version, you can improve your Grammarly experience by adding words to your dictionary. These words will no longer be highlighted as misspellings. The other new thing is you can see definitions and synonyms by simply double-clicking on words.
Human Proofreader
It looks like Grammarly has thought about everything. If you are not happy with the software, you can send your work to a human proofreader and get the best writing advice.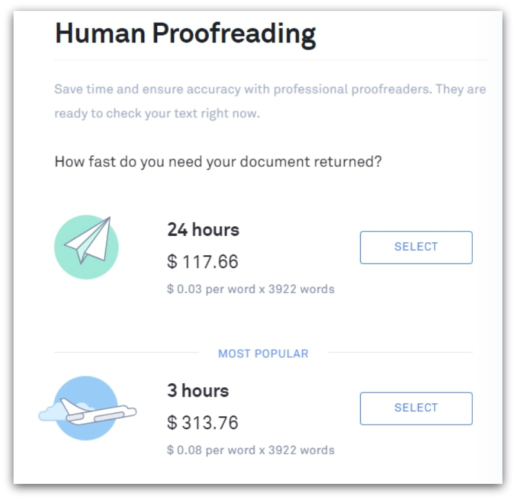 They charge by the word–the shorter the time frame, the higher the final price.
Genuine Return Policy
Grammarly Premium offers a transparent return policy. Let's say you purchase it but soon realize it's not working for you. All you have to do is contact their support center, and they'll refund your money within ten days.
So, is it Worth it?
The truth is, Grammarly is an excellent proofreading and analytical tool every writer should have on hand. The Premium version comes with stellar features for any blogger, copywriter, content marketer, author or student who wants to step up their writing game.
Below is a side-by-side comparison of the Free & Premium accounts: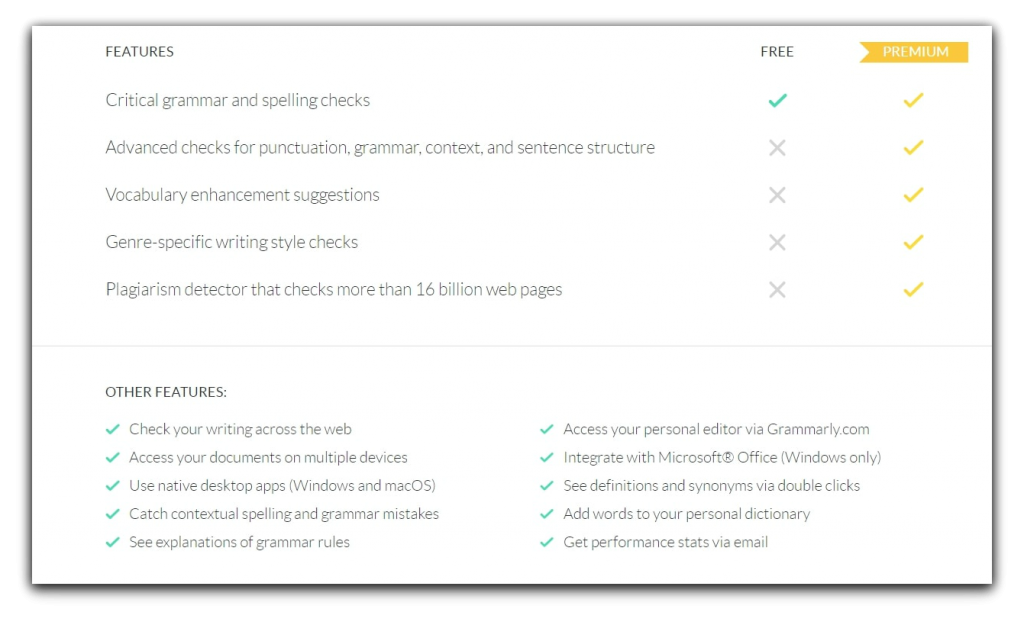 Let's be honest here; keeping up with all the grammar and spelling rules can sometimes be a pain in the ass. Grammarly Premium can help writers improve their vocabulary and make better word choices while creating unique content.
But here's the catch.
The upgrade comes along with some downsides. Grammarly Premium is not fully compatible with all writing software. Integration with Google Docs is currently still in the beta testing stage, so there may be some struggle.
Moneywise, the subscriptions are a bit pricey. If you're a writer on a budget, perhaps it's not the best option and you should look for a more affordable one. The good news is the free version still does a good job for most writers.
Grammarly Premium sometimes misses errors or gives vocabulary enhancement suggestions that are out of context. That's why you shouldn't rely entirely on Grammarly to proofread your work, especially if you are writing a book. A great tool to use with Grammarly Premium is Squibler. With it, you can write, outline and publish your book while keeping corrections on top.
On the other hand, if you work with Grammarly Premium regularly, at some point you might realize you don't need it anymore. That's normal because Grammarly helps writers become better, and when you reach your peak–you'll be enough.
Over to you
Grammarly Premium helps writers meet their daily writing needs. If you have a lot of content on your plates and struggle with editing, it can even become your best friend.
So here's the thing:
If you think you need Grammarly Premium, you probably do.
Feel free to try out the monthly subscription and take the time to notice what works for you. You can always cancel it, go back to the basic plan or look for a more suitable option.