Looking for the best knowledge management tools? Then you came to the right place.
Keeping data and information organized and accessible for internal and external customers should be your business's top priority. Knowledge management is the process of storing, organizing, and managing information and data of a business so its employees and customers can access it easily. Knowledge management tools help your business access information quickly, keep it secured, and make well-informed decisions.
According to a survey, 55% of organizations define knowledge management as sharing knowledge with a focus on documenting and disseminating knowledge as opposed to creating it. Organizational silos are the biggest challenge for knowledge management as reported by 55% of organizations. The purpose of using a knowledge management tool is, therefore, to share and preserve knowledge and get rid of silos.
To help you choose the best knowledge management tool for your business, we tested and reviewed more than 25 top knowledge management software.
Best Knowledge Management Tools
Here is a list of the top knowledge management tools we reviewed:
ProProfs – Overall Best
HubSpot Knowledge Base Software – Best Multipurpose
KnowledgeOwl – Best Features
Tettra – Best Internal Knowledge Base Tool
Knowmax – Best Enterprise Knowledge Management Tool
Document360 – Best for Ease of Use
The best knowledge management software from this list are reviewed below:
1. ProProfs: Overall Best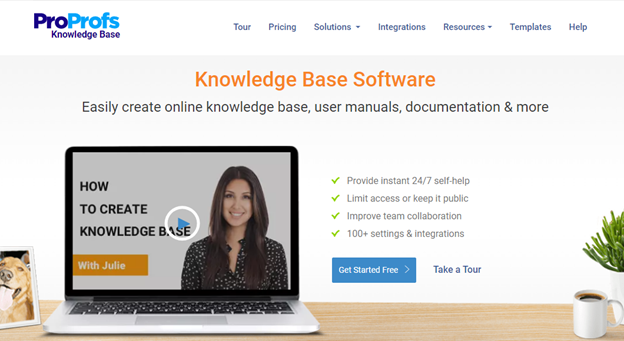 ProProfs tops our list of knowledge management systems as the overall best and all-purpose knowledge management tool. It lets you create both internal and external knowledge bases, documentation, help material, wikis, self service help center, user manual, and more. What makes it best is its templates and ease of use.
You can choose from more than 600 themes and fonts for your knowledge base. Here is what a knowledge base theme looks like: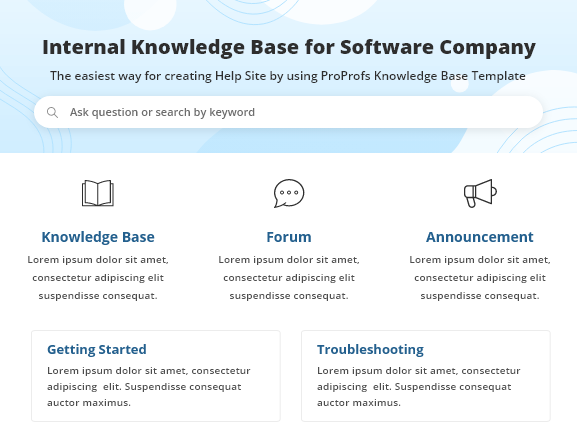 You can customize the theme, add content, import documents, and publish it to have it ready and accessible. Import feature lets you link third-party apps and import files directly into your knowledge base.
Advanced features like version control, revision history, content snippets, and workflow approvals simplify article writing and management for the authors. The ease of use and availability of a wide range of features make ProProfs knowledge management software the best for all business types.
Key Features
The primary features of ProProfs knowledge management software are:
Clean and simple user interface and drag and drop editor
More than 600 knowledge base themes and fonts to choose from
Available in 60 different languages
Support both private and public knowledge bases
Import content, articles, and documents from other apps and sources conveniently
Version history tracking and overwriting prevention feature
Fully customizable themes with an ability to add headers, logo, and brand colors
You can edit CSS and HTML
Assign roles, permissions, and access with full control
The platform is optimized for all screen sizes and works on mobile apps, tablets, and desktops
Integrates with popular apps including Salesforce, Zendesk, Google Analytics, and others.
Pricing
The pricing depends on the type of knowledge base you are interested in. ProProfs offers two types of knowledge bases: Public Help Center and Private Knowledge Base. Both offer 3 plans: Essentials, Premium, and Enterprise. You can choose to go with monthly or yearly billing.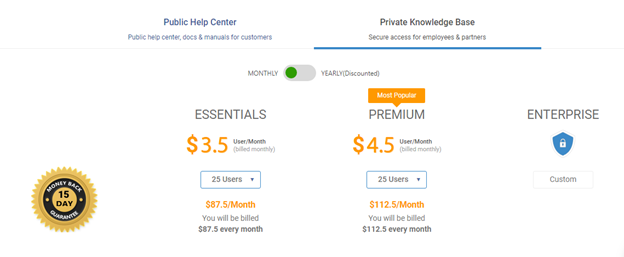 The pricing for the private knowledge base is based on per user basis. The Essentials plan has a starting price of $87.5 per month for 25 users. You can create unlimited knowledge bases, private sites, and admin accounts but the features are restricted.
To get access to all the features, you must use the Premium plan. The starting price per month is $112.5 with 25 users. Additional users can be added for $4.5 per user per month with a limit of 150 users. If you need more than 150 users, you'd need to switch to the Enterprise plan that comes with custom pricing.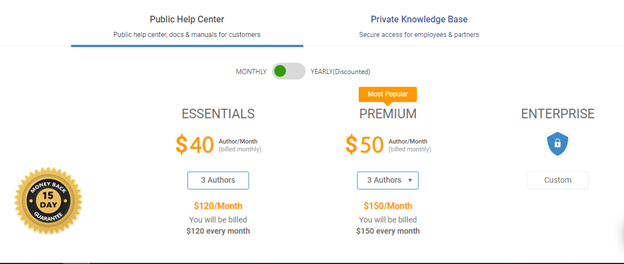 The Essentials plan for public help centers or knowledge bases is priced at $40 per author per month. You can't have less than 3 author accounts so the starting price is $120 per month. You get access to minimal features and the integration isn't available with this plan.
The Premium plan gives you full access to all the features. The starting price is $150 per month with 3 author accounts and the price for a single author account is $50 per month. You can create 3 knowledge bases with this plan and get access to all the exclusive features.
The Enterprise plan is suitable for large businesses that need more than 10 author accounts. It has custom pricing and offers vault, custom license, SAML, and single sign-on features.
Pros
Things I like about ProProfs knowledge management tools:
A multifunctional and easy-to-use knowledge management tool for both internal and external knowledge bases
Templates help you create a knowledge base in as low as 5 minutes
All plans come with a free trial and 15-day money back guarantee.
Cons
Things I don't like about ProProfs:
Some features need improvements such as help widget customization, lightboxes, and popups.
2. HubSpot Knowledge Base Software: Best Multipurpose

A public knowledge base should ideally link with your customer services software, customer data, and ticketing system to provide customers with a self service portal. This is where HubSpot's Knowledge Base Software beats its competitors. This tool is part of HubSpot's Customer Service software and is integrated into the customer support system.
The knowledge base software aims to help customers find help themselves and this reduces the number of support tickets. You can create articles based on most asked customer queries using knowledge base software. Here is what the user interface looks like: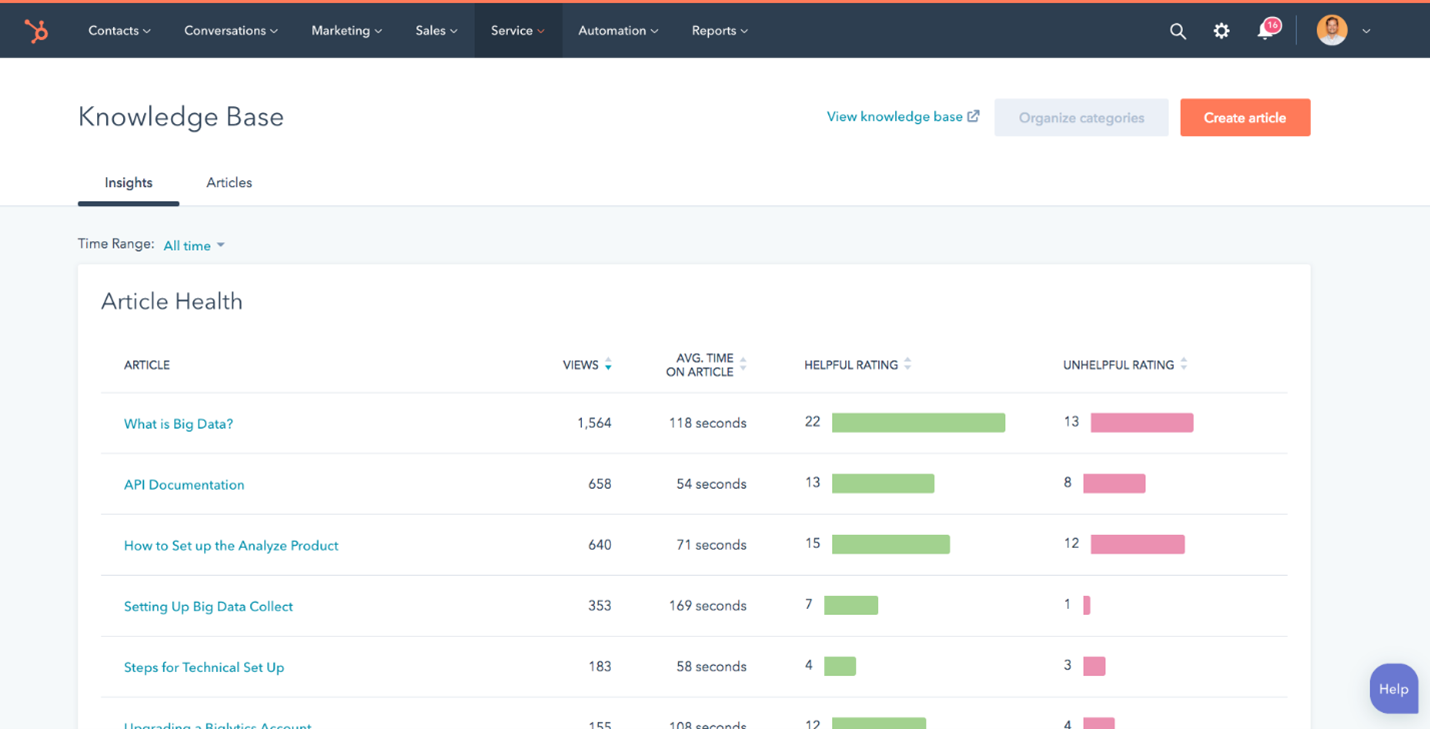 Adding content is super-easy. HubSpot shows you a helpful rating of each article in your knowledge base which helps you identify the right type of content for your audience.
The knowledge base is customizable and all the content is indexed in Google and other search engines. This is connected with your customer relationship management tool, customer service, customer data tool, and marketing tool and this is where it all gets interesting. Your support team can easily check what type of articles a customer has already read from the knowledge base.
Key Features
Here are the main features that you'll love:
A powerful customer service software with a robust knowledge management solution
Simple yet effective editor to create help articles for your customers quickly
The knowledge base is cross-device accessible
Advanced customization features and tools
Powerful analytics to help you better understand the type of articles customers engage with
Integrates with your CRM and customer service software
Complete support for third-party app integration.
Pricing

The knowledge base tool by HubSpot is packaged with its Service Hub software. This customer service platform comes in 3 plans: Starter, Professional, and Enterprise.
The knowledge management software isn't offered with the Starter plan so you'll need to go with either Professional or Enterprise. The Professional plan is priced at $450 per month (if billed annually) and comes with 5 user seats. Additional user seats are charged at $90 per month per user. You get full access to the knowledge management software and customer service platform.
The Enterprise plan gives you access to additional features including process customization and team scaling. It costs you $1,200 per month with annual billing and comes with 10 users.
Pros
Here is what I like about HubSpot knowledge base software:
A true multipurpose platform with full support for third-party app integrations
Knowledge base tool is easy-to-use with an intuitive editor
The tool is scalable and ideal for enterprises with multifunctional teams.
Cons
Here is what I don't like about this knowledge management tool:
It is expensive and is suitable if you are interested in using HubSpot's customer service platform for ticketing and customer support
The knowledge management tool lacks advanced features that you get will other specialized tools.
3. KnowledgeOwl: Best Features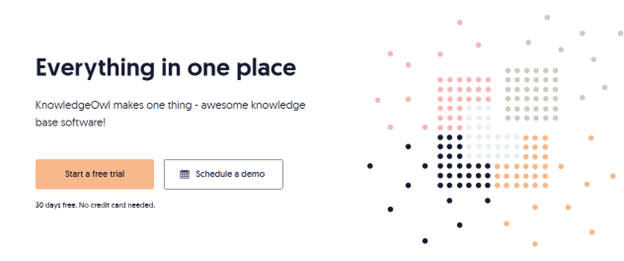 If you are looking for a feature-rich knowledge management tool, you should try KnowledgeOwl. It offers some of the best features for knowledge base development for businesses of all sizes. It has a WYSIWYG editor with tons of formatting options and features. You can customize and brand your knowledge base the way you like: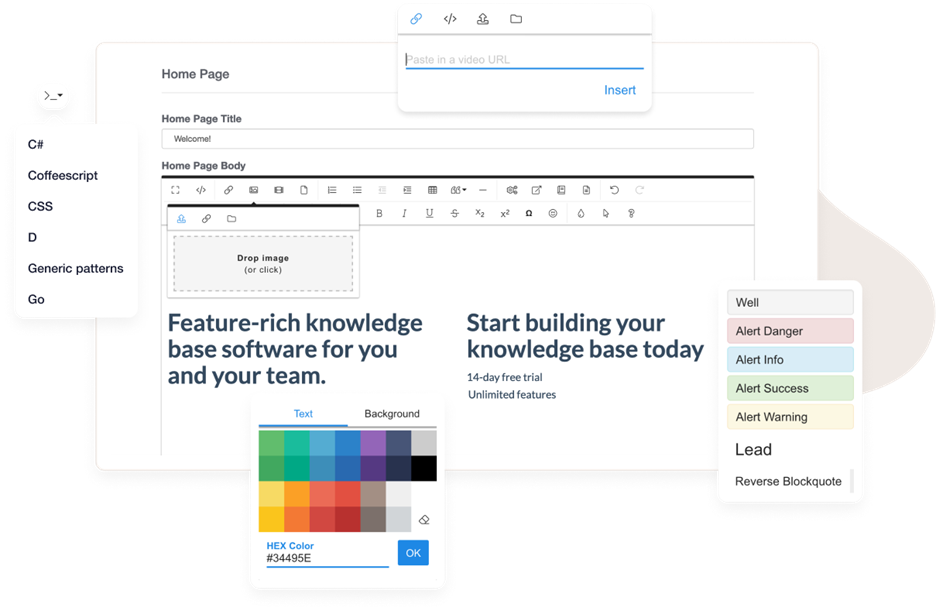 It offers you themes, layouts, category types, and tags that help you create a user-friendly knowledge base for your customers where they can find relevant information quickly. Readers can leave comments and rate content in the knowledge base. This lets you collect feedback and improve content and knowledge base.
KnowledgeOwl has a public API that makes integration a piece of cake. You can create multiple API keys and webhooks to work with any app or tool you want. You can control users and define custom roles and permissions for enhanced security.
Key Features
Here is an overview of the key features of KnowledgeOwl:
A feature-rich and easy-to-use knowledge management tool ideal for both small and large businesses
Intuitive editor with spellcheck, version control, internal notes, and several other exciting and useful features
Contextual help widget that lets customers quickly and easily search help articles in a single window
Powerful article management feature with drag-and-drop article ordering, bulk edit and delete options
Automatic PDF generation of all the articles in your knowledge base so readers can download PDFs with a single click
Advanced reporting with article rating and readership metrics
Strong security features such as SAML single sign-on, IP address restriction, reader session expiration, remote authentication, and more
Customer feedback features to collect data from knowledge base readers
Support for SEO with Google Search Console integration
Assign user roles, set administrative rights, and create custom user roles to maintain control and governance
Dedicated account management feature
Unlimited readers for all the plans
Exceptional customer support with no limitations.
Pricing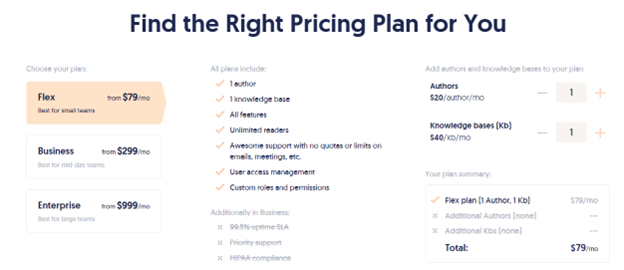 KnowledgeOwl offers 3 plans: Flex, Business, and Enterprise. It uses a subscription-based pricing model where all the plans come with a single author account and one knowledge. Additional authors are charged at $20 per author per month while additional knowledge bases are charged at $40 per knowledge base per month.
The Flex starts from $79 per month and gives access to all the features with unlimited readers. The Business plan starts from $299 per month that offers you additional features including 99.5% uptime, priority support, HIPAA compliance, and the ability to upload your own SSL certificates for better security.
The Enterprise plan is ideal for large businesses with diverse needs. It costs $999 per month and offers advanced features such as 99.9% uptime, dedicated account management, and vendor security forms. You can request custom pricing if you need more features with the Enterprise plan.
Pros
Here are the best things about this knowledge management software:
Lots of features that make it easier to create a reader-friendly knowledge base quickly
30-day free trial for all the plans
API integration with leading apps including Zapier webhook.
Cons
Here is a list of things you might not like about this knowledge management system:
Simultaneous editing isn't available
Get a bit pricey if you need multiple authors for your plan.
4. Tettra: Best Internal Knowledge Base Tool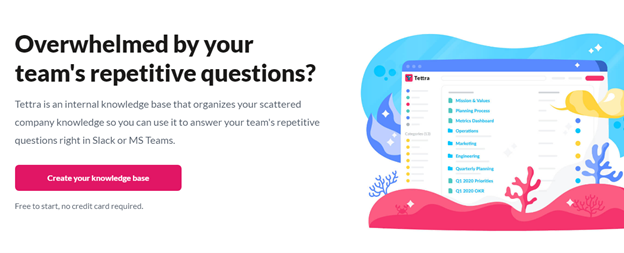 Tettra is the best knowledge management software for initiating knowledge management initiatives by creating an internal knowledge base to manage organizational knowledge. It is developed to manage and organized internal knowledge, content, and information for your teams. It automatically pulls knowledge and content from different apps that your company uses and organizes it into wikis, questions and answers, and a knowledge base for internal use.
It comes with a simple editor that lets you create and organize content for your teams. It lets you tag peers, invite users, assign tasks, and support version history. Here is what the editor looks like:

One of the best things about Tettra is its seamless integration with third-party tools and apps. This lets you connect it with tools like Slack, Google Workspace, Microsoft Team, Zapier, and others so you can instantly create a knowledge base. The content from all the different sources is merged and made available in Tettra instantly for your teams.
So, it acts as a centralized knowledge hub for your teams where they can find answers to their questions with a simple search.
Key Features
Here is a list of the top Tettra features:
Robust knowledge management tool to manage and organize your company's knowledge
Easy-to-use editor with several formatting and tagging options
Works with Slack, Google Workspace, and Microsoft Teams and automatically creates a knowledge base from existing content
You can answer a new or an existing answer via Tettra on Slack. It lets you find answers in the knowledge base from within Slack so you don't have to type answers over and over again
Content verification by experts and content version history ensures content is always updated and correct
Expert tagging feature makes it easy to tag the right person to answer a question
Team analytics shows you all the key metrics about the knowledge base such as pages created, page views, most active users, etc.
Permission management and page locking feature gives you full control over governance and management
Exceptional customer support and live chat
Integration with third-party apps including Zapier API.
Pricing

Tettra has 3 plans including a free plan for small businesses. The Starting is the free plan that supports up to 10 users and it offers basic features with limited storage capacity per user. If you want to get access to all the amazing features, you'll need to switch to the Scaling plan.
The Scaling plan costs $8.33 per user per month with annual billing and supports up to 250 users. It offers all the features including unlimited version history, storage, guest users, and read-only users.
The Enterprise plan is for large businesses with support for unlimited users. It costs $16.66 per user month with annual billing (it doesn't support monthly billing). You get access to enterprise-level features including single sign-on, user provisioning, custom reporting, account manager, and custom employee onboarding.
Pros
Here is what I like about the Tettra knowledge management tool:
The best knowledge management system for creating powerful internal knowledge bases
Integrates with all the popular apps and tools that your business uses
Free plan available and a 30-day free trial for premium plans.
Cons
Here is what I don't like about Tettra:
It doesn't offer workflow automation
Not as feature-rich as some of the other knowledge management solutions on this list. Adding a few more team collaboration-related features will be helpful for large teams.
5. Knowmax: Best Enterprise Knowledge Management Tool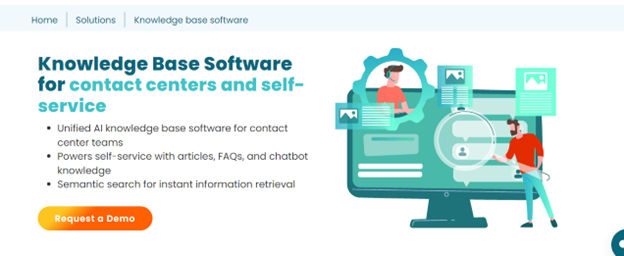 Not all knowledge management systems have the capacity to manage large teams. Knowmax is an ideal enterprise knowledge management software that's scalable and has the potential to grow with your business.
The knowledge management software is driven by artificial intelligence that helps both customer service agents and customers to find relevant information within seconds. The AI is used to organize and expand content and knowledge. It ensures that the information is available across all channels for both customers and employees.
Knowmax offers you multiple tools (including knowledge base software) to improve customer experience. For example, an interactive decision tree builder that helps customers solve their problems within a few minutes by following a step-by-step decision tree.
So, it offers you a complete suite of tools that help you improve customer experience across all channels.
Key Features
Here is a list of the top Knowmax features:
An enterprise knowledge management tool for large businesses
It offers you multiple tools to improve customer experience and customer services
AI chatbot in the knowledge base has the potential to generate human-like interactions with customers
Automatically organization of knowledge and content by AI
Dynamic FAQ builder
Support for unlimited articles and documents
You can create visual guides for the readers to help them better understand complex problems
Support for learning management systems and quiz management system
Content collaboration makes it easier for the authors to work on content creation and management
Advanced reporting and analytics to measure key metrics such as daily usage, top searched content, time spent, and others
Author, admin, and user management
Image and text editor with a powerful content approval workflow
Seamless integration with unlimited APIs.
Pricing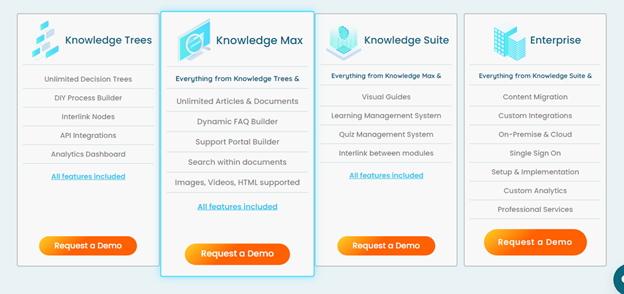 Knowmax offers 4 plans: Knowledge Trees, Knowledge Max, Knowledge Suite, and Enterprise. All the plans have custom pricing so you'll need to contact them with specific details to get a quote.
The pricing is based on per agent per month and depends on the features and modules you need. So, expect flexible pricing that's based on what you need for your business.
The knowledge base isn't available with the Knowledge Trees plan as it only supports decision trees. The Knowledge Suite plan gives you access to all the features and modules including decision trees, knowledge base, picture guides, and learning management system.
The Enterprise plan offers you additional features including the option to have it on-premises with setup and implementation services.
Pros
Here is what I like about Knowmax:
A complete suite of tools for effective knowledge management and customer services
Let's you create an interactive and AI-driven knowledge base
It comes with a 14-day free trial to help you get an idea of how the interface and tool work.
Cons
Here is what I don't like about Knowmax:
Knowledge base isn't a standalone tool rather it works with other customer support tools which means you'll need to buy multiple modules
It doesn't offer end-to-end customer support and CRM solution. Even if you go with the Knowledge Suite plan, you'll still need to use another tool as your ticketing system.
6. Document360: Best for Ease of Use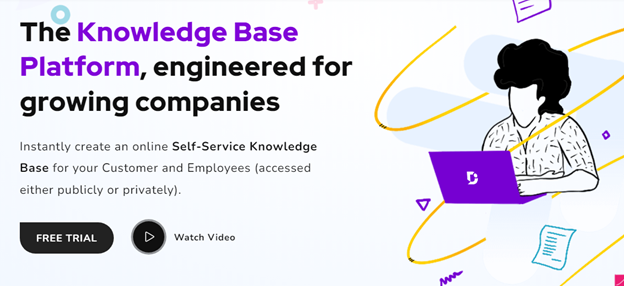 If you are looking for a knowledge management software that's simple and easy to use for your team and lets you create self service knowledge base in minutes, Document360 is the right choice for you.
The best thing about Document360 is its knowledge base portal that features an advanced editor for content production. It makes your job easier by providing you with all the available tools, features, and resources within the editor such as home page builder, knowledge base design, file manager, analytics, assistant, formatting options, and more: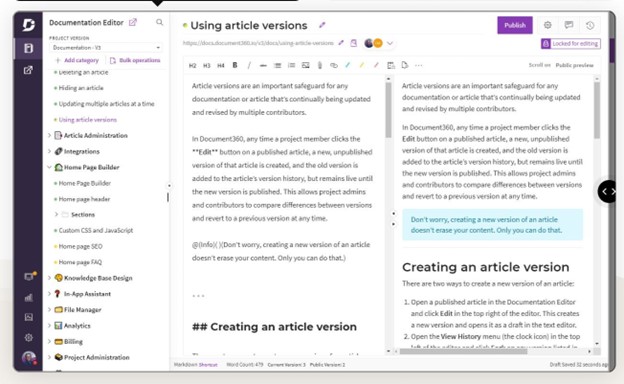 You can type content directly in the editor by selecting an article template or you can import content from Microsoft Word or third-party tools. Multiple authors can work on a single document, assign tasks, and manage workflow. You can improve the design and outlook of the knowledge base via CSS and JavaScript. Everything can be customized based on your specific requirements.
Key Features
Here is a list of the top Document360 features:
One of the easiest knowledge management systems that offer all the key features your team needs to create a professional knowledge base
Create user guides, FAQs, product help documents, user manuals, technical documentation, standard operating procedures, and knowledge bases
Unlimited articles and revisions with complete customization and branding
Home page builder and themes along with article templates make it easy to create a perfect knowledge base for both your customers
Import content from MS Word with a few clicks
Knowledge base assistant is an AI assistant that is available 24/7 for the authors
Work with and maintain multiple versions of articles
Discussion platform lets authors collaborate in the editor
Assign team roles, individual roles, and manage permissions
Analytics that guide authors on best-performing knowledge base content
API access and integration with tools and apps.
Pricing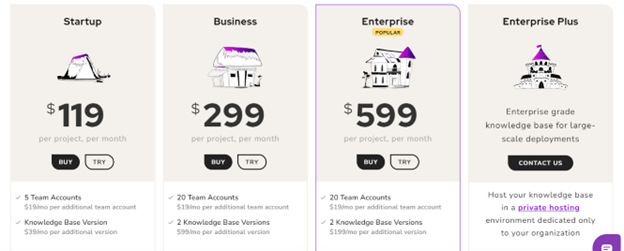 There are 4 plans: Startup, Business, Enterprise, and Enterprise Plus. You are charged on per project per month where a knowledge base is known as a project.
The Startup is the base plan with starting price of $119 per project per month. It comes with a public knowledge base only and 5 team accounts. You get access to restricted features with this plan. The Business plan has the starting price of $299 per project per month and it gives access to better features and lets you create both public and private knowledge bases.
The starting price of the Enterprise plan is $599 per project per month and includes 20 team accounts and 2 knowledge base versions. It gives you access to advanced features such as audit logging, workflows, customer email domain, and others.
The Enterprise Plus has custom pricing and it is suitable for large businesses that need dedicated private hosting of their knowledge bases.
Pros
Here is what I like about Document360:
Easy-to-use, intuitive, and fully scalable knowledge management tool
Supports integration with popular apps and tools
Comes with a 14-day free trial.
Cons
Here are a couple of things I don't like about Document360:
Simultaneous document editing isn't available.
The Best Knowledge Management Software is Waiting for You
Using knowledge management software isn't essential rather using the right knowledge management tool is the key to success.
The list of the top knowledge management solutions and review and pricing details of the top ones will help you pick the ideal software for your business.
When buying a knowledge management software, look at its features, price, and ability to serve your needs. Don't go with your gut feeling. Stick with numbers, budget, and your needs. This is the right way to choose the best knowledge management tool for your business.