It isn't easy to be a successful technical writer, especially if you're a freelancer. Finding gigs can be time-consuming and it's even harder to find gigs that pay well.
A great way to improve your situation is to specialize yourself. Although writers can specialize in many different ways, one of the more lucrative writing specializations is technical writing.
On the flip side, considering the required technical writing skills, it's also one of the more difficult writing professions. So how do you begin your career as a better writer?
No matter if you're serious or you merely want to test the waters, a great way to start your technical writing journey is with technical writing courses. There are many different programs online, ranging from budget-friendly to super expensive.
To help you figure out which course is the right one for you, we listed the six best technical writing courses that you can take in 2023.
Technical Writing Course Benefits
Technical writing is a professional writing form where the writer acts as the bridge between the professional and casual sides. The professional side can be product engineers who know the ins and outs of computer applications or some other technology but don't know how to convey the product's benefits in simple language. The casual side is often the customer or someone else in the company who doesn't know the necessary specifics of the given product or technology.
Picture a technical writer as a professional translator between two parties who don't speak the same technical language.
Since it's crucial both for engineers and the consumer that the consumer understands the product, there needs to be someone to "translate" the benefit to the interested consumer attractively and engagingly. This also means that the party who doesn't understand the benefits is the target audience of technical writers' copies.
You need to transform the copy, strip it from complex or unnecessary words, adjust the sentence structure and have it ready for the audience to understand. It's almost like translating and communicating new knowledge.
A successful writer needs a specific set of technical writing skills. They need to know how to write engaging sentences like a copywriter but also have a product understanding of an engineer. Finally, they need to have exquisite communication skills and a knack for business writing and creating technical documents.
According to the Bureau of Labor Statistics (BLS), the average technical writer in the United States earns $76,860 on average. Additionally, also according to the BLS, the demand for technical writers is set to grow 12% between 2020 and 2030. That is faster than the average rate of other occupations.
In other words, there are two main benefits of being a technical writer:
Better salary than most the other writers.
Higher demand.
With the benefits in mind, let's explore courses both for beginner technical writers and those who already have some experience.
6 Best Technical Writing Courses
Just like any other skill, it takes some time to hone your technical writing skills. A great way to start is with specialized online coursework. Not only will the course provide the required knowledge, but you can also get a technical writing certificate. Both serve as a necessary boost for when you sign up for your next technical writing job.
If you're wondering why besides the knowledge, it's good to have a certificate as well, consider the healthcare technical writing example. No matter if your job is to write steps for medical procedures or content for social media sites (Google has a whole dedicated page to healthcare advertising limitations), the rules and laws are much stricter than for a writer specializing in fiction. A half-baked sentence won't hurt anyone if it's fiction. But a misunderstood sentence in a healthcare copy can.
By having a certificate, you place yourself in an authoritative position, meaning, you leave a better first impression.
Since technical writing is a wide term in itself, we'll do our best to cover courses and certificate programs suitable both for beginners, more general technical writers, and also individuals looking for better career opportunities.
1. Technical Writing Certification Courses by Technical Writer HQ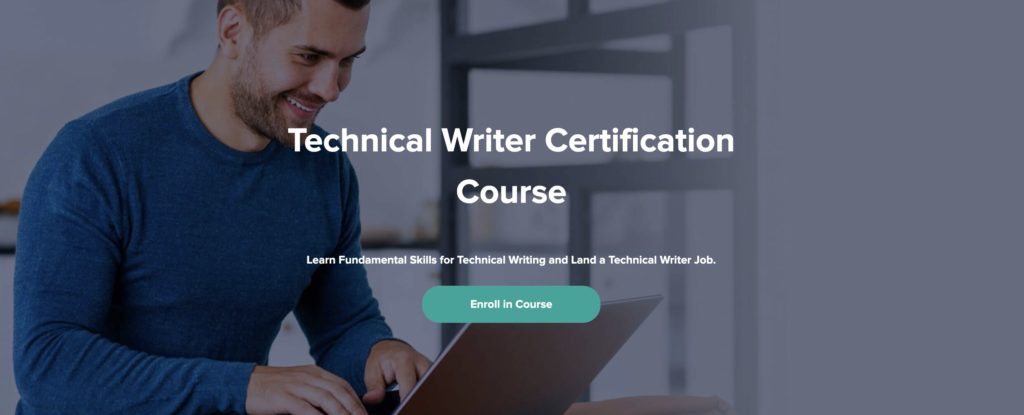 Besides other certificate programs that Technical Writer HQ has in their library, one of them is their Technical Writing Certification Course. No matter if you're a technical writing veteran or someone who's yet to hone their writing skills, this online program is an extremely good place to start.
We rated this the number one technical writing course because it produces testimonials like this one regularly:
"​I took Josh's course, did the capstone project, and became certified in August. I've recently been offered a job as a Technical Writer for Amazon at $150k per year! I used my capstone project when they asked me for writing samples."​ –Henry Fuse
Besides getting the technical information and fundamentals, the program offers a complete rundown of necessary skills such as document design, API writing, audience analysis, and managing the document lifecycle. They also teach you how to communicate your documentation needs with product managers, engineers, and product designers.
Instead of stopping on essential technical writing skills, the course takes a step further and also teaches you general skills that help you land a technical writing job opportunity or merely have better professional communication skills in general.
Overall, it's an engaging technical writing course that isn't overwhelming for beginners but also has enough intricacies for seasoned writers looking for further professional development.
If you want to learn more, check out Technical Writer Certification Course.
What's the Technical Writer HQ Course Price?
The complete Technical Writing Certification Course package runs for $299.
Who Should Take the Technical Writer HQ Course?
Since the course content touches upon all the essential topics, it's perfect for writers who have basic general writing knowledge and want to get better or increase their networking opportunities.
Meaning, if you know the difference between active voice and passive voice, but don't know how to write effective documents for sales or an engaging investment pitch, this is the course for you.
You'll also end up with a certificate after you successfully finish the course, which helps you stand out in the writing industry. Finally, since it's online, it's easy to adjust the course to your own schedule since you get lifetime access.
2. Technical Writing Fundamentals by the University of Waterloo 

If you're a fan of a student-like approach, or you prefer courses where you can engage with other students, the Technical Writing Fundamentals by the University of Waterloo might be for you.
The course takes six weeks, so a bit longer than the previous one, but its focus is to cover the basics as well. You learn the basics of technical writing, editing technical documents, document design. etc.
After you finish the six-week course, you get another two weeks to finish the final exam. If you pass the exam, you get a certificate.
You can take the course at your own pace, but this one gets much easier if you have prior writing experience.
Find out more by visiting the University of Waterloo's Fundamentals of Technical Writing course page.
What's the Fundamentals of Technical Writing Course Price?
The 6-week-long course goes for $190, plus tax. 
Who Should Take the Fundamentals of Technical Writing Course?
Since it's a longer program, you should start this one if you have six weeks to dedicate to a course. Although you won't need financial aid to pay the fee, it's still a financial investment.
The course is great for experienced writers and students who might be looking to expand their learning outside their main college. Getting the certificate early might just be the edge you need in your career.
3. Society for Technical Communication (STC) Courses 

The Society for Technical Communication claims to be the oldest professional association dedicated to technical writing. There's a membership fee if you want to enter the society, but you don't have to be a member to attend their online courses.
With a dedicated industry network of seasoned technical writers and technical communicators, is a member-based group of technical communicators and technical writers, STC has a rich library of programs.
Besides teaching you technical writing basics, you can go even deeper by joining other related courses such as science writing, medical writing, or instructional design for technical communicators.
Another great aspect is the STC certificate that you can get in three tiers: Foundation, Practitioner, and Expert certification. Each tier offers an additional layer of authority, so depending on your career situation, you can choose a certificate that fits you best.
As an example, if you're starting your own business, the initial Foundation tier is a solid start.
If you want more information about STC's online courses, go to their Society for Technical Communication website for further research. 
What's the STC Course Price?
STC online courses are pricier than the previous two and depend on your position inside the society. For STC members, a single course costs $375, $300.00 for STC Gold Members, $295 for STC Student Members, and $595.00 for Non-Members.
If you're planning to take several courses, it might be a good idea to become a member first.
Who Should Take the STC Course?
Unlike with the previous two, with STC, it's mandatory to participate in online sessions and finish weekly homework. This can be tricky if you're outside the US since the online technical writing lessons take place in Eastern Standard Time (EST.)
If you don't mind the time difference, you're ok with the pricing, and you want to learn more about the industry, STC is a great choice.
4. Coursera 

Coursera is one of the leading online learning platforms, so it's no surprise that there are several technical writing courses hidden in Coursera's web pages.
Although Coursera's intended audience isn't technical writers exclusively, that doesn't mean that the programs you find on Coursera aren't worth your time.
All courses that you find here are made by professionals and the same goes for technical writing courses. The only thing is that you won't get as in-debt knowledge as you'll get with the previously mentioned Technical Writing HQ program for example.
Nevertheless, there are courses worth mentioning such as the Technical Writing Course by the Moscow Institute of Physics and Technology. The focus of this specific program is on lab reports, research reports, progress reports, etc.
Another good thing about Coursera is that almost everything is flexible. You don't have to worry about deadlines too much, which is great if you already have a job but want to learn something that helps you get a better one.
You can check other courses by visiting Coursera.
What's the Coursera Course Price?
All basic courses on Coursera are completely free. What you might be willing to pay are further specializations which go for between $39 to $79 per month.
Who Should Take the Coursera Course?
The fact that you can take courses for free, makes Coursera perfect if you're not sure that you want to be a full-time technical writer You might find the documentation writing process and constant research interesting, but you're not sure if you want to commit yourself completely. In that case, Coursera is a great place to discover if you got what it takes.
5. Emphasis Technical Course

Many writers start their technical writing career inside a specific company writing technical documents and editing technical documentation.
Emphasis is a learning company with a dedicated team of business writing professionals. Besides online technical writing programs, Emphasis offers dedicated in-house training for teams. Meaning, if you have a company and a team that needs some good technical writing training, Emphasis is a great option.
Although you can take a course as an individual, this isn't the best option since it isn't self-paced. What makes Emphasis shine is team learning and the single-day flash course.
You can learn more by visiting Emphasis' technical writing course.
What's the Technical Course by Emphasis Price?
For individuals, the price is $681 plus taxes. For teams, the average price is $327 to $412 plus tax per participant.
Who Should Take the Technical Course by Emphasis?
Emphasis' courses might not be the best choice for individuals who are starting, mainly due to the price tag. But if you're running a company related to the industry and want your whole time to learn basics quickly, it will be hard to find a better option than Emphasis.
6. Technical Writing Courses by the University of Wisconsin Eau Claire

Just as with the University of Waterloo, the UW-Eau Claire offers a classic university-flavored approach to learning. What's even better, you're likely to find a course no matter where you are in your career. Although the targeted audience is writers, engineers or product managers can develop necessary skills as well.
There are over a dozen of different courses you can check and here are some worth pointing out:
Intermediate Technical Writing  – Helps you develop more advanced writing skills, technical documentation design skills, and audience analysis.
Advanced Certificate in Technical – If you're a professional who wants to step up even further in the industry, this course is a great place to learn advanced skills.
Visit their official website to check the complete catalog.
What's the University of Wisconsin Eau Claire Course Price?
Courses go for $335, while if you want a certification, that will cost you $975.
Who Should Take the University of Wisconsin Eau Claire Course?
Due to their rich course library, anyone can find a suitable course. Technical writers work in different fields, meaning it's necessary to provide a rich plethora of courses and UW-Eau Claire knows that. But, due to a bit hefty price, not everybody will be ready to take part.
Nevertheless, if the price isn't the issue, you're sure to get valuable knowledge to help you stand out.
Frequently Asked Questions (FAQs)
Here are the most frequently asked questions about technical writing.
How do I learn technical writing skills?
You can learn technical writing skills and general business writing by going to a college. The alternative is to take an online course and hone your skills there. If you don't know how to write for a specific audience, it's better to start with a basic course and slowly move up as you start gaining confidence.
Are technical writing courses worth it?
Considering how convoluted the technical writing industry can be, it's worth taking a course that can demystify all the uncertainties that you might have. The alternative is to do all the research yourself, but that can result in hitting a wall and quitting altogether. Hence, if you're serious about your career, courses are a great choice.
What are the qualifications for a technical writer?
Although not strictly necessary, a technical writer should have a bachelor's degree or certification in technical writing or communications. It also doesn't hurt to have prior technical writing experience.
Is technical writing a good career?
Technical writing can be a great career. Although you might struggle at first, once you master the technical writing process and your professional communication skills, it becomes much easier to make progress. Like a snowball that keeps rolling, as long as you don't give up, you can make a solid living in the technical writing industry.