Writing a good book is more than dropping words onto a page and calling it done. Anyone can write down some words, but writing a book that's good is a whole different story. It takes a lot of skill, talent, and experience, with most also using a writing app or two to assist them.
There is a book writing software for each and every part of the process. Different writing apps do different things and this is why many writers work with several at once.
Writing a book or a novel is always going to be a long and painstaking process. Even with things out there like Nanowrimo, where you write your first draft in just a month – there are so many other pieces to the puzzle.
Novel writing software is there to help improve the writing itself. But, you also stand to save a lot of time by taking advantage of a writing app. They offer a lot of benefits:
A place to write your content
Editing for grammar/spelling
Editing for sentence structure/word choice
Assessing readability and suggesting improvements
Research support
Note-taking
Brainstorming
Impeccable organization
Efficiency
Formatting for publication
Now, not all of these features are part of every piece of novel writing software, but they all exist. For example, you might use one writing app to take notes and brainstorm, another to write the manuscript, and yet another to edit.
This is common. Once you are familiarized and comfortable with all the writing software, you will be able to move comfortably between them.
Here I have listed the 10 best writing apps to benefit you as a writer.
Squibler
Squibler is a sleek new book writing software which aims to get your book written fast. It knows that there is so much more to completing and publishing a book than just writing it.
The software aims to help you with all of it. And, it does so with finesse. The interface is simple but powerful, and easy to understand.
The goal with Squibler is to be able to write and publish your book within 30 days. This may sound difficult – impossible even – but Squibler makes it easier.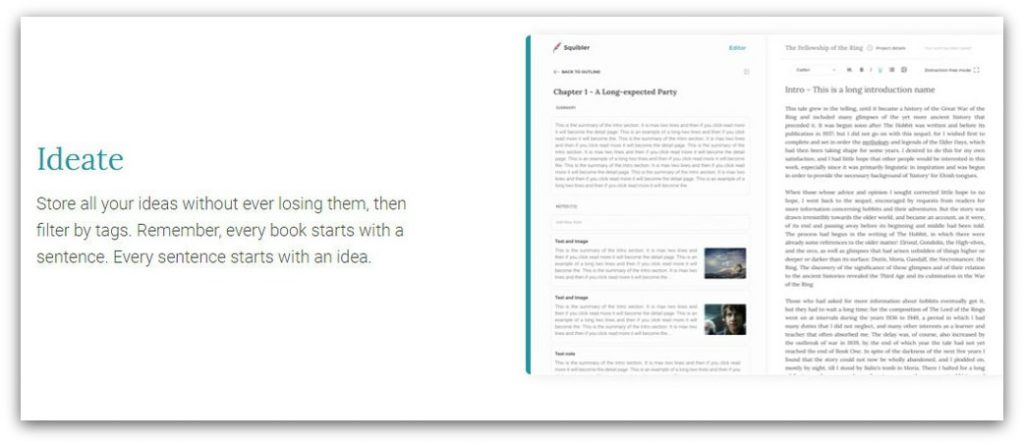 it does this by offering a variety of features that help you stay organized, on track, and motivated:
Store all of your research and ideas in one safe, convenient place. Filter and organize it all with tags.
Create an outline. Make notes on each chapter, create character sketches, plan your settings, and keep it all organized. Files can be dragged and dropped at any time to rearrange.
Squibler includes a grammar checker to make sure your work is clean and polished.
Use the share feature to send your work to someone else – an editor or friend perhaps – to get some feedback.
Use the visual note cards to track progress and organize your files.
Write your book. Writing the actual content of your manuscript is a breeze with Squibler. It offers separate sections for chapters and scenes. These can be dragged and dropped later during editing. Notes and research are organized and accessible in seconds. Squibler takes care of every detail so all you have to do is write.
After completing your book, Squibler will help you publish. They offer options for eBook and PDF. Unlike most other book writing software, it will also help you compile your manuscript for print publishing if you wish.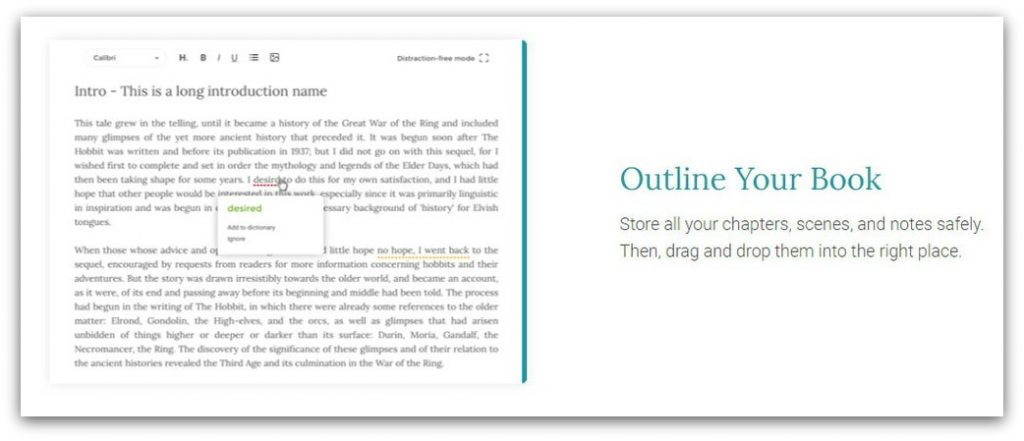 Squibler also offers a variety of templates to choose from. Some are more general while others are specific to a certain genre. All of them make writing your book easier: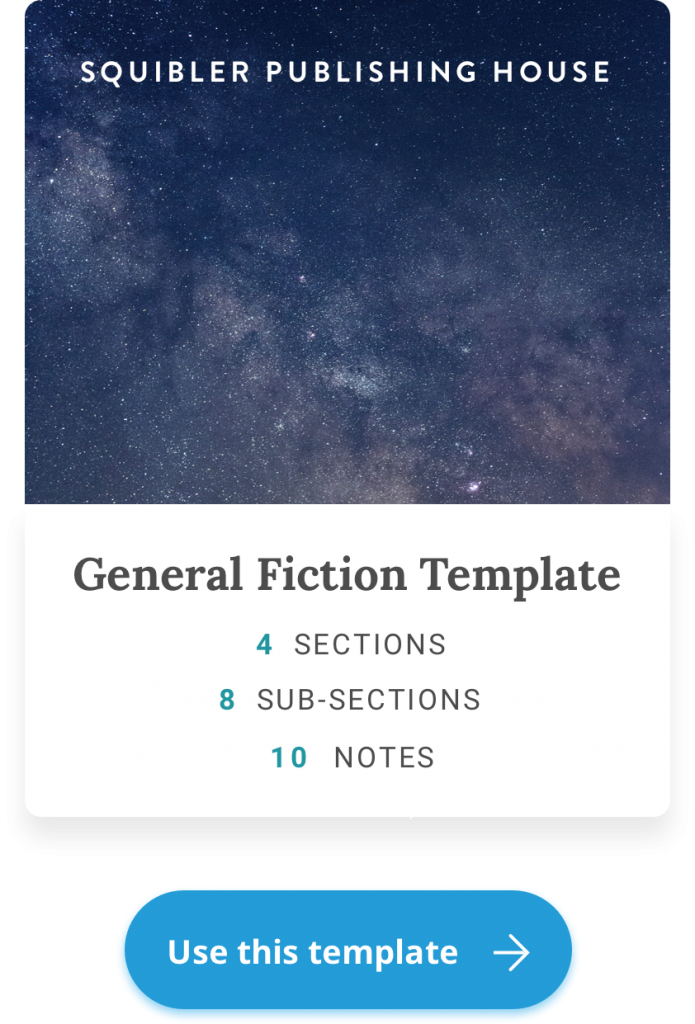 The templates will help you keep your story on track once you do start writing it. They will walk you through all of the necessary parts and sections of your chosen style or genre.
Some book writing software ends up being really complicated and clunky. This isn't necessarily a bad thing, but it can take a long time to learn. Having too many elements in front of you can also get distracting at times.
Squibler offers a simple, unobstructed platform that is not difficult to grasp.
Pricing
Squibler does come with a free trial so you can see if you like it. Once the trial is over it costs $10/month for continued access.
Scrivener
Scrivener is a complete and comprehensive book writing software that can be useful to almost any type of writer. It is vast, complex, and powerful in its abilities to make the life of a writer much easier.
It can be likened to Microsoft Word on writing software steroids. At its core, it is a word processor, just like MS Word.
But, there is so much more to Scriven
er than even meets the eye.
Below is an example of a Scrivener document with the basic, built-in novel template. The binder organizes everything on the left, and you work in the main document.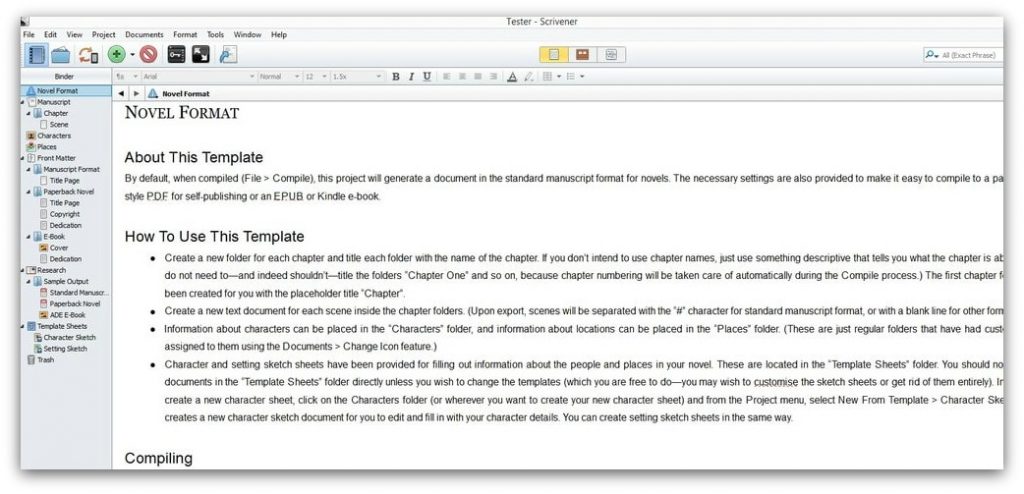 In addition to providing a professional and organized place to write your manuscript, it offers a variety of other features:
A sidebar with a binder to keep everything organized.
A virtual corkboard for outlining and/or storyboarding.
The inspector – an optional secondary sidebar to search and display notes without leaving the current screen.
Scratchpad for when you come up with an idea but don't want to interrupt your flow.
Hundreds of Scrivener templates are available to help you organize your project exactly the way you want.
The ability to work on two documents at once.
A separate space for notes and research.
Everything is kept within a single project. No more sifting through multiple folders and documents to find everything you need.
Import and export capabilities.
Frequent autosaving.
Compiling and formatting for eBook publishing.
And many more.
Below is an example of the cork board – one of Scrivener's most popular features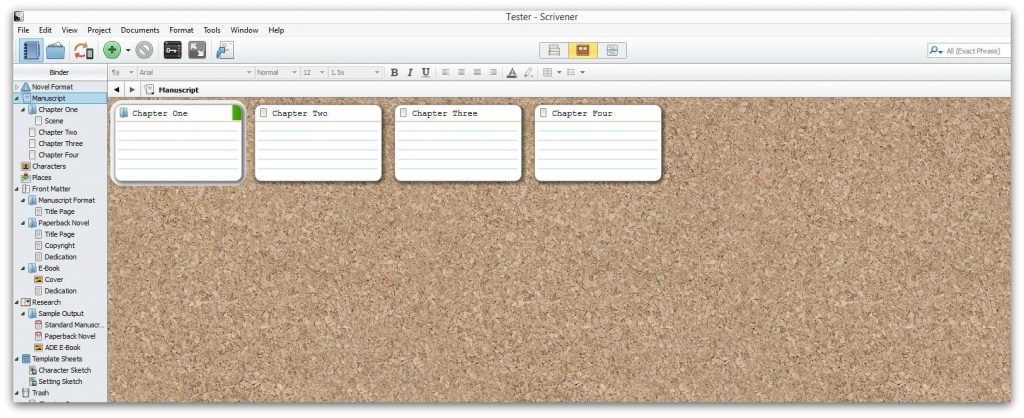 This list barely scratches the surface of what Scrivener can do for you. You can check out our more comprehensive Scrivener review for more details and explanations.
Pricing
Scrivener is not free to use, but it does come with a 30-day free trial. What's awesome about this trial is that it's not 30 consecutive days. You get 30 days of use.
So, you can use Scrivener on one day, and then not touch it for four days. You have still only used one day of your trial.
After the trial period, if you decide to purchase Scrivener, there are four different ways you can do so.
Scrivener for Mac
Standard license is $45.
Educational license is $38.50. You must be affiliated with an educational institute.
Volume discounts are available.
Requires macOS 10.12+ to run.
Scrivener for Windows
Standard License is $45.
Educational license is $38.50. You must be affiliated with an educational institute.
Volume discounts are available.
Requires Windows 7+ to run.
Scrivener for iOS
$19.99 in the app store.
Requires iOS 9+ to run.
Available on iPad, iPhone, and iPod touch.
Dropbox account is required for syncing capabilities.
Bundles
If you wish you purchase Scrivener for Mac and Windows at the same time, you can do so for a discounted price of $75 total. This is $15 less than buying them both separately. This price gets you one standard license on each platform.
Now Novel
Now Novel is an interactive program that helps you build your novel. It's not exactly a word processor, but it will help you flesh out your rough ideas and build them into a full, developing plot.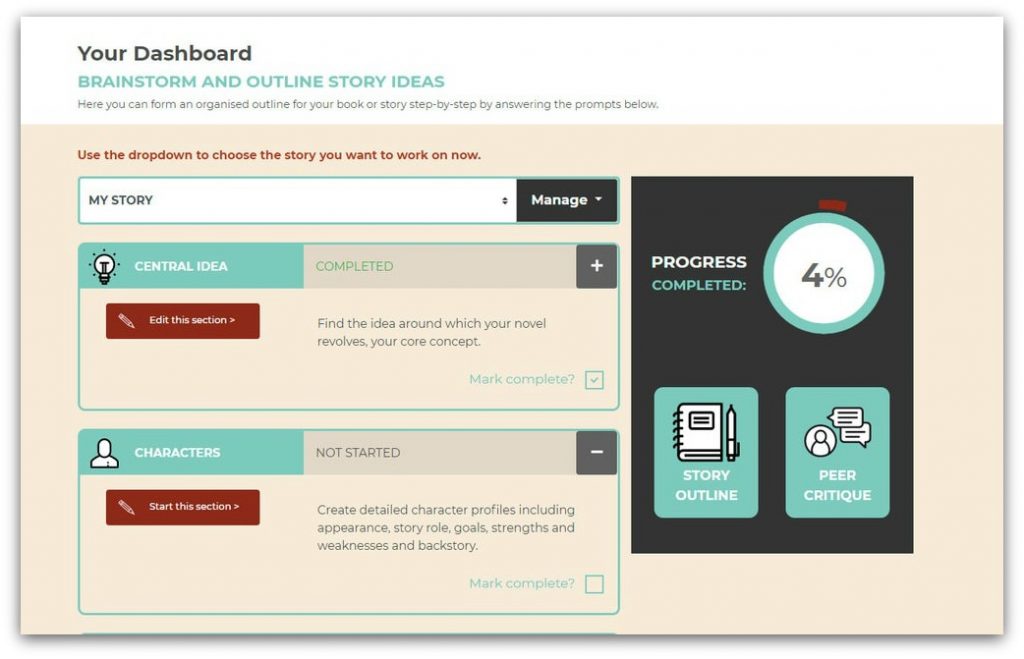 If you're using Now Novel, the dashboard is your central focus. Here, you can access all the sections they have to offer:
Central idea
Characters
Core plot
Core setting
Summary
Scene builder
Worldbuilder
When you enter each of these sections, it asks you a series of questions that help you build this part of your novel.
For example, in the "central idea" section, it asks you what genre you want to write in, and why. From there it goes on to explore topics, possible conflicts and helps you create an idea summary.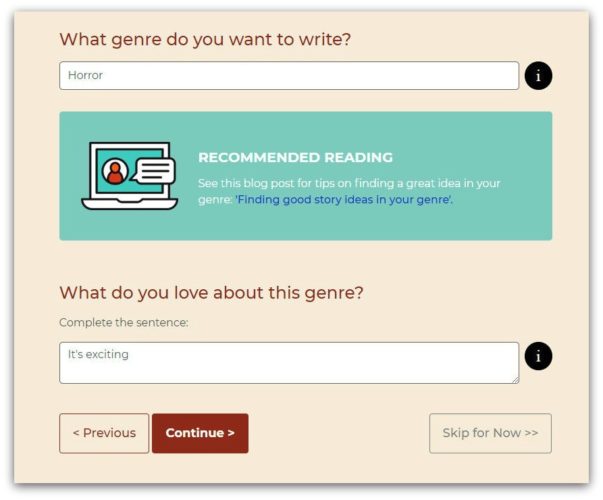 By the end of this section, you will have a grasp on your main idea. The following sections build on this.
Finishing a section will mark it as "complete" on your dashboard, but you are always free to edit it. There is also a graph that tracks your overall progress in this novel building process.
Also located on the dashboard is a link to the peer critique section and your story outline. Clicking "story outline" will generate a single, linear outline for you with space for each section. This can be printed off and used as an additional tool if you wish.
The peer critique is something you shouldn't ignore. Here you are able to submit 800-word excerpts of your writing. Other writers on the site then offer specific feedback on your piece.
Now Novel asks specific questions to the one critiquing, to make sure they stay on target and offer something valuable.
Pricing
Now Novel is a fantastic tool for helping you build ideas and create the basis for a novel. But, the full service does come at a cost.
You can take the program for a test run with a small number of free features:
Central idea section
Characters section
Progress bar
Story outline
Peer critique
To access the rest of the novel building sections, you do have to subscribe to a premium plan. You have three options to choose from.
The Process. This plan costs $15/month, or $149/year. You unlock access to the rest of the novel building sections. It also allows you to join small writing groups.
Coaching. This plan costs $49/month, or $499/year. This gets you everything in the previous plan as well as some motivational tools. These include a personal writing analysis, unlimited email coaching with feedback and guidance, and accountability check-ins.
Coaching+. This plan costs $199/month, or $1999/year. It includes everything in the other two plans, as well as some additional organizational tools. You have access to detailed scene and chapter feedback. They offer bi-weekly one-on-one phone calls with your coach. You have access to digital workbooks and guides. Lastly, you will get personalized help with any writing challenges you may have.
For most writers, the lowest level of subscription will be more than enough to help you get that novel going. This program can help you generate and flesh out unlimited ideas.
Perhaps when you are closer to publishing, you might consider upgrading to a plan that includes some coaching and guidance.
Other Features
In addition to this brilliant and powerful writing software, Now Novel has some additional features that can help you.
First, they have a helpful blog with plenty of articles on the craft of writing. This is a good place to get some advice or tips if you are feeling stuck.
They also offer two comprehensive courses that are designed to help you with your novel. These courses come included with the Coaching and Coaching+ packages, but they are also available to purchase separately if you wish.
Kickstart Your Novel. This course costs $149 when bought on its own. It guides you through finishing the first three chapters of your novel, including personal and detailed feedback from a coach.
How to Write Dialogue. This course costs $39 when bought on its own. If offers four modules with specific exercises. This course is designed for any writer who struggles with creating powerful and effective dialogue. It first teaches you how to punctuate and format dialogue. Then you move on to using dialogue to illustrate your characters as well as proper usage of subtext and context. This course also includes some personal feedback.
Now Novel's novel building software will get that idea fleshed out and on the right track. Once you are ready to write the novel, they offer so many helpful options. From courses, to coaching, to their informative blog – a writer has everything they need here.
Freedom Distraction Blocker
Even the best of us get distracted sometimes. Social media and even the internet, in general, have become a huge time suck for many. The internet is powerful and useful, but sometimes it gets in the way.
Our cell phones are another problem. Many have an irritating habit of checking the cell phone constantly for updates or notifications.
This is precisely why Freedom exists. Freedom knows you don't want to shut off the internet and your cell phone forever, but sometimes your self-control needs a little boost.
With Freedom, you can block distractions for a much more productive writing session or work day. It works for your computer as well as your cell phone.
You can choose to block the entire internet and everything on your phone, or you can pick and choose. You can create a customized list of website categories or even individual websites, and it will only block these.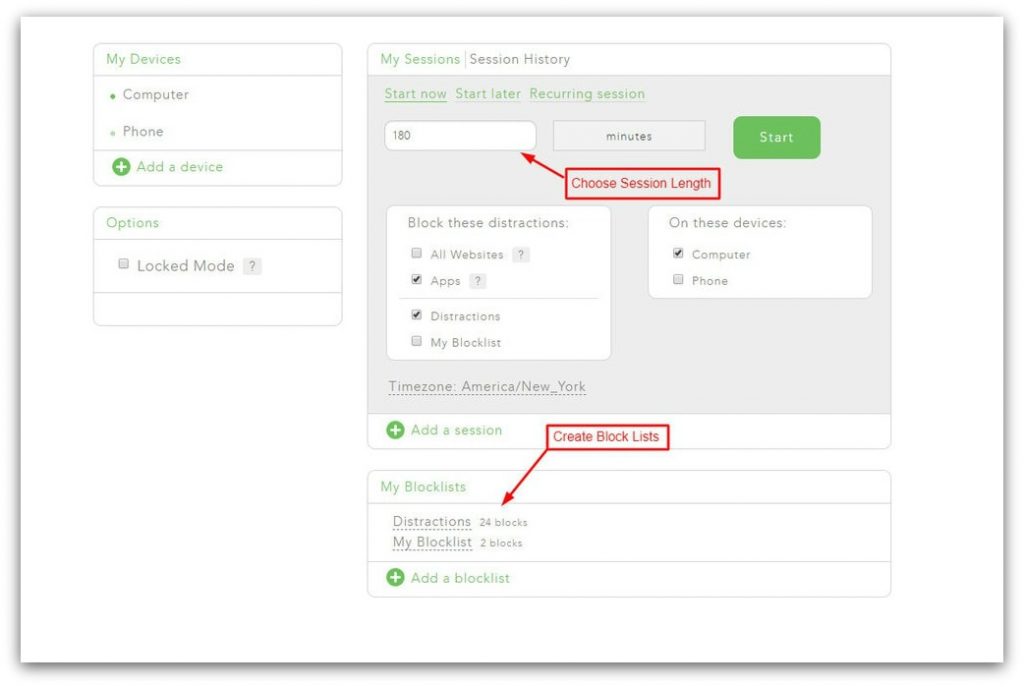 Lastly, you can customize the list of blocked apps on your cell phone as well.
This is perfect for a writer who needs to simultaneously research. Or, if you want to leave your cell phone open to phone calls but get rid of Facebook for a while – this is an option.
If you are working on a project and want no distractions whatsoever, you can block everything.
How it Works
Freedom is accessible from three places:
The online dashboard.
The downloadable desktop app.
The mobile app.
When you want to start a session, go to one of these three places. Here you can customize your block lists. You can create pre-set block lists so you don't have to check off each website every time.
You can create as many lists as you want. Maybe you only want to block certain things while writing for pleasure, but add more when you are working.
Once you have selected your lists, set the amount of time you want them to remain blocked for. Then, just click start!
While freedom is a brilliant, innovative writing app, it is very easy to use.
Lastly, you can choose to select "locked mode." This makes it impossible to edit your blocklists during a session. This is for when you need hardcore distraction removal.
Make sure you don't accidentally block something you need because you will be out of luck until the session runs out.
Pricing
Freedom has three pricing options:
$6.99/month, billed monthly.
$2.42/month, billed yearly ($29).
$129 for lifetime access.
If you like Freedom, buying the year subscription is a pretty good deal. If you use it for six months or a year and you love it, springing for lifetime access will save money in the long run.
Grammarly
Grammarly is a writing app that is well known by many as one of the best on the market. It scans your work for grammatical errors and offers good quality suggestions and changes.
Grammarly is free to use and offers many benefits:
Scans for punctuation errors
Scans for spelling errors
Alerts you to missing words
Alerts you to repeated words
These functions are available within the Grammarly app itself. You can access this on the Grammarly website. Copy and paste your text into their editor, and it will mark all the errors.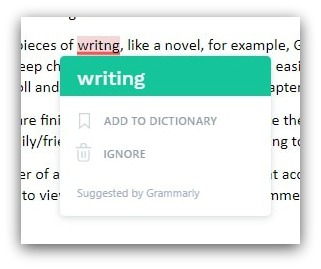 From here you can either copy and paste the text wherever you want it to go. Or, go through and fix the errors manually on the original copy.
There is no limit to how many words you can scan at a time, and no limit to the number of documents either.
If you don't want to go through the hassle of moving it back and forth between your document and the editor, there are a few options:
The Chrome extension will check your writing anywhere on the web.
Integrate it with Microsoft Word (Windows only).
Integrate it with Google Docs (currently in beta testing).
It is a fantastic tool for writers who want their content to be polished and professional.
Premium Upgrade
For those who want a more advanced editing experience, Grammarly offers a premium upgrade. This unlocks several additional features:
Advanced checks for sentence structure and context.
Suggests vocabulary enhancements.
Genre-specific style checks.
Plagiarism scanner that checks over 16 billion web pages.
Get explanations of the grammar rules it corrects for you.
Double click any word in your document for definitions and synonyms.
Grammarly premium may not be necessary for every writer. Those who write casually and/or as a hobby will probably be happy with the free version.
If you are a professional of any sort, you can benefit from Grammarly premium without a doubt.
Pricing
Grammarly premium is available as a subscription, and it comes with three payment options:
$29.95/month if billed monthly.
$19.98/month if billed quarterly at $59.95.
$11.66/month if billed annually at $139.95.
If you can pay for an entire year all at once, this is by far the best way to go. It is a large payment, but it saves you good money in the long run. The additional features you get with the premium subscription are worth the money for anyone who writes a lot.
Hemingway Editor
The Hemingway editor is a good writing app to use in tandem with Grammarly. While Grammarly checks for grammar and sentence quality, Hemingway focuses on readability.
It scans your work for a different set of things:
Adverb usage
Use of passive voice
Complex words or phrases
Hard to read sentences
Very hard to read sentences
It highlights each of these instances in different colors so you can see everything that's going on. It then gives you the option to change them.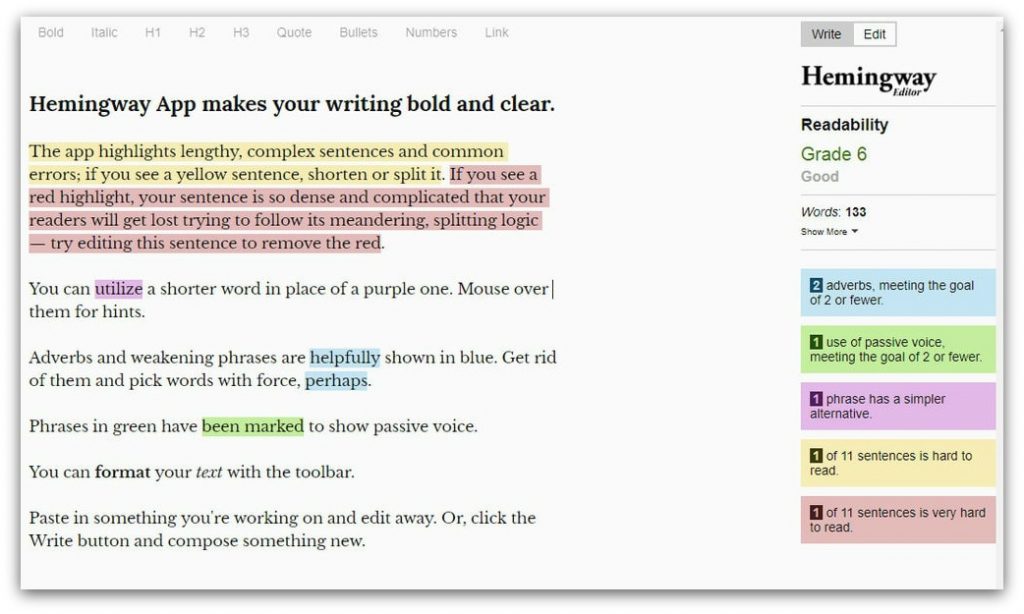 The one downside to this writing app is the lack of consideration for style and tone.
Especially when writing fiction, certain grammar rules are broken on purpose. This can add to the tension, make a sentence more dramatic, or drive home a certain point.
There is no way to let Hemingway know you are doing this so it will mark it as a problem. In these cases, it is up to you to leave it alone.
For this reason, writers of fiction may find it less appealing. But, it can still be useful as an overall checkup for your piece.
The online editor is free to use and your usage is not limited. You can scan as many pieces as you want, of any length.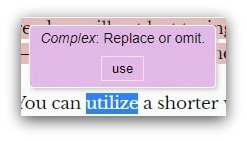 You can either copy and paste a completed work into the editor, or write your piece directly in the editor itself. If you choose the latter, it does offer some formatting options.
Upgrade
While you are able to use the online version of this writing app for free, they do offer an upgrade that unlocks a few bonus features.
This is what you will get for a one-time payment of $19.99:
Access to the downloadable desktop version, available on Mac and Windows. This allows for offline use.
Publish directly to WordPress or Medium, right from inside the editor.
Export as HTML or Markdown for publication anywhere else on the web.
Export to MS Word or other editors.
Send a highlighted Hemingway document to others.
Hemingway is a simple, straightforward program that any writer can benefit from. Especially those who are regularly publishing to highly professional blogs and websites – ensure maximum readability with Hemingway.
Pro Writing Aid
ProWritingAid is a highly comprehensive editing tool. It has your basic grammatical correction covered, but there is so much more to it.
ProWritingAid takes it further than basic grammar by scanning your work for style and readability as well.
They do this by looking at your text from 25 different perspectives, with feedback delivered to you in the form of reports:
The writing style
Grammar
Overused words
Cliches and redundancies
Sticky sentence
Readability
Repeats check
Sentence length
Pronoun report
Transition report
Consistency check
Pacing check
Dialogue tags check
Contextual thesaurus
The diction report
Alliteration
The homonym check
The acronym check
Corporate wording report
Complex words check
Eloquence check
Combo check
Vague and abstract words check
House style check – a customizable report you design for yourself
The plagiarism report
The only report not available with the free version is the plagiarism checker. Plagiarism checks need to be purchased separately.
These writing reports are the focus of the program. They are available in the online editor.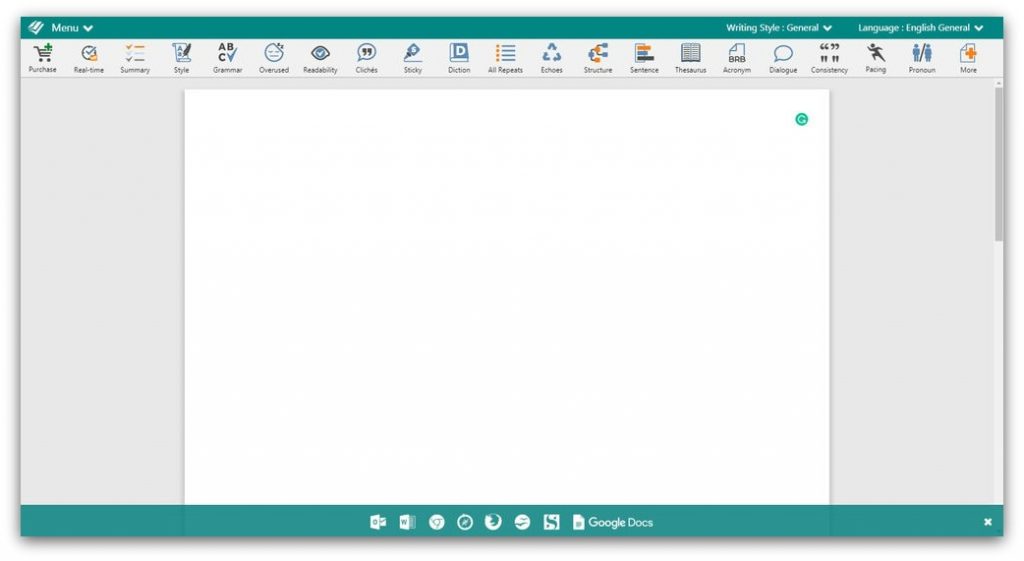 The free version of ProWritingAid is useful, but does come with some limitations:
Online use only.
You can only check 500 words at a time.
You will get limited results with the Word Explorer Tool.
Upgrading to the premium version will unlock several benefits:
Access to the desktop app.
Unlimited word count per check.
Access integrations for Word, Google Docs, Chrome, and Scrivener.
Enjoy full use of the Word Explorer Tool.
Includes real-time grammar and style checking.
Pricing
ProWritingAid has four purchasing options:
One year membership: $60
Two-year membership: $90
Three-year membership: $120
Lifetime access: $210
So, the more time you are able to pay for at once, the more money you will save.
Either way, ProWritingAid is a fantastic tool for anyone looking to improve their writing skills in many ways. Not only does the software perform these checks for you, but it helps you learn.
The more you utilize the reports and recognize your mistakes, the better you will become. The mistakes you make will become less frequent, requiring less editing over time.
iA Writer
iA Writer is unique writing software that aims to provide a seamless, relaxing, and thoroughly enjoyable writing experience.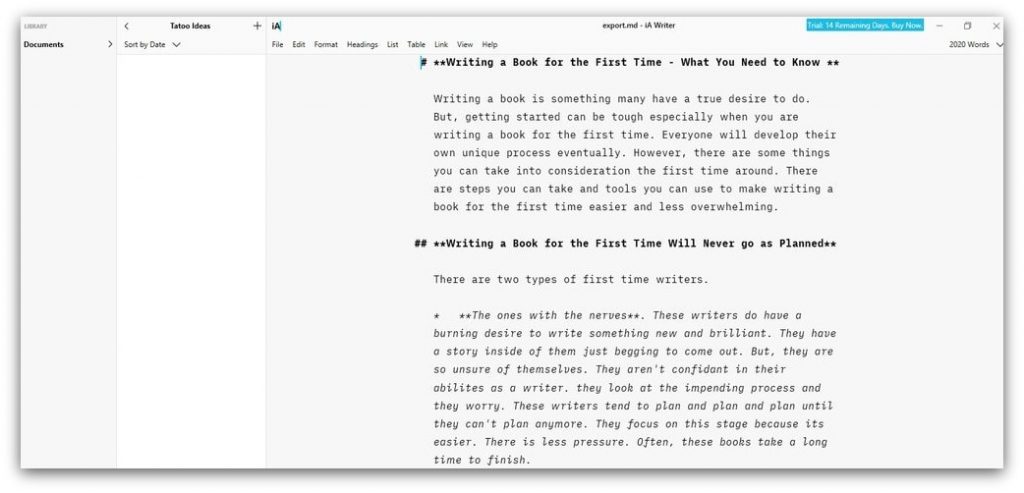 They do this by keeping things simple, clean, and fast. They eliminate all distractions and give you the best possible environment in which to write. This is done using the following key features:
Focus mode. This dims everything except your current sentence. This helps you stay on track and keeps the words flowing. It also helps you avoid the temptation to edit.
Content blocks. These allow you to add images, tables, text files, and code to your document.
Syntax highlight. Enabling this feature will highlight different parts of your writing. Different colors are assigned to adjectives, nouns, adverbs, verbs, conjunctions. This can be incredibly useful when editing for readability.
Hashtags. This allows you to tag your documents with identifiable words to increase searchability. Using the hashtags makes even your oldest documents accessible in seconds.
Custom made fonts. They have a variety of fonts to choose from.
Word export. You can export your documents into MS Word. The export will include every part of the document, including tables, footnotes, pictures, etc.
 
iA Writer is available on Mac, Windows, iPad/iPhone, and Android.
You can download a 14-day free trial to see if you like the software. After that, the cost varies depending on the platform you are using:
Windows: $19.90
Mac: $29.90
iOS: $4.90
Android: free
iA Writer is ideal for anyone looking for something sleek and simple. The features are basic, but they will be enough if you want to be able to just write without worrying about anything else.
Google Docs
You can find a lot of free web-based software with Google's Drive service. Google Docs is perhaps the best one they have for writers.
It is a versatile word processor that is useful for writing, but it is most known for its powerful collaboration abilities.
Once a document has been created, it can be shared with anyone through a simple link. Once someone else has access to the document, they can start making changes right away. All changes made by anybody are saved and synced immediately.
Individuals can either make changes directly to the document or leave a comment on a certain highlighted section. This could be a question or suggestion for the other person, before changing the document itself.

Within this "comment" section, users can go back and forth and discuss changes before making them. This is useful to writers collaborating on a story, or those working together on a business document. It is even used for completing group projects in school.
The software is available in 83 languages, and can be used on many platforms:
Android
iOS
macOS
Windows
Blackberry
Chrome
Google Docs is completely free to use, none of its features require a payment of any kind.
For Individuals
While it is a wonderful place for writers or partners to collaborate, the software has a lot of benefits to an individual as well.
It is a fantastic place to work on many different types of writing:
Blog posts
Articles
Essays
Fiction of any length
School assignments
For longer pieces of writing, like a novel, for example, Google Docs has an outline function. This helps you keep chapters and novels organized and easily accessible. Create your outline, and you won't have to scroll and scroll just to get to that 20th chapter.
When you are finished with your work, you can use the share function to send it to editors/family/friends or anyone else who is offering to critique or edit.
As the owner of a Google Doc, you can control the access that others have to your document. You can allow them to view only, or enable editing and commenting at your discretion.
Evernote
You need to have a place to write your book, but you need to take notes as well. No good book has ever been written without the note-taking stage.
Many word processors and writing apps do have some note-taking capabilities built in. These are often useful, but some people prefer to have a separate and more comprehensive place to organize their notes. This is why Evernote exists.
Evernote is a leading writing app in the note-taking space.
The basic version of Evernote is free to use. You can take your notes online, or on a desktop app which is available to download. Or, you can do both. Evernote will sync your notes if you ever switch back and forth.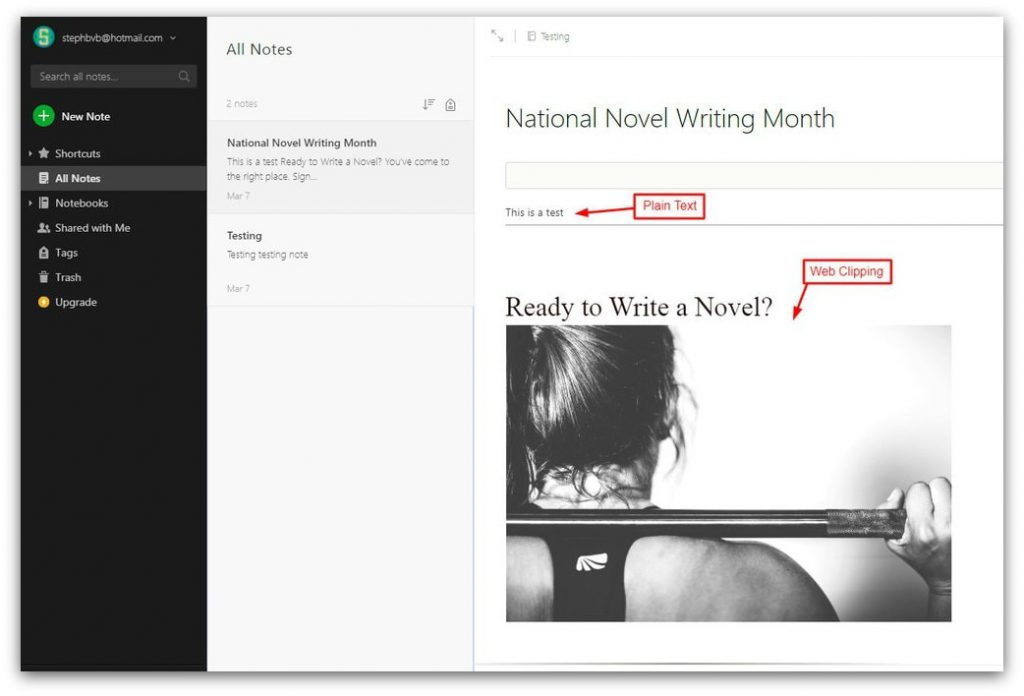 For free, you can take detailed, dynamic, and comprehensive notes. Evernote offers many features within its notes:
60MB upload limit per month.
Maximum note size of 25MB.
Limited to two devices per account.
Format your notes in any way you want, including tables and attachments.
Collect snippets and screenshots directly from the web and add them to the note, with a link.
Record audio clips into the note.
Make to-do lists with checkboxes.
Highlight, annotate, and comment on images.
Take notes with your stylus on mobile devices.
Attach PDFs, files, and other documents.
Create notebooks with tags.
Organize notes by date, title, or tag.
Search your notes and find your desired result fast.
Search includes text inside images.
Share a notebook with someone else, and set permissions for editing.
All of these features make for some amazing note-taking. This is enough for many writers, but some still want to take it to the next level. Evernote does offer a premium plan with additional features.
It is available for $9.99/month and offers these benefits:
10GB monthly upload limit.
Maximum note size of 200MB.
Use unlimited devices on the account.
Forward emails right into Evernote.
Scan and digitize business cards.
Annotate PDFs
See version history of all your notes.
Turn notes into a presentation.
See related information from important and high authority places on the web as you type. This includes The Wall Street Journal, LinkedIn, and Inc. Magazine.
Link Google Drive files.
Connect with email, such as Outlook.
Connect it with communication centers like Slack or Microsoft Teams.
These are all included with the regular premium plan. If you are running a business, there is also an additional level of membership that gives you a few more business-related features.
The Best Writing App: Quick Compare
Use the table below to quickly compare each writing app.
[table id=10 /]
Keep in mind that each writing app offers different things, and they are priced accordingly.
Choose the Best Writing App for You
Everyone has different writing and outlining processes. This is why different people will find different writing software useful.
Maybe you're looking to give your writing a little boost. Or, perhaps you want to re-vamp your entire outlook. Either way, the above novel writing software will be a good place to start.
We have comprehensive word processors, powerful editing tools, and the best methods to beat distraction. There is something for every type of writer on this list.