Document management is a basic need of businesses. When your business is small, you can go without a document management software but as it grows, you'll need to switch to one of the best document management software.
Managing, securing, and organizing business documents isn't just a challenging but an expensive task. It is estimated that time wasted on document-related challenges costs businesses up to $20,000 per employee per year. And it costs $20 to file a document, $120 to find a misfiled document, and $220 to reproduce a lost document.
Things become more complex as your business gets bigger.
But this isn't just limited to complexity and cost, there is more need than ever to go paperless. Going paperless has several benefits including higher employee productivity, reduced cost, efficiency, and knowledge management. An average business spends 1-3% of its revenue on printing and storage. You can save this cost by switching to document management software.
What's the right document management platform for your business?
We analyzed and reviewed more than 25 document management software and tools and picked the best ones so you don't have to spend hours finding, testing, comparing, reviewing, and finalizing.
Best Document Management Software
Here is the complete list of the document management systems we reviewed:
Let's jump to the detailed review of the best document management software from this list. I focused on ease of use, pricing, and key features of the software during the reviewing process as these are the key factors to consider when picking a document management software:
1. Microsoft SharePoint: Overall Best Document Management Software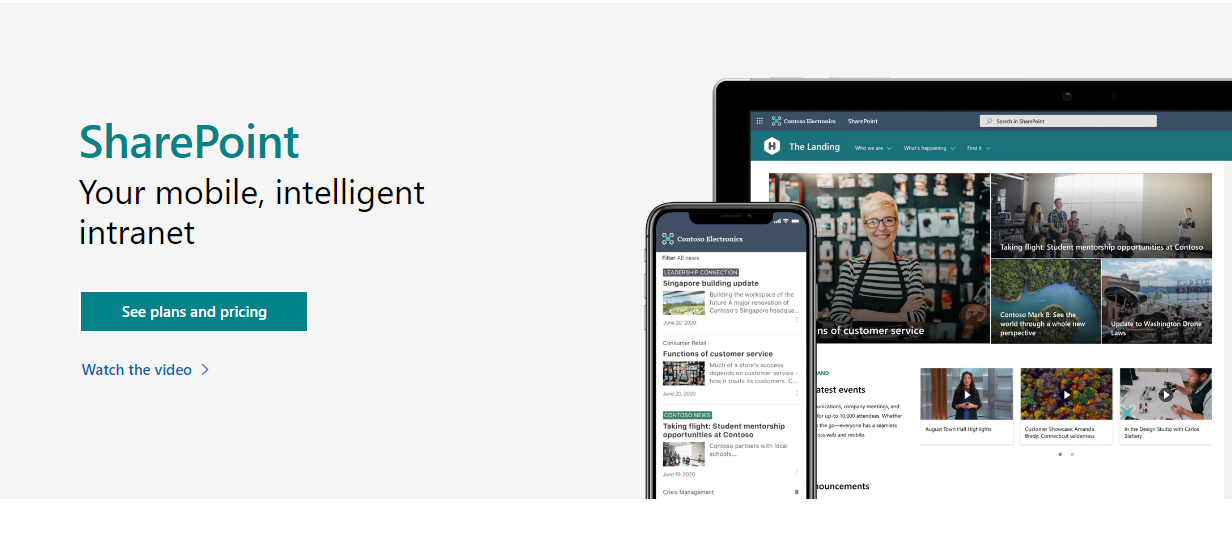 SharePoint is one of the leading document management software by Microsoft. It is a comprehensive and highly effective document solution for businesses of all sizes. Not that it is cost-effective, easy-to-use, and feature-rich, but it integrates with leading tools and apps.
Its key focus is on sharing and workflow management. Those who have worked in Microsoft Office 365 will find it easy to navigate and move around SharePoint. It is linked with OneDrive and each user gets at least one TB of space.
You can create sites that are independent content libraries. For example, you can create a site for each project and individual teams. People know what site they have access to for a given project. This keeps documents organized, especially for large organizations where you have to work on hundreds of projects and simultaneously.
Microsoft SharePoint also uses artificial intelligence that scans your business's data and creates insights that help you in several ways such as optimizing workflows, file search, image scanning, and more. 
Ease of Use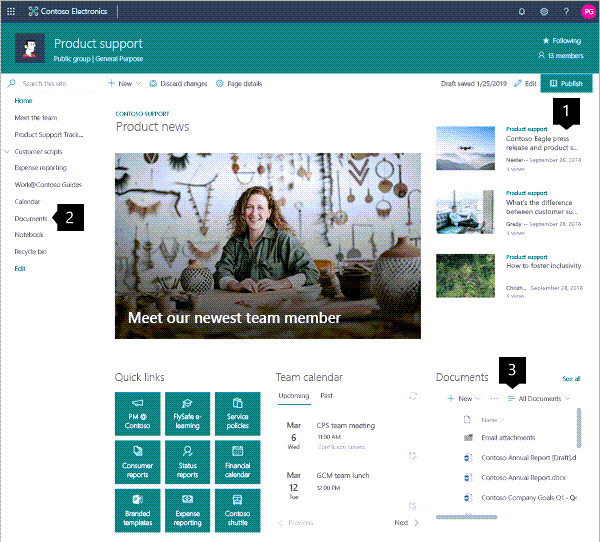 Site is the main feature in SharePoint and it needs a bit of understanding. Everything else is straightforward. It seems an obvious Microsoft product so getting around for new people isn't problematic at all.
This is what the start page of SharePoint looks like: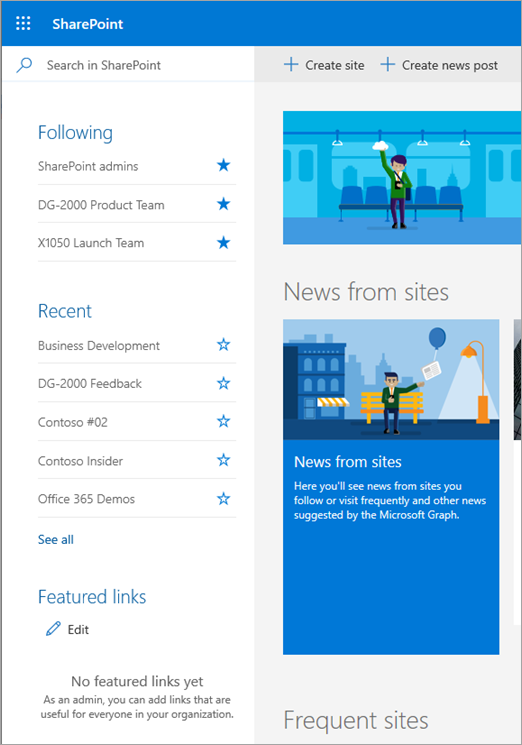 It has a search bar at the top, links to sites you are following, recent sites, news, and links to creating a site and news post. These simple terminologies make it an ideal choice for businesses because anyone can use it hassle-free backed by some amazing features.
Features
The main SharePoint features include:
A simple and effective document management system for teams of all sizes

Coauthoring allows different people to work on a single file simultaneously

Powerful and secure file sharing system that lets you share documents outside your company and access documents securely

You can retrieve older versions of the documents and keep track of all the changes via the version control feature

PowerApps simplifies processes and workflows

Seamless integration with Office 365 and a wide range of other solutions.
Pricing
Microsoft SharePoint has a simple subscription-based pricing model and it offers 3 plans: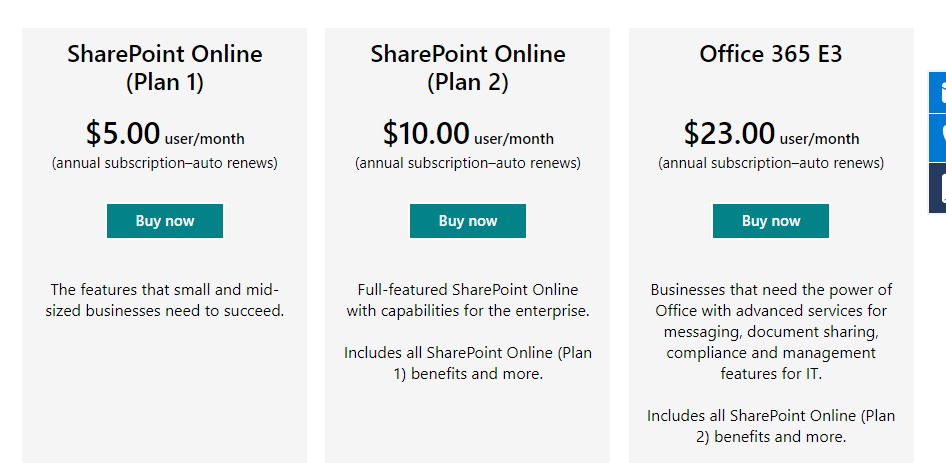 Plan 1

: It is a basic plan that costs you

$5 per user per month

with an annual subscription. Each user gets 1 TB of OneDrive cloud storage space with access to SharePoint, OneDrive, and Lists. It comes with all the basic features including coauthor, sites, file sharing, 24/7 support, and more.

Plan 2

: It is an enterprise document management plan with unlimited OneDrive storage for each user. A single seat costs

$10 per month

. You get all the Plan 1 features along with enterprise customization, advanced DLPs, and other key features.

Office 365 E3

: This plan offers the complete Microsoft Office 365 suite with all the office applications. A single user seat is priced at

$23 per month

. Additional services include Skype for Business, Exchange, Teams, and many others. You get access to desktop versions of Office apps along with video conferencing and unlimited seat capacity.
Pros
Here is an overview of the things I love about SharePoint document management software:
A cost-effective document management system that's suitable for small and mid-sized businesses with a limited budget

A feature-rich solution that integrates with Microsoft Office and other third-party apps

The coauthor is the best feature that makes it possible to work on a single document simultaneously in real-time.
Cons
Here is what you might not like about SharePoint:
There is no free trial available to test the document management solutions

It comes with a learning curve especially if you are using it with Office and other apps. Despite an easy UI, it still requires some level of training.
2. M-Files: Best Document Management System for Ease of Use
M-Files is the easiest document management software that uses artificial intelligence for document categorization. It has an exceptionally easy user interface that makes it the number one choice for businesses interested in a straightforward document management system that doesn't require staff training.
It is ideal for large teams where it gets complicated to find the desired file from hundreds and thousands of files. Imagine you need to work on a shared file and don't know the file name or where it was saved by a teammate a couple of months back. With M-Files, you don't have to go through the tiring process of using different keywords to search a file from a database, it saves documents based on their content and lets you access documents with a simple search (e.g., customer data, project title, invoice, date, etc.).
User Interface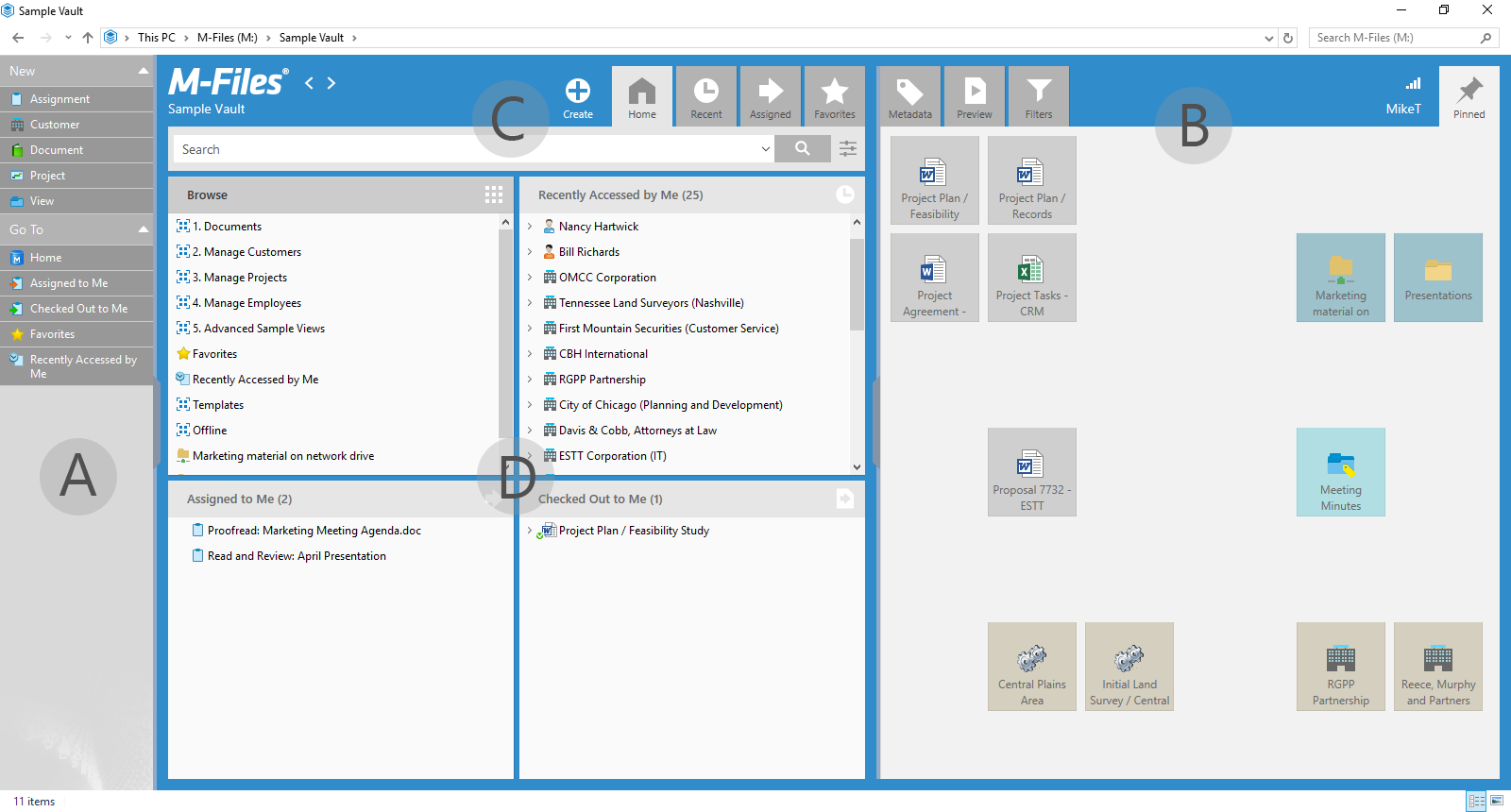 The most prominent feature of M-Files is its user interface. If you know how to use your operating system, you can use M-Files without any training. It has a drag and drop interface that works exactly like the traditional file system of your operating system.
The interface is divided into different sections:
A

: Task area where you'll see most used files and shortcuts

B

: Right pane for pinned tabs and files with previews

C

: Quick search lets you search any document in M-Files

D

: Listing area with objects and search results.
Here is how the search works:

The best thing about the M-Files interface is that it uses the traditional operating system's file and folder system with minor enhancements. This makes it an exceptionally easy-to-use document management system.
Features
Here is a list of the key M-Files features:
Easy to use document management software with a simple user interface

Uses artificial intelligence for storing and accessing documents making it easier for users to search documents via any term they remember

Supports digital workflows to improve and streamline day to day work processes

Auto-detection for duplicate files to ensure there is only one version of the file available throughout the system

Integrates seamlessly with your existing IT infrastructure and supports a wide range of app and software integration

Collaboration, sharing, electronic signature, templates, file conversion, access grants, security, and encryption improve the functionality of M-Files.
Pricing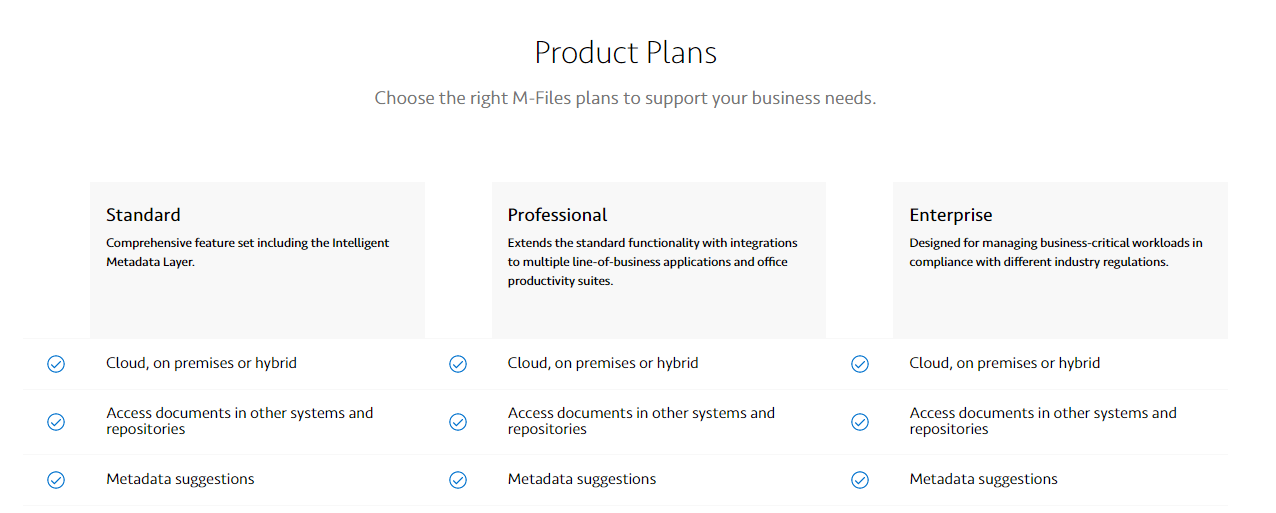 M-Files document management solution offers 3 plans with the option of cloud, on-premises, or hybrid. The standard plan is ideal for small businesses with basic needs. Professional offers more features and functionality and is ideal for growing businesses that are interested in integration. Enterprise is suitable for large businesses that need an end-to-end document management system with more control.
The price depends on your requirements and varies from business to business. The cost includes implementation (cloud, on-premises, or hybrid) and subscription fees (number of seats).
You can, however, get access to a 30-day free trial and decide how it goes for your business.
Pros
Here is an overview of the things I like about M-Files document management systems:
Ease of use. No training is required. Anyone can get started almost immediately without any guidance

Integrates with Microsoft Office and Salesforce is a life-saver

Automated workflows make project management a piece of cake.
Cons
Here are the things that I don't like:
The standard plan comes with basic functionalities only. If you need to get the most out of M-Files, you must be on the Enterprise plan

It is expensive. Though price depends on a number of variables, it is still on the high side

Implementation and infrastructure setup that integrates with your existing document system is complicated but once it is completed, you can sit back and relax.
3. Workspace by OnlyOffice: Best Document Management Systems for Multipurpose Use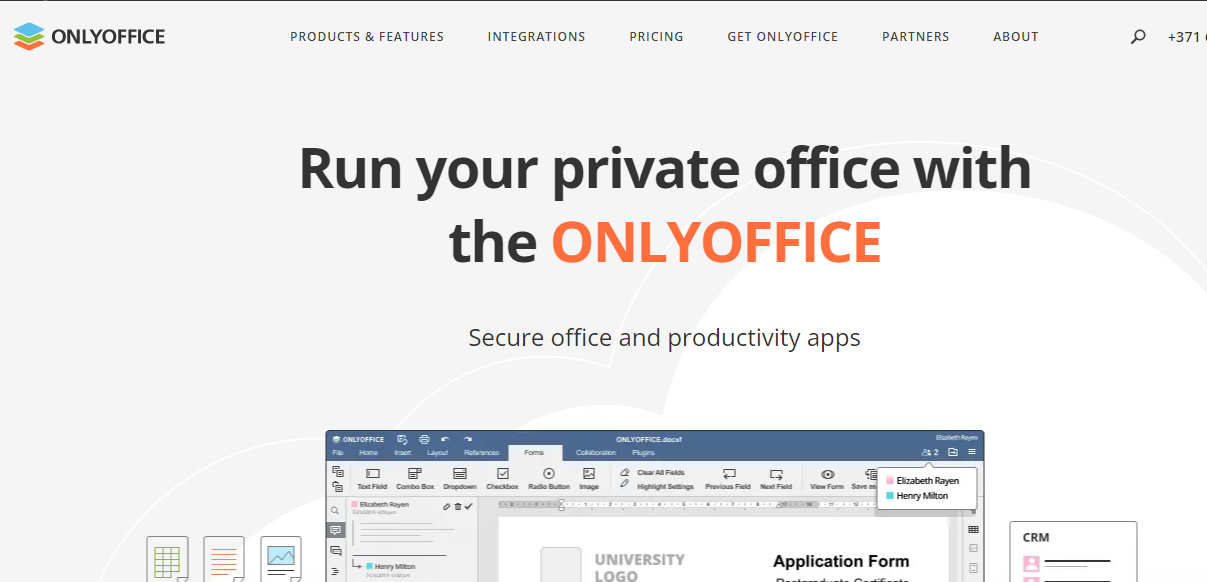 OnlyOffice is a multipurpose document management software that offers you a lot of productivity tools and resources. Document Management is its official document management software aimed at making your office paperless quickly and easily.
The best thing about Document Management is that it is coupled with tons of useful applications that make sharing, collaboration, and document management simplified. It supports multiple file formats including spreadsheets, text files, multimedia, and digital forms and these are the features that you don't find with many document management systems.
It supports permissions, collaboration, revision tracking, and simultaneous document editing in real-time. The private room supports AES-256 encryption to keep your files and documents secure.
Document management software by OnlyOffice is bundled with its Workspace platform that includes other tools too such as email, CRM, projects, calendar, and more. You'll get access to all these platforms making document management more powerful than you'd find with other solutions.
Ease of Use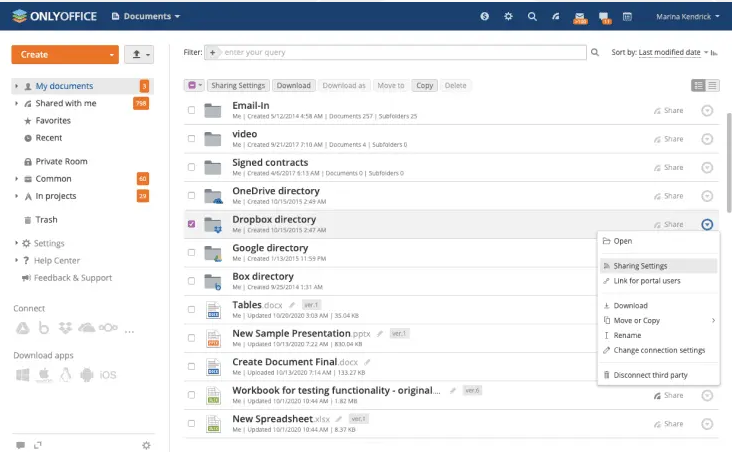 The user interface isn't one of the easiest. It requires training especially if you want to use it at its full capacity. The overall interface is similar to Office 365 cloud and Google Drive. The right panel shows you links to key locations such as documents, shared with me, recent, and favorites.
You can access the properties of any file or folder with a right-click and share it with others.
This is what the document editor looks like: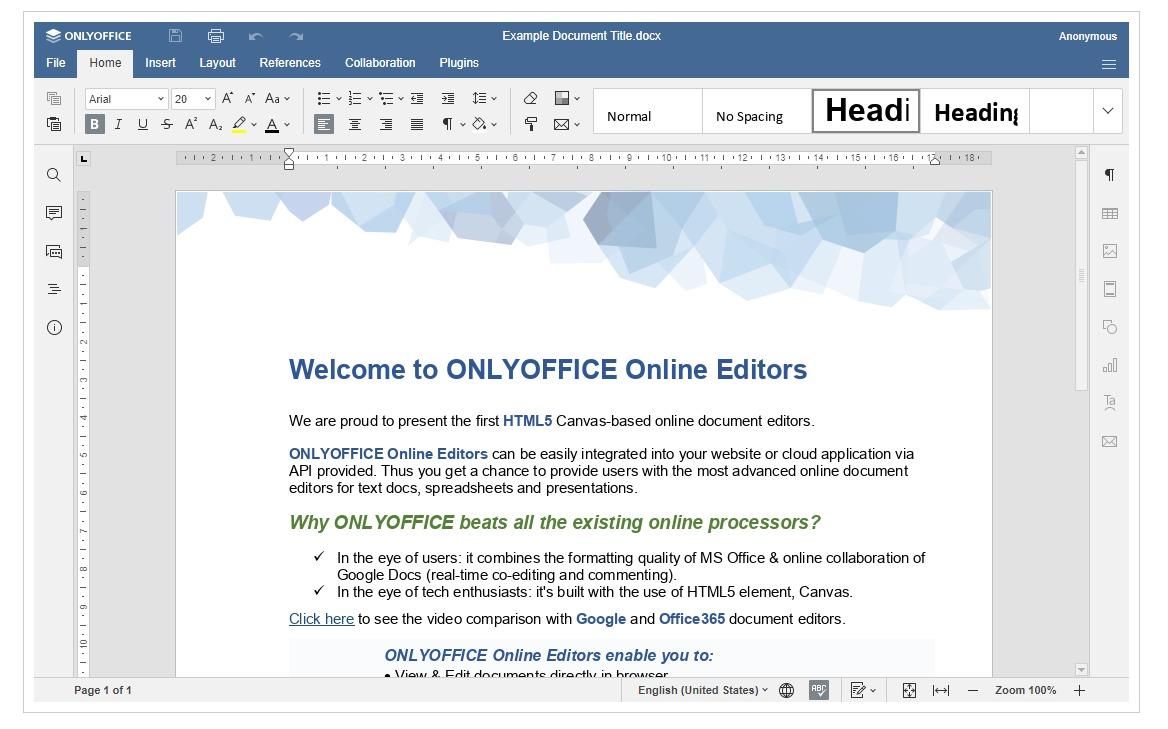 This is exactly like Microsoft Word or Google Docs. However, it has a collaboration tab at the top that allows team sharing and access to other features.
Features
The most prominent features of this enterprise document management system include:
A multipurpose document management system that offers you a complete suite of different tools and apps

Advanced document sharing, enterprise content management, and collaboration permissions

Version control and revision control with coauthor feature stand out

Access to other tools such as CRM, email, chat, and communication, and projects make it ideal for several business processes

Ability to have it installed on your servers and make it more secure and transparent

Comes with mobile apps and desktop software along with a web version.
Pricing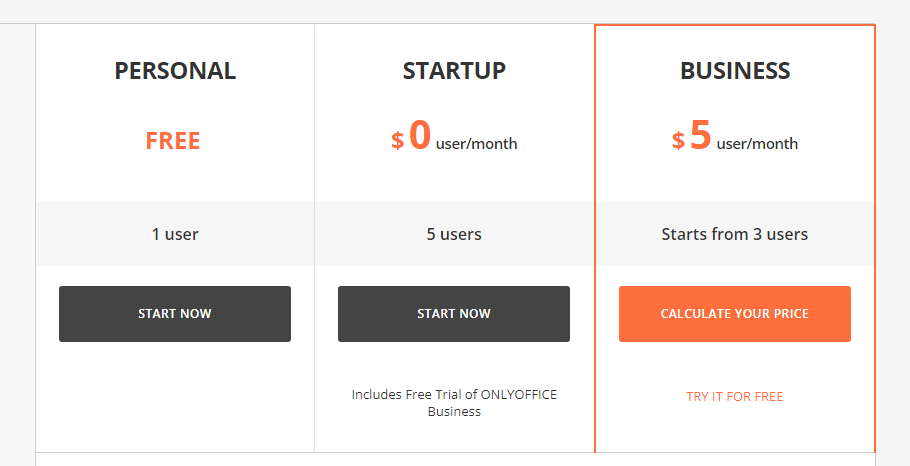 OnlyOffice Workspace comes in two different forms: Cloud and Server Enterprise. Cloud storage is suitable for most businesses because your workspace will be hosted on OnlyOffice's server. Server Enterprise document management is for large businesses that want to host it on their own server.
The Personal and Startup plans are free but come with limited features and restrictions such as 2 GB space per user. The Business plan comes with $5 per user per month and this plan comes with all the features and complete access to all the tools and resources. Each user on the Business plan gets 100 GB of space.
Pros
The list of things that I like about this document management software:
Cost-effective and ideal for small businesses and startups

Access to several productivity tools and platforms

Advanced document management processes like encryption, version and revision control, coauthor, and permissions.
Cons
Here are a few things that I don't like about this document management system:
Requires training as your team might find it hard to use it without any support

Not a feature-rich document management software and lacks some basic features that you might find with competitors

Lack of integration is an issue that makes scalability a challenge for businesses.
4. eFileCabinet: Document Management Systems with Best Features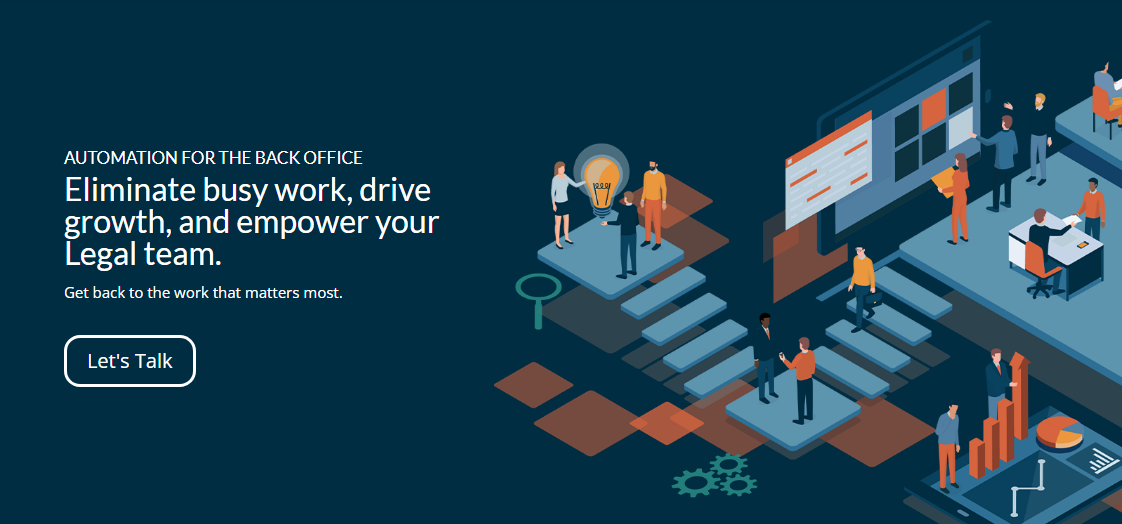 eFileCabinet is sophisticated cloud-based document management software that's ideal for remote teams. It offers some of the best features that you'd not find with other document management tools. The desktop and mobile app keep your employees connected to the central file system no matter where they're.
It is a comprehensive document management system that covers all business needs. Rubex is the user interface tool by eFileCabinet used for document management. The most prominent feature is smart automation which organizes your files and data automatically based on the content and names. The documents are automatically recognized and categorized accordingly. This is a life-saver feature by eFileCabinet.
You can compare two files simultaneously with the dual-screen preview. When you are dealing with hundreds of files and documents, you often feel the need to compare two different files to track changes and differences. This is a handy feature for businesses.
It supports checks, invoices, forms, file requests, legal documents, e-signatures, templates, and several other features that make it an end-to-end document management system for all the departments in any business. Think of finance, HR, legal, IT, and more. It comes with customizable templates for specific departments within your organization.
Ease of Use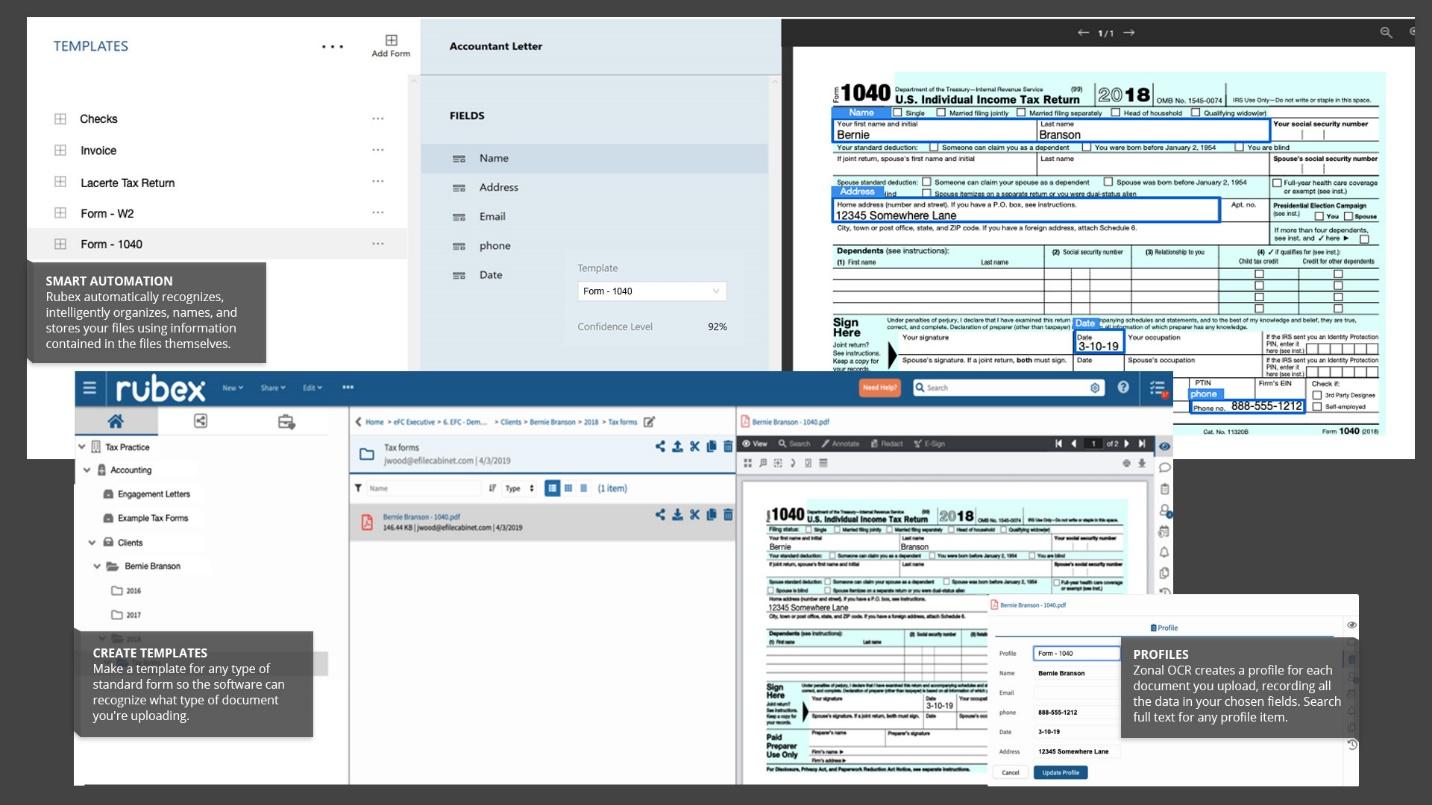 Rubex is the official name of the document management software that is available in the cloud and desktop and mobile apps. The user interface is tidy having a side panel with all the folders and projects. Clicking any folder lists all the files in it and then you can view and edit files.
One of the key aspects of Rubex is its workflow management with graphical representation. It gets easier to track project progress when represented in graphical form: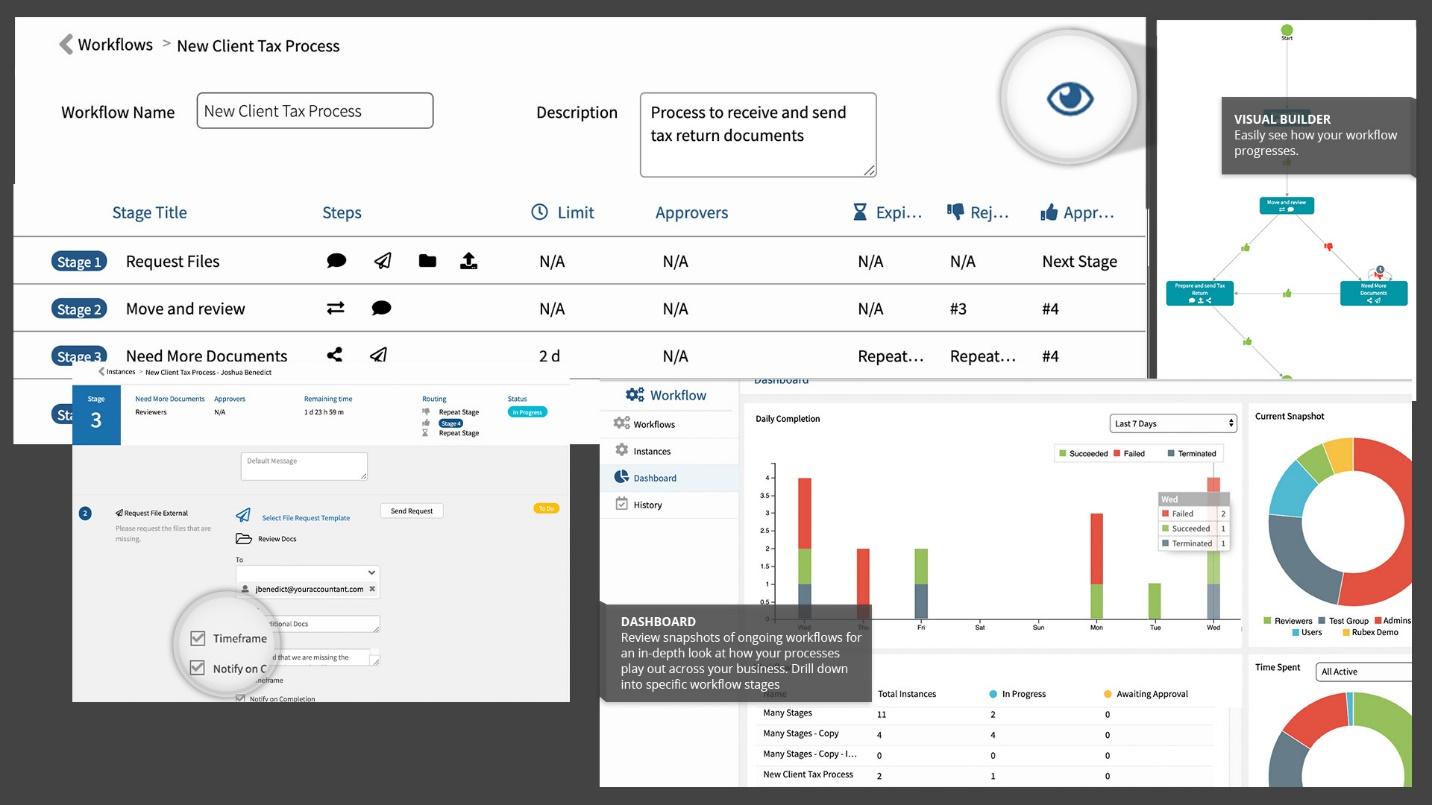 The overall look is similar to an email inbox and this is a good sign because it looks familiar. However, the software itself isn't straightforward and requires training. You can use the basics and understand the software by exploring it but you can't use it to its full capacity without training.
Features
The most prominent thing about eFileCabinet is its amazing features, let's see what it has to offer you:
A robust online and cloud software for document management that's updated regularly

Smart automation organizes your documents by naming and saving them based on the document's content. This helps you find files with ease even if you don't know anything about the file name

Customizable templates help you keep folders and files organized and manageable

Workflow management is made easier by graphs and charts to quickly monitor the progress and current stage of a project

Request files from people who aren't using Rubex easily. Anyone can upload and share files securely

Enhanced security for document sharing. Set permission and file expiration date when sharing a sensitive document

Advanced permission settings to control access to documents and folders

Support for e-signatures with OTP or KBA

Integration with leading apps and tools including your email client. It lets you import emails from your server and link your cloud storage with Rubex such as Google Drive

Dual screen reviewer for better viewing of different versions of a single document

Advanced file sharing and link sharing settings to have control when sharing documents with outsiders

Complete support for fillable forms that can be filled within the software

Advanced search option to find missing files

Ability to design the layout of Rubex based on the department you want to use it for

Work on desktop and mobile with full connectivity with the cloud storage in real-time.
Pricing
eFileCabinet document control software hasn't updated pricing details on its website. You need to fill out a short form with your requirements to get demo access. The price depends on the features you are interested in and your specific requirements. This means the price is variable and the software is customizable.
The starting price is $1,200 per feature per year as mentioned by the company on Capterra. There is a free trial but no free version of the software. The pricing model is based on per feature instead of per user. This makes it a bit expensive as compared to other document management software solutions.
Pros
Here are the things I like about eFileCabinet:
A comprehensive document management software that offers all the features you need

Comes with governance and administrative control

Integrates with other tools your business is using, especially cloud storage services.
Cons
Here are a few things I don't like about this document control software:
It is expensive. Though the actual price varies from business to business and you need to get in touch with them to see what they offer you based on your requirements, generally the price is on the high side

It has a learning curve. You need to arrange special training sessions to ensure everyone in the team knows how to use the software.
5. OpenKM: Best Free Document Management Software

OpenKM is an open-source document management system that has a free version for businesses. You can download the free version and use it for your business. It offers all the features you'll find with the most document management systems on the market.
The best thing about OpenKM is that it is open-source web-based document management software. It is written in Java so you can hire a programmer and add more features as per need. The free open source version comes with all the basic features including document management, record management, workflows, task automation, and more.
The free version covers all the basic features but if you need more features and sophistication, you'll need to switch to the professional version that isn't free. So, you have two options: Either add more customized features in-house with the help of your IT team or switch to the professional version.
Ease of Use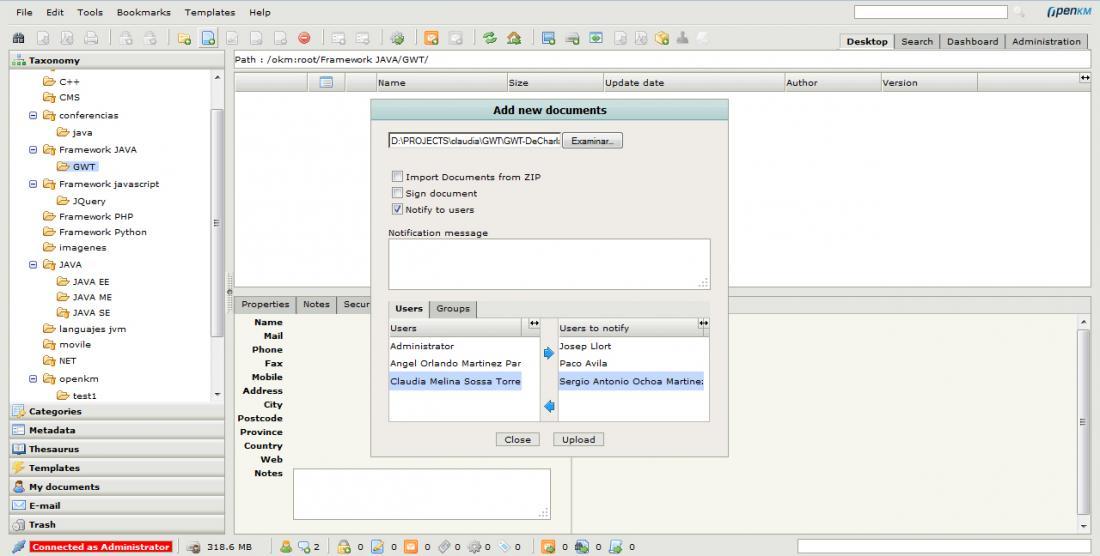 The user interface isn't too attractive. It is an old-fashioned interface that you'll need some time to understand. Your team will need training to fully understand how to use the tool.
The list of folders is available on the left side with tabs for different locations and folders. And this is what the live editor mode looks like: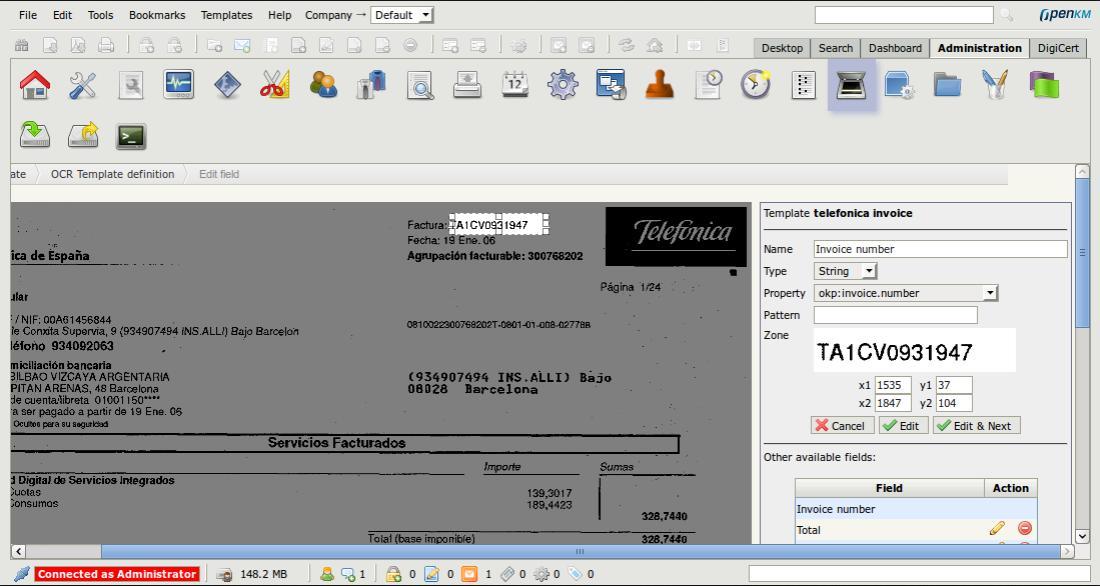 And here is what the task manager looks like: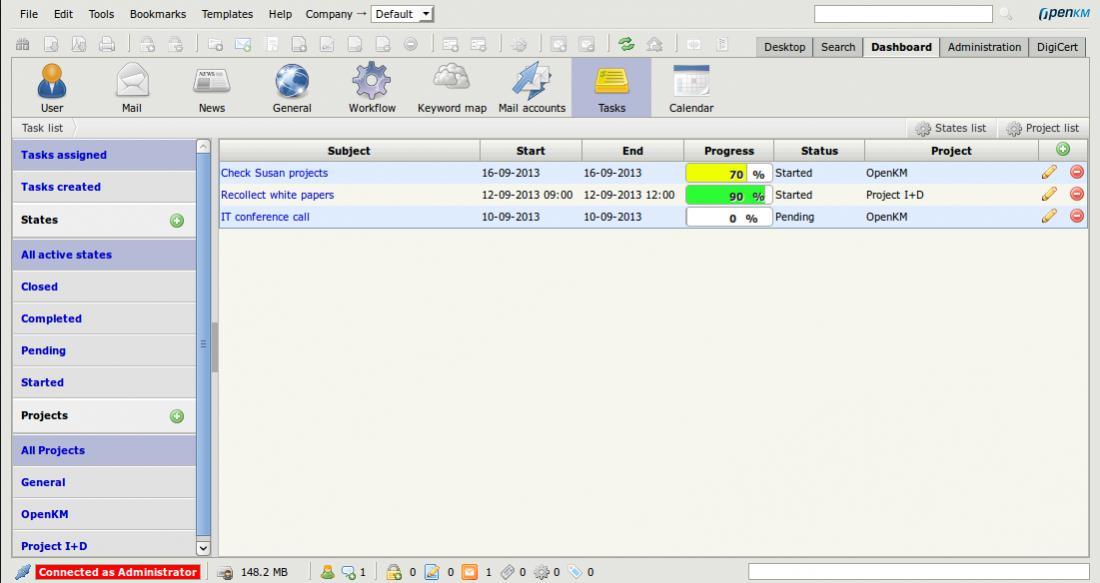 Once you know how to use it, things get easier.
Features
Here is a list of the key features of OpenKM:
An open-source document management software that you can tweak as per need

There are several free resources and scripts you can use to add wings to the software and do more at zero cost

It supports a wide range of files and integrates with tools and databases easily

Electronic signature availability

Advanced version control and audit trail

Automated workflows to keep track of projects and business processes

Advanced file search system to find files using tags and file content

Desktop and mobile apps are available along with the web-based interface.
Pricing

The community version of the software is free to download and use. The Professional plan is cloud-based software that comes at a price. The price isn't disclosed as it is variable and depends on several factors. You can request a free trial of the Professional plan.
The community version is available for Windows and Linux with step-by-step tutorials. The installation process isn't easy. The tutorials, however, simplify the process. You can get help from a public forum in case of any issues.
The free version of the software is ideal for small businesses with limited resources that can't afford to spend recurring money on a high-end document management solution. 
Pros
The things that I like about OpenKM document management solutions:
It is open-source and free document management software which makes it scalable and customizable

Offers all the basic document management features and productivity tools

Public forum to get free help from global experts at no cost.
Cons
Here are a few downsides of the OpenKM document management solutions:
The user interface is a bit old-fashioned

It requires staff training and an in-house IT team to manage the installation and maintenance of the software.
The Best Document Management Software is a Click Away
Using the right document management solutions for your business is essential. It isn't something you can change now and then. The implementation process is resource-intensive and mostly not free. And switching between document management software is an even bigger challenge.
Choose your document management system carefully. Weigh ups and downs including budgeting, strategic alignment, and long-term objectives with caution, and then pick a software that you know is ideal for your business.
Once you have finalized a document management system, get in touch with the company with your requirements. Add and remove features according to business needs and proceed with the implementation stage.