An average business wastes $20,000 per worker per year on document issues and up to 6 employees share a single document daily in large businesses. Managing digital and paper documents smartly and ensuring timely availability is a key concern for leading businesses in the world. And this is a reason why the demand for enterprise document management systems is on the rise. The global document management software market is projected to reach $10.7 billion by 2025.
An enterprise document management (EDM) is a system to store, share, organize, protect, use, and manage both paper and digital documents. The system also handles workflows on documents, files, and records. The enterprise document management system is either cloud-based or self-hosted or hybrid (which includes both cloud-based and self-hosted).
A cloud-based document management software is stored in cloud storage by the software developer and it is available and accessible to the business and its employees on the go across several devices. A self-hosted document management software, on the other hand, is hosted on the business's server and needs to be installed on the computer or mobile devices to be accessible. Hybrid document management software is hosted on both cloud and server and works both ways.
So, what's the best enterprise document management system, and how should you pick the one that's right for your business?
This article covers leading enterprise document management systems with their key features, pricing, pros, and cons. We screened and reviewed more than 20 document management systems so you don't have to go through this hectic process.
What is the Best Enterprise Document Management Software?
Here is the list of the best document management systems we tested and reviewed in this study:
Below are the in-depth reviews of the best document management systems for enterprises based on our research and analysis:
1. Microsoft SharePoint [Overall Best]

Microsoft SharePoint is hands down the best document management software for enterprises and large businesses. It is an end-to-end document management and enterprise content management system that organizes, stores, and manages all types of organizational content and documents.
SharePoint coupled with OneDrive offers you the best document management system. You can share files securely, multiple people can work on a single file simultaneously, and seamlessly connect and share files from a computer or a mobile app.
Everything revolves around team sites in SharePoint that help you keep your teams connected. All the people within a team have access to the team site where they collaborate to complete projects and tasks. It is a highly interactive way to keep your team connected and organized.
SharePoint gets powerful with other Microsoft products such as Microsoft Office 365, Exchange, Delve, Yammer, Teams, Skype of Business, PowerApps, and Microsoft Flow. These different tools and apps are ideal for any enterprise interested in managing documents, content, and workplace automation.
However, creating a powerful ecosystem using all these software and apps for your business is challenging. Microsoft offers FastTrack deployment free of cost to businesses that buy 50+ seats. The interconnect infrastructure for these tools and apps will be set up by the Microsoft team for your enterprise, what's better?
Key Features
Here is a list of the major SharePoint features:
Comprehensive enterprise document management systems that provide an end-to-end solution to large-scale businesses

Co-authoring is a time-saver and productivity booster feature that allows multiple people to work on a single document at the same time

Check-in and checkout let users lock documents to restrict simultaneous editing for critical files and edits

Document management systems are incomplete without a version control feature and SharePoint has a robust versioning feature that keeps track of all the changes made to a document for its life

Keep track of employee activity and audit trails with audit logs that are auto-generated for all the system activities

User permission feature lets you restrict users from editing, deleting, and viewing files without permission

Advanced search feature to find different types of documents easily and enterprise search lets you add more features and filters for search

Support for online video conference of up to 10K individuals via Skype Meeting Broadcast

Cloud storage and web application along with mobile apps and desktop applications for Windows and Mac make SharePoint a powerful document management software

Unlimited personal cloud storage space for each user and email hosting with unlimited mailbox

Additional applications and apps including Microsoft Office 365

Telephone and web support with FastTrack deployment is ideal for large businesses that need an immediate document management solutions setup.
Pricing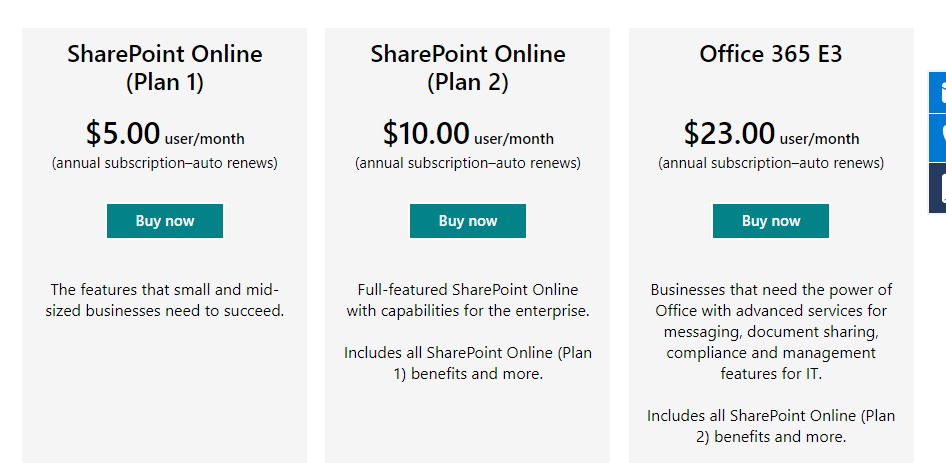 SharePoint comes with 3 plans with a per seat pricing model. Plan 2 and Office 365 E3 are suitable for enterprises. Plan 2 gives you full access to SharePoint with all its features while the E3 plan comes with complete Office 365 and other business apps.
Plan 2 costs you $10 per user per month and Office 354 E3 plan costs $23 per user per month. If you are interested in document management software specifically, Plan 2 is best for you. However, if you are looking for an enterprise content management software coupled with a document management platform along with several other business software and apps, Office 365 E3 is the way to move ahead.
Pros
Here is what I liked the most about SharePoint:
A feature-rich document management software that can scale with your business

An affordable document management system with no setup cost

Full support for integration with third-party tools, software, and apps.
Cons
Here is what I don't like about SharePoint:
It comes with a learning curve. You'll need to train your staff and this means additional cost

There is no free trial that lets you test and explore all the different document management features offered by SharePoint.
2. DocuWare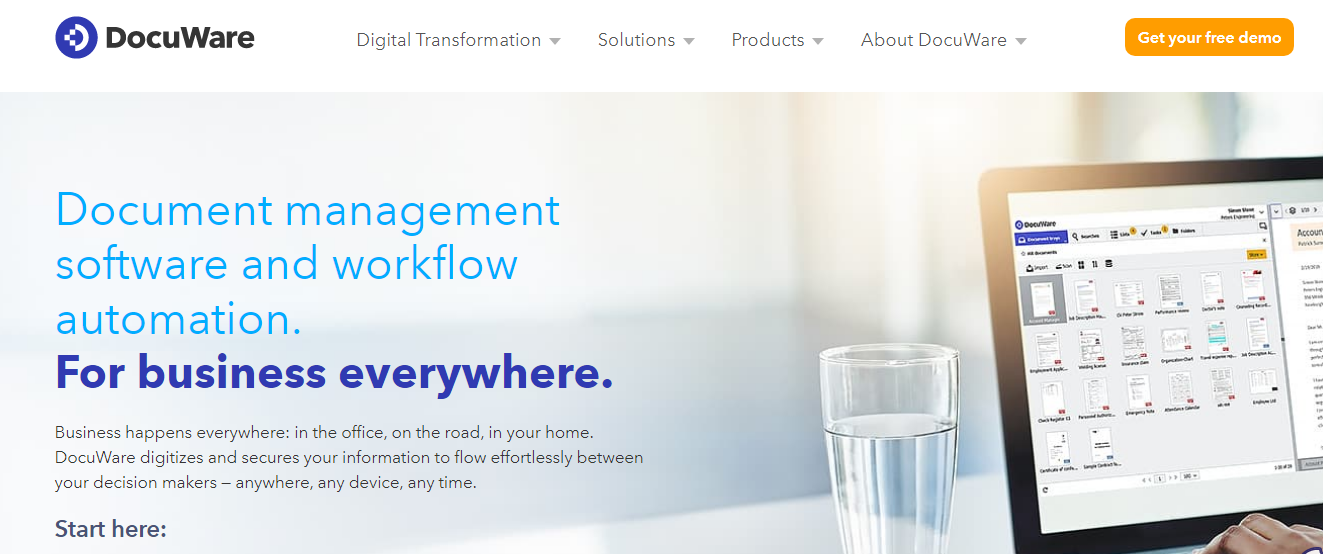 DocuWare is a robust document management software with automation capabilities and tons of advanced features. It was founded in 1988 and is one of the oldest document management software in the market. It is focused on document storage, management, and automating workflows for businesses of all sizes across several industries.
It offers businesses a complete solution to managing paperwork and digital documents. It indexes and stores documents from all the sources securely and makes them available to everyone throughout the organization for accessing, editing, and collaboration.
Your team can access documents via Windows desktop, mobile apps, and web seamlessly. DocuWare has a drag-and-drop user interface. Here is what the UI looks like: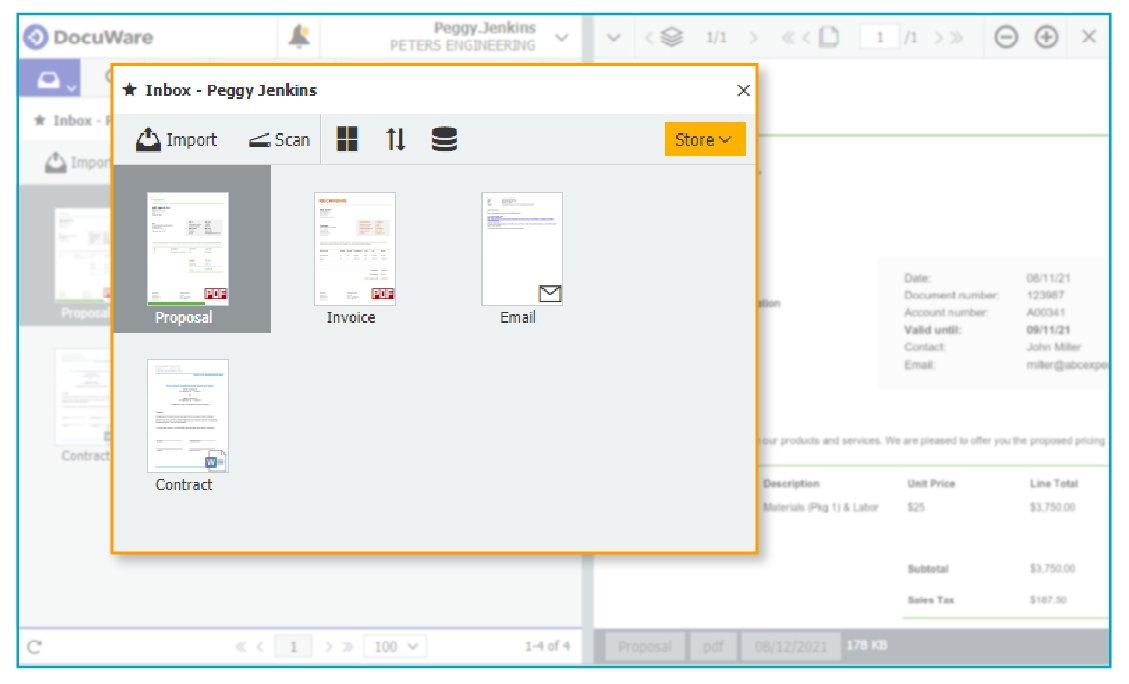 The overall look is clean but it does require staff training. Some terminologies and workflows require moderate training and practice. You can set permissions at all levels, eliminate duplicates, control versioning, protect documents, and keep full control over the system.
Key Features
Here is a list of the most prominent DocuWare features:
DocuWare is a powerful document management software that promises to make your enterprise paperless

Multipurpose platform covering document management, content management, workflow automation, invoice processing, and more

It offers compliance-ready document management making audits simplified

Duplicate elimination and version control significantly reduce response time and improve efficiency

Automatic document indexing

Data security and confidentiality are key concerns of DocuWare

Collaboration tools, e-signature support, file recovery, permission control, offline access, and web forms are exciting features that simplify document management

Process automation makes document storage and content management automated to a great extent

DocuWare comes in both cloud and on-premises versions

Integration with more than 500 business apps and platforms

It comes with a 30-day free trial of the cloud version so you and your team can test and explore the solution before going ahead with the purchase.
Pricing
The pricing details aren't available on the DocuWare website. You can request a 30-day free trial of the cloud version and test the software. The price depends on the number of users, features, scope of software, and cloud vs. on-premises.
You can request a free trial along with a quote by filling out this form. 
The starting price, according to DocuWare users, starts from $300 per 4 users per month. This comes with basic features and limited cloud storage space. Better plans come with a hefty price tag.
Pros
Here is an overview of the key aspects of DocuWare that I like:
A feature-rich and multipurpose document management software

Automatic indexation and categorization of the documents

It comes with a 30-day free trial.
Cons
Here are a few things I didn't like:
It requires training as the user interface isn't easy to use

Customer support isn't great. A slow response might kill your team's efficiency and can create problems in the long run.
3. M-Files

M-Files is a leading document management system ideal for large businesses interested in organizing and managing lots of documents. It uses artificial intelligence for the categorization and storage of documents and helps you find and manage documents easily even if you don't know the document title.
You get access to several advanced features and tools with M-Files such as content management, workflow automation, client collaboration, and secured content. The document search feature is one of the best by M-Files. You can search files with its Smart Search memory-based technology letting you find files instantly. It allows searching based on the document content. This solves one of the biggest issues that people face as they don't remember the name of the file they're looking for.
The user interface is a huge plus for any business because it is user-friendly and easy to get started with: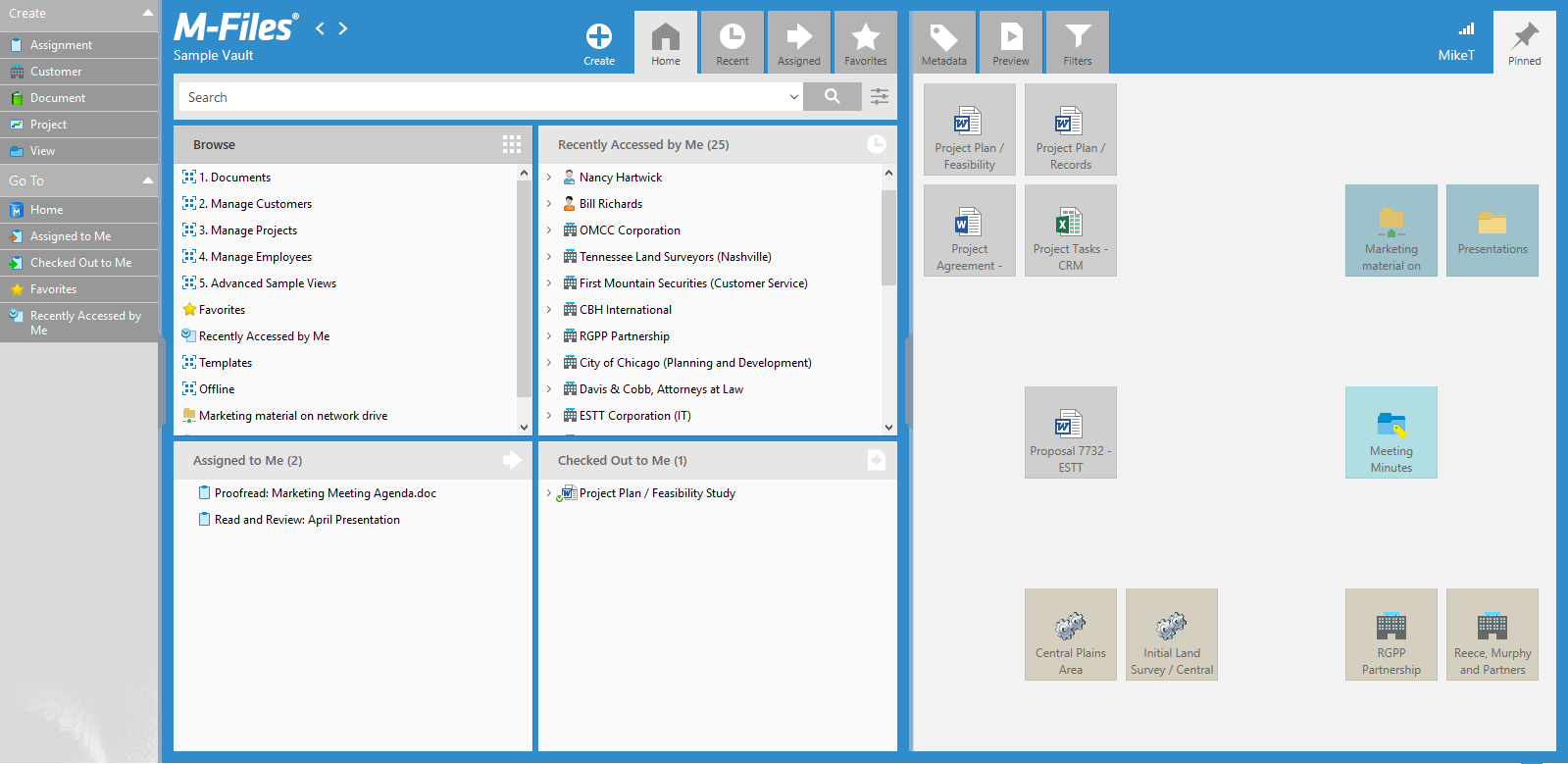 If you know how to use a computer or laptop, you won't have issues finding your way. But it does have a learning curve and needs training if you want to do complex document management processes.
Key Features
The best M-Files features include:
An easy to use document management system with a simple yet intuitive graphical user interface

Advanced artificial intelligence backed data organization where files and documents are stored based on metadata which makes organization and search easier than ever

Data is encrypted at rest including metadata and encryption of data in transit makes M-Files extremely secure

Users can access documents offline on mobile devices

Customizable templates make document creation a quick process

It supports version control with check-in and check out features

You can control permissions and governance of file system

Automated workflows and audit trails are crucial features that automate routine repetitive business processes

A robust analytics dashboard where you can generate reports, inspect activity logs, and analyze documents

Electronic signature, email integration, optical character recognition, file migration, multi-repository support, user management, product support, and additional volume on request are a few major features

Integration with leading data management and third-party tools including email clients

The software works on the computer, mobile devices, and the web.
Pricing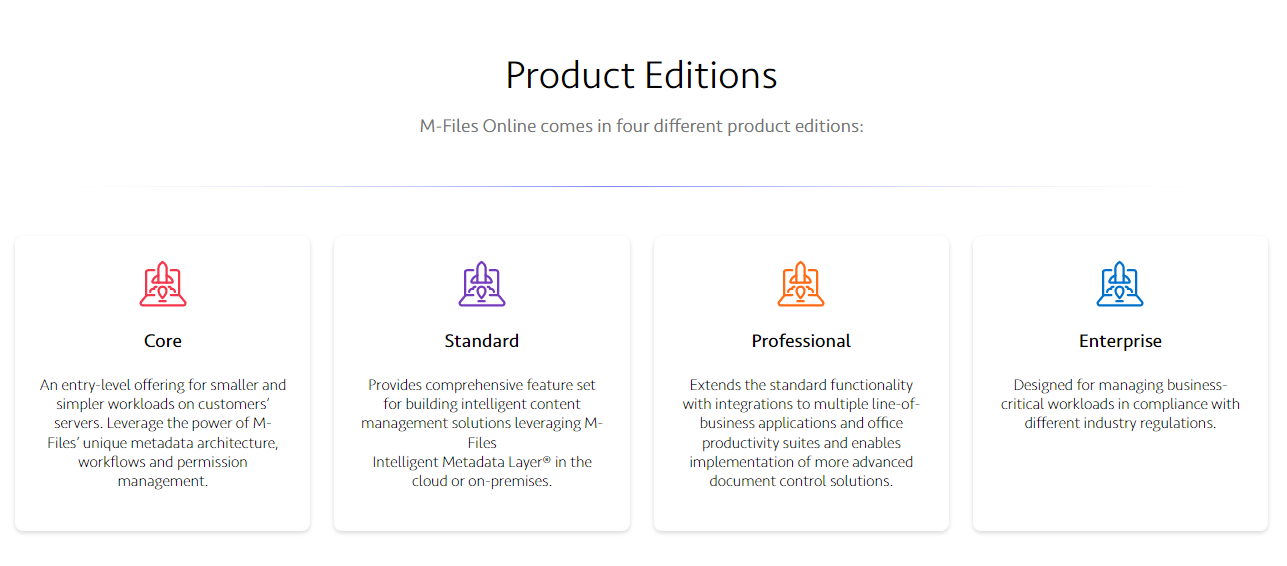 M-Files offers 4 plans to its users: Core, Standard, Professional, and Enterprise. The pricing isn't mentioned on the website but you can get access to a 30-days free trial.
Enterprise is ideal for large businesses with diverse document management needs. It includes all the advanced features such as electronic signatures, smart card signatures, Azure integration, and 24/7 phone support. 
The price depends on your specific requirements such as the number of seats, add-ons, cloud, on-premises, or hybrid software. It has a subscription-based pricing model with implementation charges (for on-premises or hybrid). M-Files offers exceptional implementation services along with guidance so you can quickly get started with document management.
Pros
The best things include:
A straightforward graphical user interface

A feature-rich document management system for enterprises with scalability

You can try the software for 30-days and see how it goes for your business.
Cons
The things that you might not like:
Most key features aren't available with Core, Standard, and Professional plans. If you want to get access to the all the features, the Enterprise plan is right for you and this makes it quite expensive

API integration is not available. 
4. Laserfiche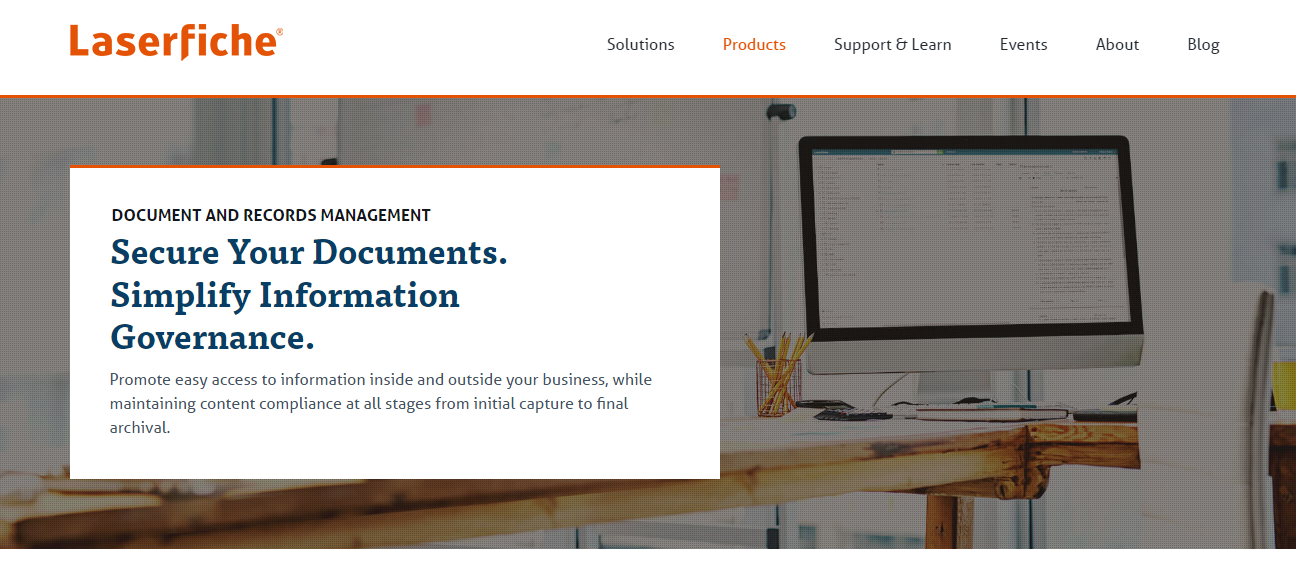 Laserfiche is a leading content management and document management system that was named Gartner Peer Insights Customers' Choice 2022. It is focused on managing and organizing organizational content and automating business processes.
One of the key aspects of Laserfiche is its automation. It uses a two-step automation methodology. First, it automatically extracts data and content (both electronic and physical) and stores them at a central location. Second, it offers you tons of automation processes saving your teams a whole bunch of time and resources. You can get ideas and see how you can incorporate automation and convert manual tasks into automated ones with the help of these workflow automation templates.
Here is an example of a workflow automation template: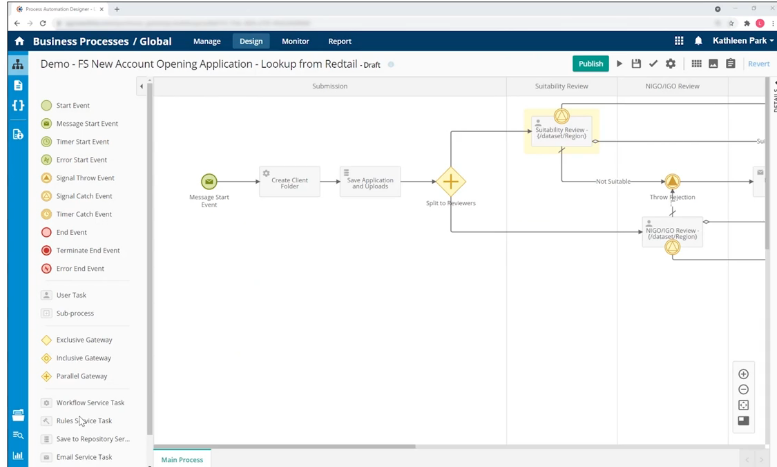 When it comes to ease of use, Laserfiche has a clean interface with a side panel. This is exactly what you find with any other document management system. Not everyone can use it without guidance. You need training and guidance in setting it up. If you are switching from another document management system, you'll find it easier to get started because the interface is familiar.
Key Features
The main Laserfiche features include:
A systematic approach to content management, document management, and workflow automation

Automatic document capture with minimal human intervention

Workflow automation templates help organizations save time and resources

Centralized document management and storage with high standards of security

Support for all the leading document management features such as e-signatures, audit trails, version control, compliance tracking, digital forms, offline access, advanced permissions, file format conversion, optical character recognition, and more

Dynamic generation of metadata and file names significantly improves efficiency

Complete support for collaboration tools and public sharing without losing confidentiality

Single-click repository scanning feature

Integration with leading third-party tools and apps including Microsoft Office 365, Salesforce, cloud storage services, CRM tools, and others

Comes with desktop software, web version, and mobile apps.
Pricing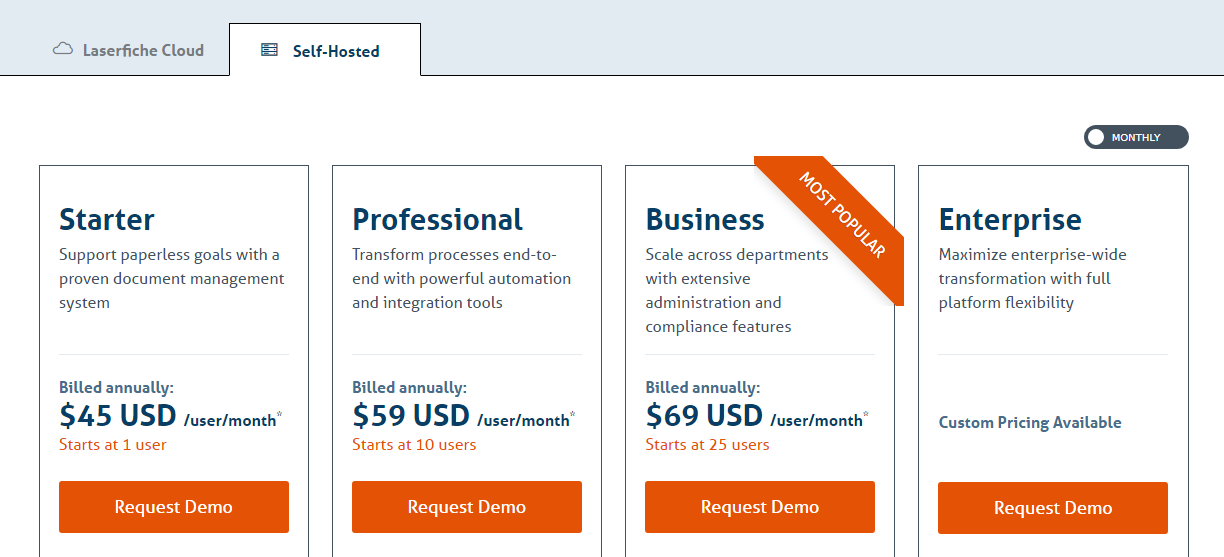 Laserfiche offers cloud and self-hosted plans with different pricing structures. The difference between pricing for cloud and self-hosted platforms is minimal. Cloud plans start from $50 per month while self-hosted start from $45 per month.
If you have a large business with diverse needs, you must go with the self-hosted Enterprise plan.
Cloud services are easy to get started as it comes with minimum IT infrastructure requirements. The Business plan comes with all the features and starts with a minimum of 25 users. On the other hand, the Professional plan comes with more than enough features that are suitable for any large-scale business.
Pros
Here is what I liked about Laserfiche:
Automatic data extraction, storage, and organization

A complete suite for electronic document management system

Integrates with all the popular tools your business is already using.
Cons
Here is what I didn't like:
Tutorials aren't free and this adds to the overall cost

At its very core, Laserfiche has some features that are hard to use without getting proper training.
5. Alfresco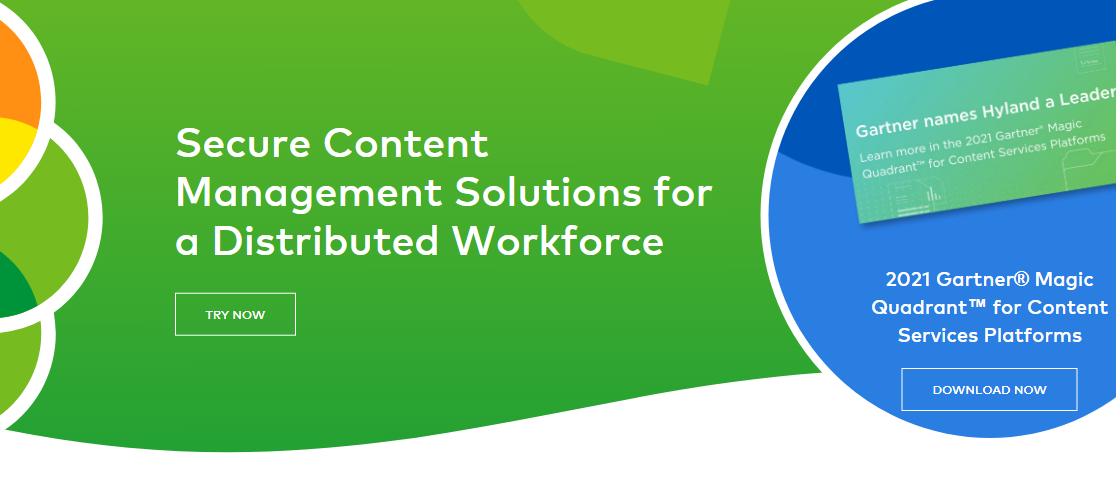 Alfresco is a software company that creates scalable content management solutions for businesses. Document management software is a key software offered by Alfresco. It offers a free open-source version of the tool and a premium solution for enterprises.
The enterprise content management system (ECM) by Alfresco comes with document management service, document scanning and capturing, collaboration and sharing, governance protocols, and security features. It aims to connect, integrate, store, and organize all the organizational content and make it available and accessible to all users.
The user interface isn't one of the easiest as it is a huge platform with tons of tools and features. It gets hard to get started without training. Here is what the user interface looks like: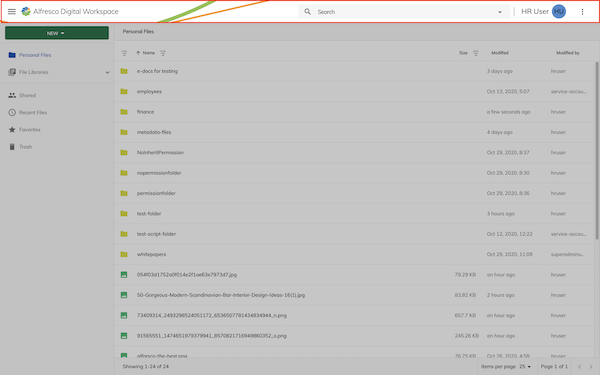 Here is an example of a project:

There are different tools that you have to use to perform different tasks and this makes things complicated and hard to understand. Since it has an open-source version, you'll find tutorials and help from the online community.
Key Features
The main Alfresco features include:
A complete digital business platform that comes with several additional tools and resources for business content management

End-to-end content and document management system for businesses of all sizes

Availability of free open source edition

Artificial intelligence is used for data extraction and storage based on metadata

Complete support for data extraction from scanned documents via Amazon Textract

Smart folders and accurate search feature make it easy to find business documents instantly

Workflows and folder rules are best at automating repetitive tasks

Document version control, permissions, records management, document scanning, audit trails, and several other features

Advanced reporting and analytics that makes decision-making much easier and smoother

Content and process integration solves a lot of problems quickly

Integration with other tools and software including other enterprise document management systems

It comes with a web-based version, computer software, and mobile apps.
Pricing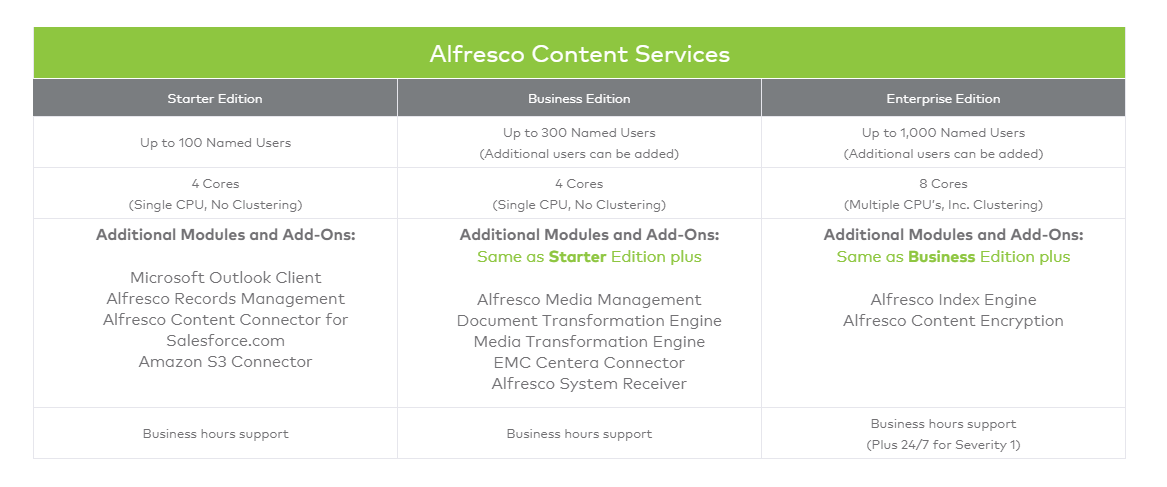 Alfresco offers two main plans. One is a community version which is free of cost but with limited features and options. And then there are premium plans where you get access to well-designed and structured software.
The community versions are untested and suitable for developers and IT professionals. These aren't meant for business use as you'll need to do a lot of developmental work. It is best to go with a paid plan.
There are 3 plans available to choose from Starter Edition, Business Edition, and Enterprise Edition. The plans offer different features and number of users. If you have a large business and need hundreds of users, Enterprise Edition is ideal for your business as it comes with all the features and add-ons.
The pricing depends on your plan, number of users, add-ons, additional software requirements, and feature upgrades. You can request a free trial here or you can download and use the community edition too.
Pros
Here is what I like about this powerful document management system:
A complete business content management platform suitable for enterprises

Free trial and community version allow intensive testing and exploration of the system

Integration with other tools is a big plus point. You can use existing extensions from the online community to interlink apps and platforms.
Cons
Here is a list of the things I don't like:
Not easy to use. The software and different platforms are complicated and require a lot of training

User interface isn't intuitive and hard to understand.
How to Pick the Right Document Management System?
Choosing the best document management software for your business requires critical evaluation and review of the top platforms. When you have hundreds and thousands of documents and hundreds of employees waiting in the queue to start using the document management system, there is no room for a mistake.
A large-scale document management solution implementation requires costly IT infrastructure updates and tweaks. And switching between platforms is even a bigger and more expensive challenge.
You have only one option: To make the right choice the first time. Here are a few proven tips to make a well-informed decision when choosing a document management tool:
Finalize your requirements

. What is the number one purpose of buying and using document management software? List all the requirements of your business that you want to fulfill. For example, document version control, audit trails, offline access, strict permission control, budget, web forms, etc. This will help you identify the right document management solution that meets your requirements

Set evaluation criteria

. What are the most crucial factors that influence your purchase decision? You need to prepare a list of all the variables with their importance so you can evaluate different options. For example, you might be interested in integration so you can align the document management system with the other tools you are using, your main concern should be ease of use because you don't want to spend time on training, etc.

Evaluate available document management systems

. Critically evaluate different tools and resources that meet your requirements based on your criteria. If multiple tools fit the criteria, see how they compare. A comparative analysis will help you pick the best document management software

Test the software before buying it

. Always test the software you have finalized before buying it. Almost all the document management systems offer free trials or demos or both. If you request a company that you want to test their software before purchase, they'll happily give you access. Testing the software will help you see how it meets your requirements. It is best to let experts critically test the software before you make a final decision

Don't ignore cost

. When you buy and use large-scale software for your business, it has all types of costs associated with it. And it goes beyond subscription and implementation costs. For example, maintenance costs, tool integration costs, scalability costs, IT costs, staff training, and many others. Think of all the resources your business will spend in the coming years on document management software. The calculation isn't always as simple as it seems. 
You have the list of the best document management systems, it is time to pick the one that's right for your business.