Screenwriting spans different styles, genres, and topics. There are many things that need a good quality script in order to be successful – movies, plays, musicals, TV shows, video games, etc.
Writing and producing these scripts is a huge task and requires a multitude of people to see the project through. Celtx is a software that not only helps you write the script, but it offers tools to manage every other part of the process.
This Celtx review will show you everything you need to know about the program to decide if it's right for you. 
What is Celtx?
Celtx is a powerful and comprehensive screenplay writing software with over 6 million users from 190 countries. The focus of this program is on the development of video games and VR. Games need good writing and engaging dialogue, even if it's not the central focus. 
Celtx has an abundance of tools available to make this happen, including the ability to collaborate with a partner or team in real-time. When you add people to your project, they can start making changes right away. You can then see each other's changes as they happen. 
The interface is simple and organized. While there are many features, it is an easy program to learn and follow.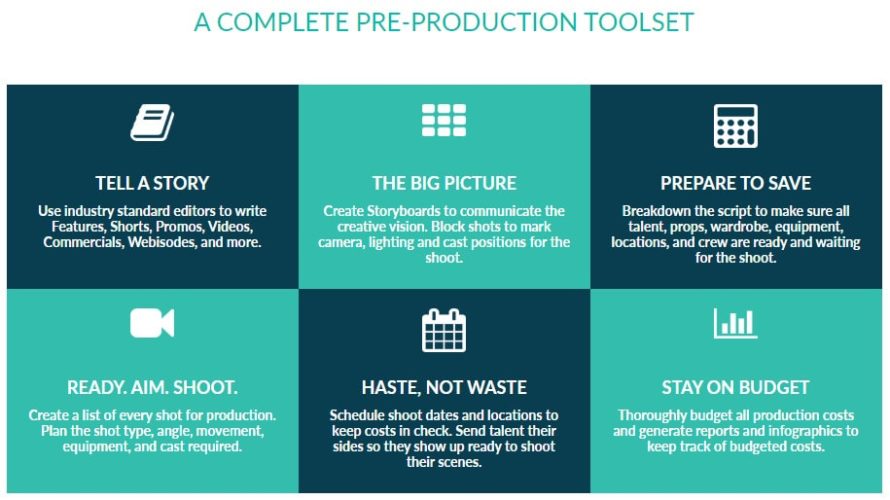 Celtx isn't just for writing scripts, though. It has a series of tools and apps that can assist you with planning and outlining before you get started. Once the script itself is complete, Celtx will help you schedule and budget for the filming and production.
Partners can work online on the cloud, or get their own Celtx download for the ability to also work offline. Being available online means that both Mac and Windows users will have access to the screenwriting software, including on their iPad and Android devices. 
A Screenplay Writing Template
Before you get started with the software, check out this guide on how to write a screenplay. Here you'll find an in-depth description of all aspects of screenwriting. You can then transfer this knowledge to your use of the software for a more productive experience. 
If you want more help or you're just not sure how to structure your script, then this screenplay template will help you: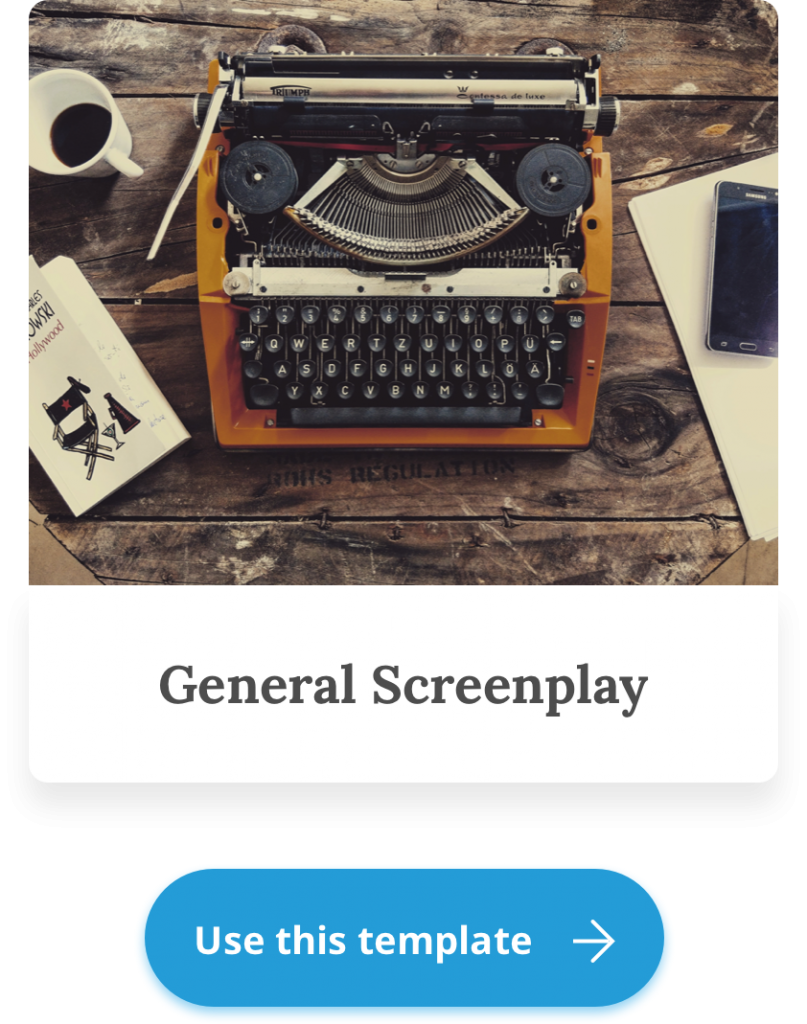 It will walk you through the structure of your screenplay and ensure you don't miss any of the most important elements. Celtx does allow importing so you can turn your work on this template into a Celtx script if you wish.
Celtx Review: Features
This scriptwriting software is huge with a plethora of powerful features and capabilities. Here, I'll go over the main features that are designed to assist you in writing the actual script as well as a brief overview of the production tools.
[table id=35 /]
Formatting
Celtx makes formatting your screenplay fast and easy. Their commands all follow the industry standards for formatting. This gives you one less thing to worry about as you work on every other aspect of finishing your project.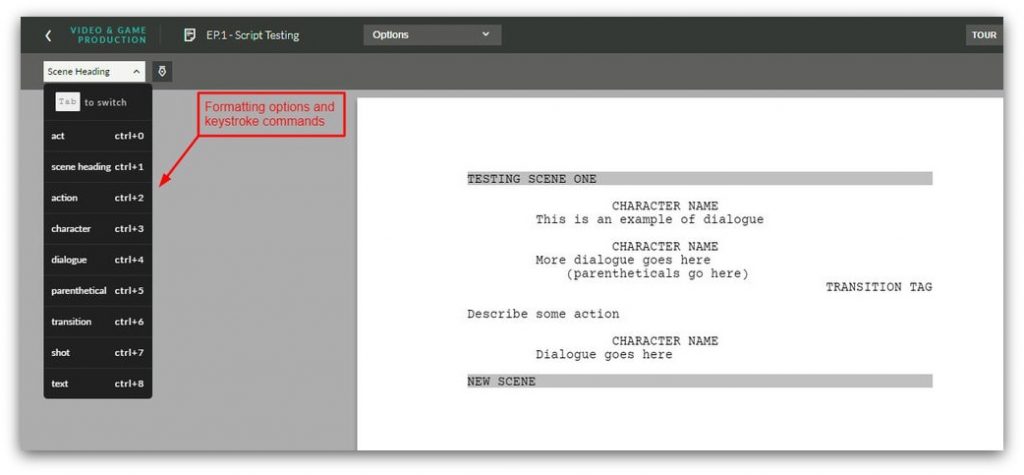 As you hit enter and tab, Celtx will automatically create the format for you. Alternatively, you can select an option from the menu or use the keyboard commands for each line type. 
Navigation
The navigation feature is like an easily accessible outline. It allows you to immediately jump to any scene within the document. This eliminates the need to scroll and scroll in order to reach your destination. 

It also allows you to drag and drop scenes in order to rearrange them if you wish. This is a simple and handy feature that will help you save a lot of time and effort. 
Notes
Notes can be attached to any line of text. The notes can be viewed under the notes tab, and will point to the corresponding section like so: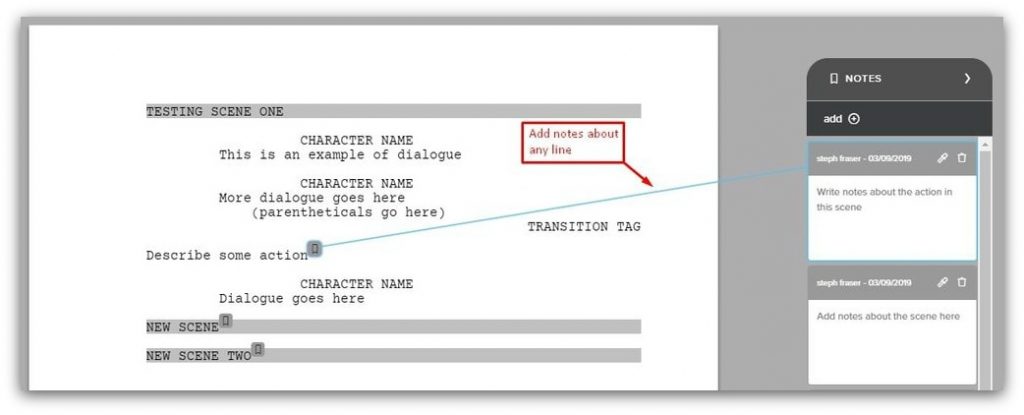 Each note will also show the exact date the note was added as well as who made it. They can also be color-coded for easy sorting and organization. For example – red for dialogue notes, blue for action notes, etc. 
Notes can be edited or deleted at any time.
Index Cards
The index cards are quite versatile They act as a bit of a virtual corkboard, allowing you to add and organize "note cards" onto your screen. They can be dragged and dropped for easy rearranging.  They are perfect for basic storyboarding. 
The index cards are broken down into two sections: a general outline, and sorted by scene: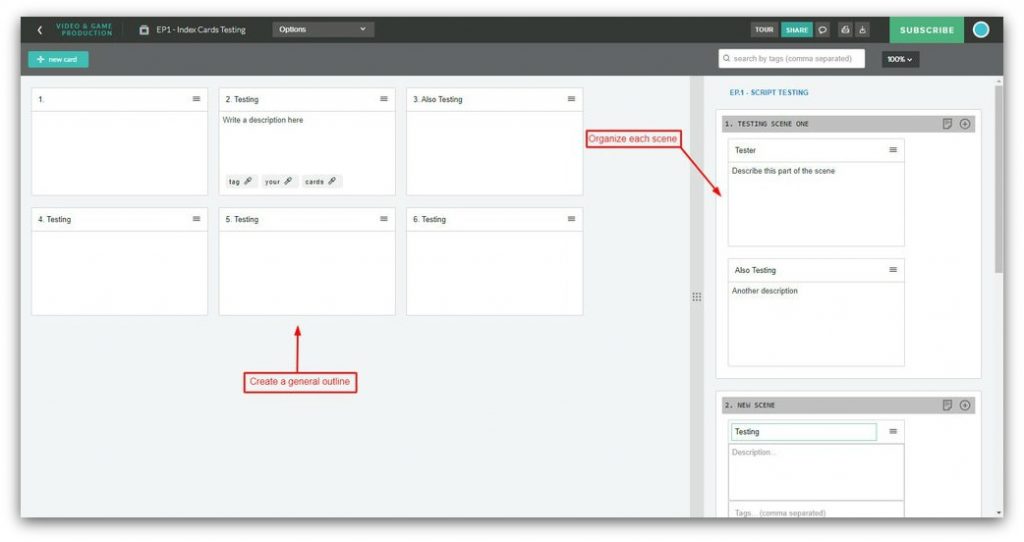 The "general" section can be anything you want. You can outline the entire story, or create short character sketches – whatever makes the most sense to you and your partners. 
On the right-hand side is a list of all your scenes. Each scene can be assigned an unlimited number of cards. Again, this can be used to outline, store notes and research, create settings – anything that helps you plan and stay organized. 
Breakdown
The breakdown gives you an overall view of your project. You can see your script broken down by the scene in the main section. When you select a scene to view, the right-hand sidebar will show you: 
Scene summary
Characters
Locations
Sets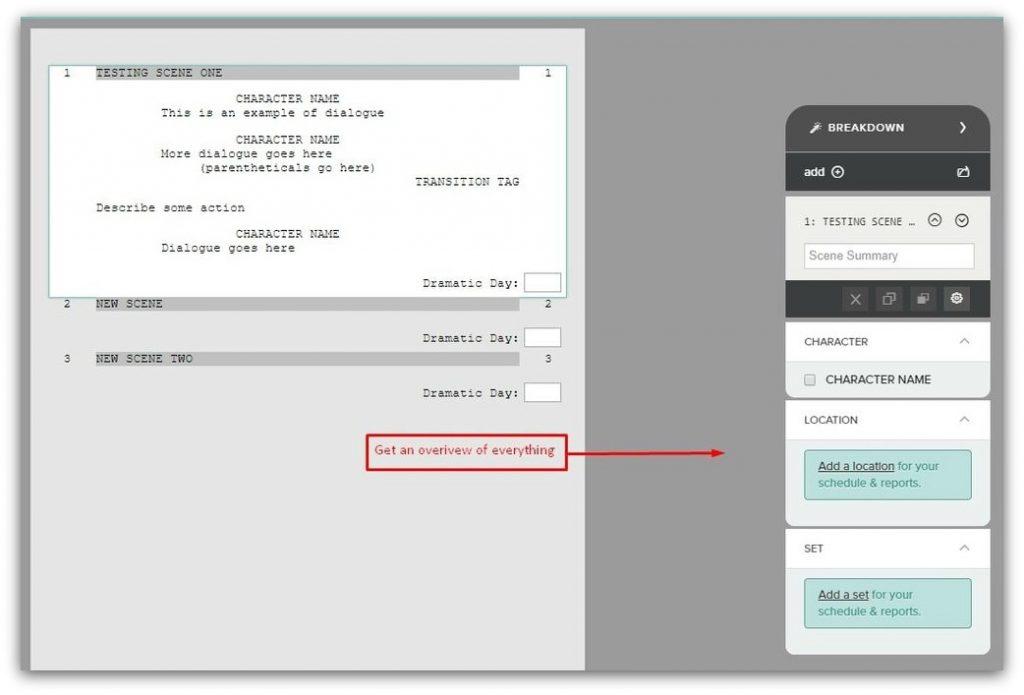 From this mini-menu, you can click through to the catalog where you can find more information on the item.
Visual Storyboard 
If you and/or your partners are more visual planners, you will love the visual storyboard.
It has similar functionality to the index cards, but it's much more detailed. You can add a description to each shot and specify the type of shot you're creating – wide, close-up, zoom in, etc. 
Then, you block each shot. Celtx has a vast library of images – people, animals, vehicles, furniture – anything you may need to create a scene. Drag, drop, and layer the images to create a shot that is as simple or complex as you want it to be.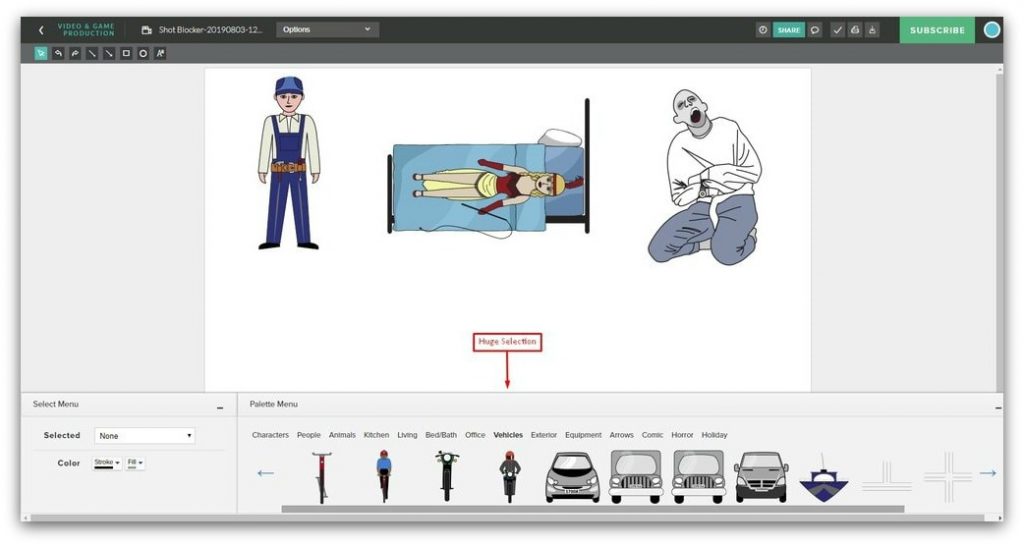 You can do this for as many shots as you want. When you're done, you can get an overall view of each shot on the storyboard. 

This gives you an amazing, detailed, overall picture of what's happening. It can also make it easier to block the shots for real, come filming time.
Media
You can also add images to your script. One way to do this is to search the web. This is done directly within the software, no need to open a new internet window. You can also upload images from your computer.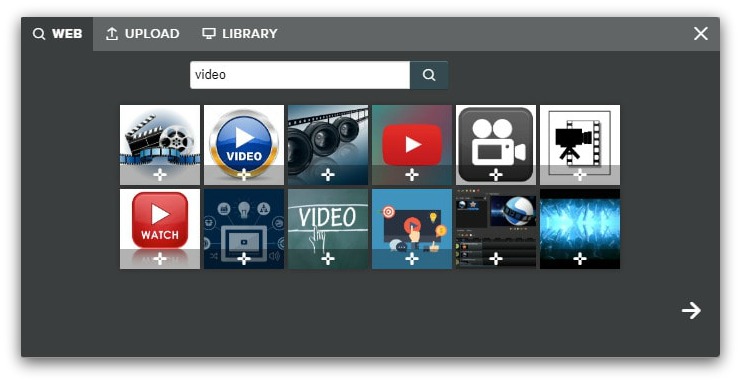 Images are stored under the media tab. When hovered over, it will point to the line of text the image is associated with. These images can be used for inspiration and reference. They can also serve to show your partners what you're talking about in a certain section. 
Catalog
This feature is what helps you organize the production of the script. You can create items for everything you'll need – cast, crew, location, makeup, you name it.
For each item, you can select a category, assign a start and end date for that person or category, and set a budget. 

This will help the entire team stay on task, on budget, and aware of the pre-production schedule. You can collaborate within the catalog and create a production timeline that works for everyone. 
Celtx Download: Pricing and Options
Celtx offers screenwriters a free trial which gives you temporary access to all of the features. After the free trial period is over, some features will remain free on any Celtx download: 
The basic script editor. This includes unlimited page counts, notes, media, exporting and printing, and a read-only script history. 
File importing.
Mobile syncing. 
Read-only production files. 
While these features are free and project page counts are unlimited, you are limited to three total projects before you will need to upgrade. 
Video Plans
These plans are designed for those who are creating scripts primarily for movies and TV shows. 
Scriptwriting
$20/month if billed monthly, $7.50/month if billed annually. 
Included in this plan: 
Unlimited use of features of the basic script editor. 
Email support.
Access to the online help center.
Scriptwriting and index cards on mobile apps. 
This is the basic plan for those who wish to simply write their scripts. 
Video Production
$30/month if billed monthly, $20/month if billed annually. 
Included in this plan: 
Everything from the scriptwriting plan. 
Budgeting. 
Scheduling. 
Cost reports. 
PDF export. 
Priority email support. 
Access to the online help center. 
Scriptwriting, storyboard, index cards, call sheets, and talent sides on mobile apps. 
And more.
This plan is for those who wish to move their project into the production stage. 
Game and VR Plan
This plan is designed for those wishing to use Celtx to write and create their video games. 
$30/month if billed monthly, $20/month if billed annually. 
Included in this plan: 
Special game script editor. 
Interactive story map. 
Interactive dialogue. 
Narrative reports. 
Priority email support. 
Access to the online help center. 
And more.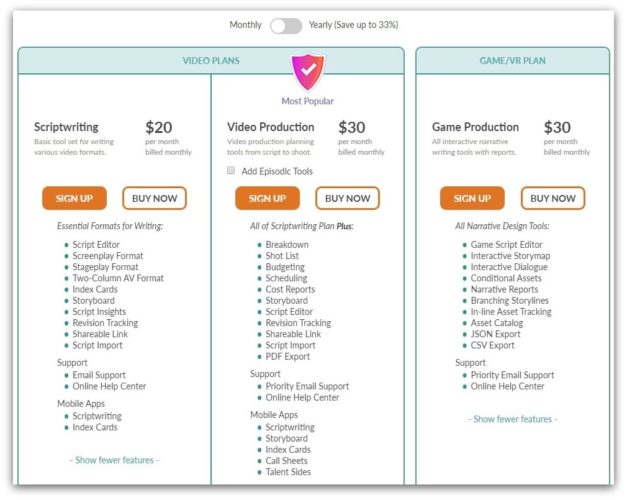 Bundle. If you're someone who does it all, you can save money by bundling the video and gaming plans into one. This will cost $50/month if billed monthly, or $35/month if billed annually. 
A Simpler Alternative
Celtx is extremely comprehensive and robust. This is a good thing if you're going to make use of all their features. It's a fantastic option for those looking to collaborate and move the project into production themselves. 
For a solo writer just wanting to work on their scripts, however, it can be a little overwhelming. They won't need the collaboration capabilities and they won't use many of the features. 
If this is you, you might consider finding a simpler writing software to work with. Your best option is Squibler.
Squibler is writing software that offers a sleek, modern, easy-to-use interface with minimal but powerful features. With Squibler, you can do many things: 
Create an outline. 
Store and organize your research. 
Take notes and filter them with tags. 
Break your writing up into chapters/scenes/sections – whatever you need. 
Drag and drop sections to rearrange with ease. 
Use the built-in text editor to help you catch mistakes.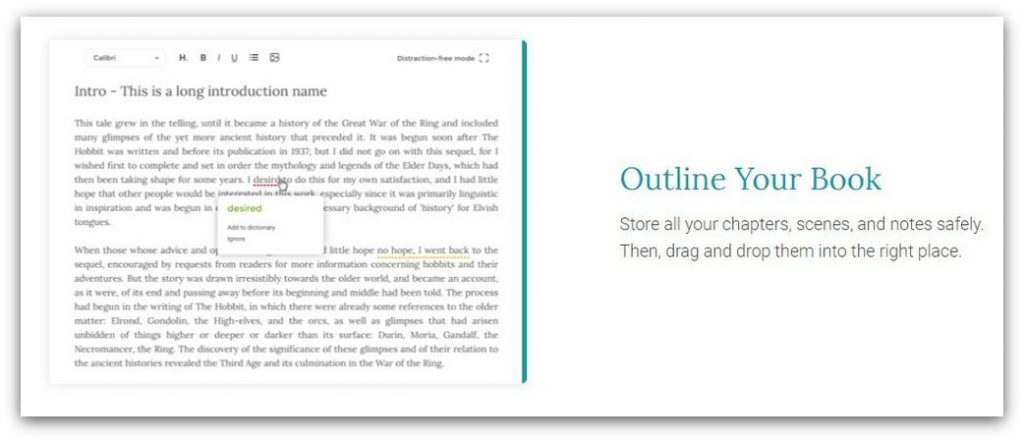 For only $10/month, squibler has everything a solo writer needs to get their scripts written with ease, simplicity, and efficiency. When you are done, Squibler also offers some assistance in getting your work published. 
Is Celtx Worth it? 
Overall, The Celtx studio is an impressive program. For those who want to collaborate with their partners and manage the production aspects of their scripts and stageplays, the answer to this is a resounding yes.
The interface is organized and easy to manage. The production tools are unbeatable, and this Celtx review doesn't even cover every little detail. 
However, If you're only interested in writing your scripts and you work alone, this software might be a bit much. While not terribly expensive, it is a lot to pay each month if you're not going to utilize the full scope of their features. 
If this is you, it might be worth finding a simpler writing app to work with that won't inundate you with options and buttons from left to right.