Looking for the best medical writing certifications? You came to the right place.
Medical and scientific writing is an esteemed profession, and to fulfill the increasing demand for medical writers, you must take a medical writing certification. An increasing number of healthcare agencies and pharmaceutical companies employ medical writers to produce scientific documents, peer-reviewed journals, regulatory documents, etc. Professionals with graduate degrees and basic medical knowledge and skills are working in the commercial sector, government companies, and educational institutes.
To evolve in this ever-changing industry, you must stay up to date with the advanced tools and techniques that make scientific writing efficient. There are many prestigious medical writing courses online that offer the training and coaching required for career progression.
Here is the list of reviews of the best medical writing certification programs available online: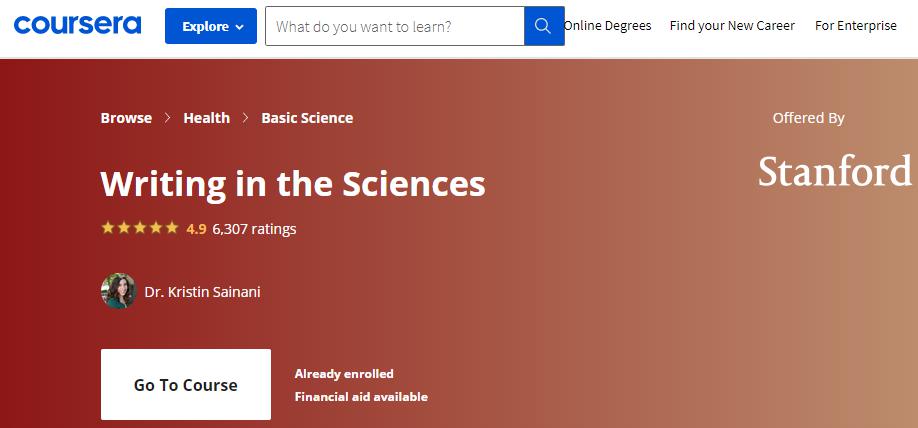 Founded in 2012 by the Stanford University two computer science professors, Coursera is a US-based huge online learning platform offering self-paced guided projects and on-demand courses on a wide range of subjects. It offers a course called Writing in the Sciences, which is a medical writing course. The course teaches scientists to become effective medical writers using practical examples and exercises.
Below is what you will learn from this Coursera course:
Principles of effective writing

Medical writing tips

Format of the scientific manuscript

The peer-review process

Ethical issues in scientific publishing

Types of medical writing: how to write review papers, letters of recommendation, grants, and personal essays

Communication with broader audiences
Key Features
The key features of this Coursera course are:
The course is taught by an associate professor in the Health Research and Policy field.

It is 100% online.

Students can complete this course in about 30 hours.

You get the flexibility to reset deadlines according to your schedule.

It will help you create a professional medical writing portfolio.

The main language is English. Subtitles in Arabic, Chinese (Traditional), Korean, Vietnamese, French, Italian, German, Spanish, Russian, and Portuguese (European) are also available.
Pricing
The course costs $79. You can also enroll for free and get access to all course materials. But you will receive no certificate in this case. Financial aid is also available for this medical writing course.
Key Takeaways
It is a comprehensive and one of the most popular courses for medical experts to take. The self-paced course enables you to schedule your study hours at your convenience. There are eight units of this course of study materials covering every aspect of scientific or medical writing. It will help you improve your grammar, medical communication, and writing skills. At the end of the certificate program, the certification you get will help you win excellent medical writing jobs.

Founded in 2010, Udemy is a world-renowned online learning platform offering hundreds of thousands of courses to help people advance their professional careers or learn a new skill. Udemy offers an online course for medical writers called Medical Writing for Healthcare Professionals. The course is for healthcare professionals or students having an interest in becoming medical writers or scientists belonging to the life-sciences field. The aim of this course is to help you launch your scientific and medical writing career.
Following is what you will learn from this Udemy course:
The right way to build a medical writing business

Get high-paying clients in the medical field

Techniques to expand writing business to a part-time or full-time income

Medical writing tips

Methods of writing for the web and CE monographs and presentations

Basics of law and taxes
Key Features
The key features of this Udemy course are:
The course includes three hours of on-demand video, eight articles, and seven downloadable resources.

It has full lifetime access.

Its instructor is a pharmacist and medical writer who has taught medical writing to thousands of students online.

You can access lectures and course content on mobile and TV.

You get the option of playing lectures at different speeds.

Auto-generated captions are also available in multiple languages.

It offers a certificate of completion once you complete the course.
Pricing
This is an affordable certification offered at the cost of $29.99. You also get a 30-day money-back guarantee. Plus, you can enter the coupon code to avail discount on the total cost of the course.
Key Takeaways
It is a great course to help people build a medical writing business from scratch. The course is useful for both beginners and seasoned medical writers. It has eight sections, divided into 26 lectures which are over three hours in duration. This certificate program helps you sharpen your clinical skills and apply for better medical writing jobs. At the end of this course, you get course and experience certificates.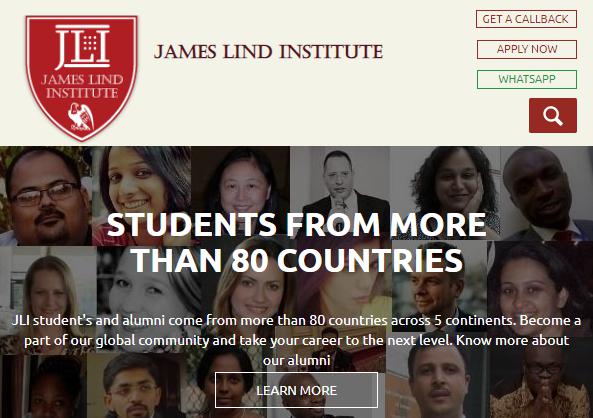 James Lind Institute is among the most trusted and reputed institutes offering the world's biggest selection of online clinical research training courses and education programs. The institute offers a Professional Diploma in Medical Writing (PDMW) online course, which provides students with a comprehensive understanding of pharmaceutical writing, regulatory writing, and medico-marketing writing. It is useful for providing extensive medical writing training to build professional expertise and boost the skills to the level expected of medical writers.
Below is what you will learn from this James Lind Institute course:
Basics of good writing in the medical writing field

Overview of the regulatory writing, marketing, and drug development process

Common technical documentation

Protocol, investigator's brochure, and case report forms

Clinical study reports

Publication writing

Medico-marketing documentation

Management of the review process
Key Features
The key features of this James Lind Institute course are:
The course is suitable for both beginners and experienced medical writers.

It is a four to six months self-paced certificate program that you can extend up to eighteen months.

You can collaborate with your instructors to discuss or work on an issue.

The entire program is divided into 14 modules to make the learning process easier.

The certificate program offers after-course coaching.
Pricing
The total fee for the course is $1400. The fee is subject to change. The institute also awards scholarships to eligible students.
Key Takeaways
This PDMW helps students learn both the fundamentals of medical writing and the latest trends in the industry. The course is extensive, but it is suitable for beginners or those who wish to make a move to scientific or medical writing from other related sectors. The minimum eligibility criteria for this program include a degree in nursing, pharmaceutical sciences, medicine, or life sciences. If you lack this educational prerequisite, you can still take this program if you have prior work experience in scientific or medical writing.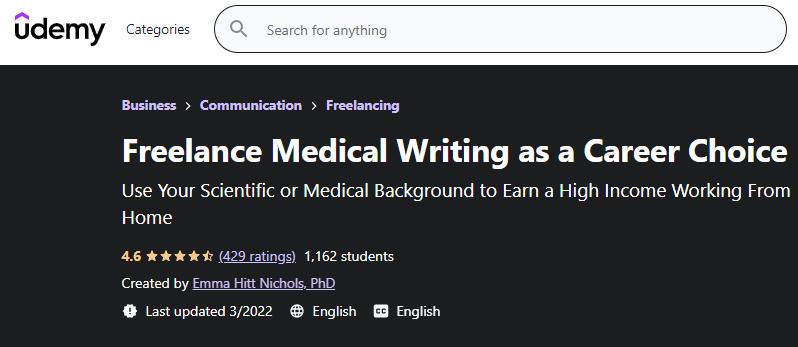 Another outstanding online course by Udemy for medical writers is Freelance Medical Writing as a Career Choice. This course is for a person who is in a scientific or medical career and wants to decide whether freelance medical writing is an appropriate career option to pursue. After completing this course, you can use your scientific or medical background and writing abilities to earn a great amount of money working from the comfort of your home.
Below is what you will learn from this Udemy course:
What is medical writing

Various types of clients

Genres of medical writing

Importance of a science background and writing ability

Writing skills

Steps to getting started in freelance medical writing

How to work as a freelance medical writer
Key Features
The key features of this Udemy course are:
This freelance medical writing course includes one hour of on-demand video and a couple of downloadable resources.

Its instructor holds an advanced degree in Medical Communications.

Lectures and course materials are available on TV and mobile.

Subtitles in the English language are available.

Students get lifetime access to the course materials.

There are options available to play lectures at different speeds.

You will also get a completion certification after this course is completed.
Pricing
It is another affordable certification by Udemy offered at the cost of $19.99. On this course, you get a 30-day money-back guarantee. Also, you can use the coupon code to avail discount on this total cost.
Key Takeaways
This course is great for you if you want additional information about a career in freelance medical writing. It has five sections, divided into 17 lectures, which are around 50 minutes in duration. The requirements to take this course are an advanced degree in a science field (MD or Ph.D.), English fluency, and writing ability. Upon completing this certification program, you will get course and experience certificates.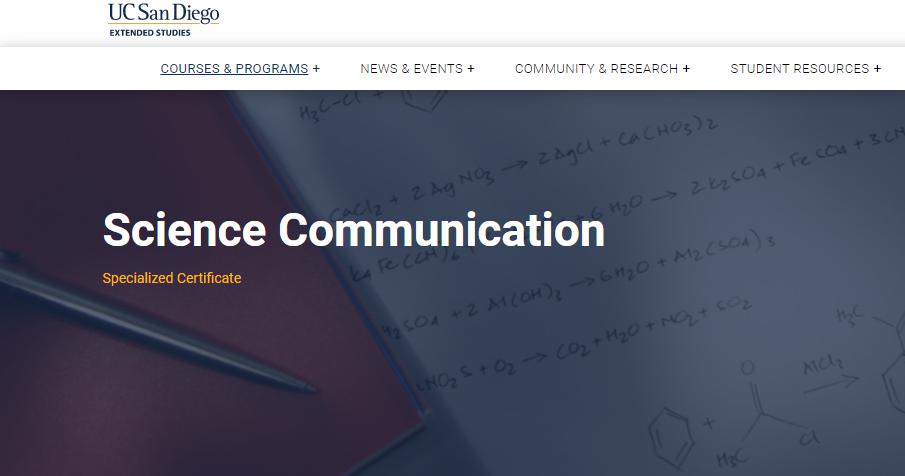 Located inside the University of California San Diego (UC San Diego), the Division of Extended Studies is a leading online research university for professionals and community leaders. The Science Communication specialized certification provides you with important skills to communicate about science from a journalistic perspective. It also helps you understand how to engage general readers and communicate technical scientific information.
Following is what you will learn from this UC San Diego course:
Science communication and its types

Purpose of journalism

Fundamentals of news writing

Self-editing

Building a business around writing

Publishing content on the web

Writing non-fiction and informational articles for kids

Art of interviewing
Key Features
The key features of this UC San Diego course are:
It is a specialized certificate program.

An award-winning faculty teaches this course.

Its duration is 12-18 months, depending on the number of courses taken per quarter.

One-on-one interaction with your instructor.
Pricing
The estimated cost for this specialized certification is $1,950. Early enrollment discount is also available. This cost is exclusive of course materials.
Key Takeaways
The aim of designing this program is to train current and future medical professionals in the skills important to communicating technical information. It teaches you the art of making science relevant and accessible to different audiences. The course consists of 15 units in total. You will take three required courses to learn the basic skills for communicating science concepts to the non-medical audience through varied platforms and get a basic understanding of the science writing industry. Students will also choose at least six units of elective courses to focus on specific areas of interest.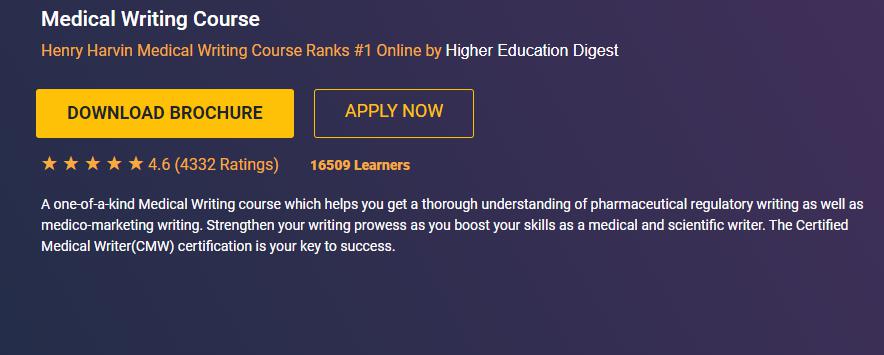 Henry Harvin is among the world's premier training institutes, offering the most comprehensive and finest medical writing course online. This Medical Writing course equips medical writers to get to learn and improve their writing skills and build a passion for science. They have the best instructors, courseware, and infrastructure facilities and add significant benefits to the writer's career. 
Below is what you will learn from this Henry Harvin course:
Basics of scientific and medical writing

Pre-clinical or non-clinical writing

Medical writing for the clinical trial and in the post-marketing phase

Guidelines to publish clinical data

Methodologies in pharmacovigilance, pharmacovigilance of medical devices, and compliance and inspections

Regulatory strategies in phases of clinical trial and writing for regulatory submissions

Preparation for the interview

Resume writing techniques
Key Features
The key features of this Henry Harvin course are:
It is a 9-in-1 course.

It includes 16 hours of training, 24 hours of live online brushup sessions, and 50 hours of e-learning access.

Hands-on training on medical writing with projects.

One-year brushup sessions.

You receive 1-year gold membership of Henry Harvin Writing Academy.

You also get e-learning access which includes recorded videos, projects, and case studies.

Internships and job opportunities for practical experience.
Pricing
The pricing range for this course is $19.31. In case of dissatisfaction, they will refund you the entire amount after the first session of this medical writing course.
Key Takeaways
This is a one-of-a-kind medical writing course designed to help you get a detailed understanding of pharmaceutical regulatory writing and medico-marketing writing. Subject matter experts designed the curriculum and curated it to make you industry-ready to meet the challenges of the job market.
Upgrade Your Medical Writing Skills
In the present climate, it is getting harder to win jobs in the market. Besides having experience, you must also have the ability to evolve in a professional manner and keep up with the changing technology. So, the learning process continues, and the medical writing field is also the same. To stay relevant as a medical writer, you need to take online medical writing certification programs.
These programs are a feasible option for both beginners and seasoned writers. Online platforms and educational institutes offer courses for improving your skillset and knowledge. The course certifications can serve as a validation of your new skillset and change your career by giving you further exposure and setting you apart from your competitors.
To reap the benefits from these courses, you have to choose in a smart way. When choosing a course, make sure it is related to your industry and has content to teach you something new. If the selected course fails to offer anything new, it would add nothing to your skills. Also, consider the authenticity of the course by checking its reviews, affiliations, and accreditations. Note that it is all about choosing the right course to move forward in your medical writing career.
FAQs
Below are the most common questions about medical writing certifications:
1. What is a medical writing certification?
A medical writing certification is a document that proves you have the required skills to write about scientific and medical topics. It will cover concepts, writing styles and rules, and terminology specific to the medical field.
2. How do you become a certified scientific writer?
There is no need to hold a degree in medicine or life sciences to become a medical writer. But, to become a competent writer, you must have knowledge of medical terminology and concepts. A number of institutes offer medical writing courses. You can enroll in a course to learn how to communicate scientific information for general audiences to understand.
3. What are the qualities of a certified medical writing professional?
Qualities of a medical writing professional include domain knowledge, understanding of the intended readers, writing skills, staying up to date with new reforms, etc. As a medical writer, you must have the ability to produce a structured document that depicts scientific information in a clear and concise way.
4. Are medical writers in demand?
The medical writing field is flourishing in this time and age. It is quite an exciting and lucrative career. Medical writers are in demand in pharmaceutical companies and have a great scope in working for government agencies, hospitals, healthcare portals, and regulatory agencies that provide medical writing support.