A lot of writers struggle to stay organized, some in more ways than one. Sometimes it can be a struggle to organize your writing space itself – this is where Scrivener comes in.
Suppose you have too many pages of research notes set out in front of you. Or you have so many notebooks strewn about that you can't even find your pen. It could be the sheer amount of things around you that make it difficult to even reach your computer.
Even if your writing space is neat and tidy – you may be struggling to organize your mind. Writing a novel or any kind of book can be daunting and difficult.
Scrivener brings all your research into one place and eliminates the need for endless paper and/or documents. Scrivener is designed for writers specifically.
Here is everything you need to know about it before getting started:
Scrivener is complicated
There is a significant learning curve
It's suitable for all types of writing
Customize it to your liking
Scrivener covers all facets of writing
It helps with publishing
It's cost-effective
It's comprehensive but doesn't do everything
1. Scrivener is Complicated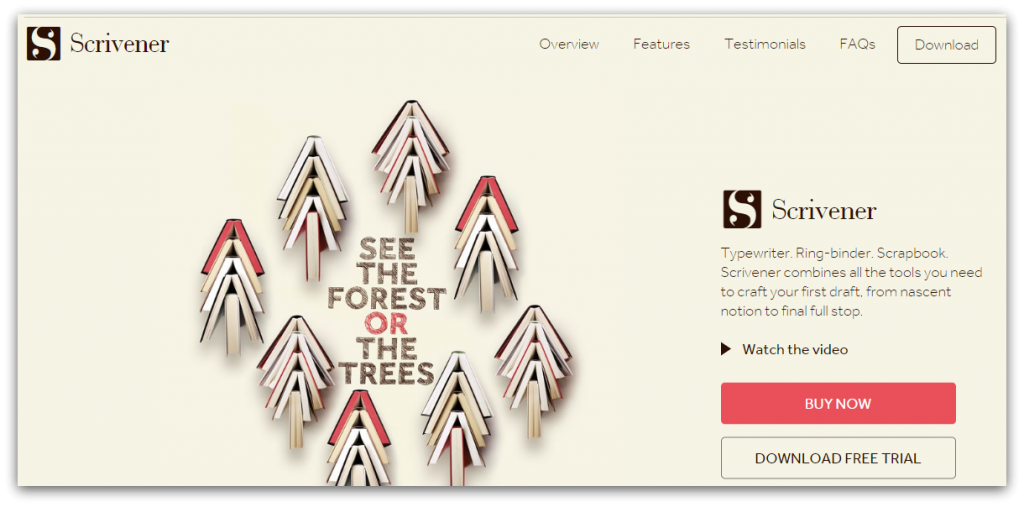 Scrivener is comprehensive and has everything you will need to finish a book, right from the very first word to hitting "submit" for eBook publishing. Unfortunately, having so many features and options means it's not the most simplistic program.
If you have ever used booking writing software, I am sure you know what I am talking about.
Many users have reported that Scrivener for Mac is slightly easier to use and navigate than Scrivener for Windows, but it has a complex interface regardless. The good news is that you don't have to use every feature so it can be simplified if you'd like.
However you choose to go about using Scrivener, don't let the complex nature of this software turn you off. Once you have it figured out, you will be writing better than ever before.
2. Scrivener Requires Learning
Due to its complicated workings and many, many features, using Scrivener does come with a learning curve. You may be able to open up something more simplified, like Squibler, for example, and figure things out after clicking around for a little while. This is not the case with Scrivener.
While you can choose to just jump in and start clicking on things if you wish, you won't get anywhere too fast. There are many resources out there that can help you learn how to use Scrivener properly and effectively.
Of course, everyone learns differently, which is why Scrivener lessons come in many different formats: 
Books
Videos
Online training
Written tutorials
Interactive tutorials
3. Scrivener is Perfect for all Types of Writing
While writing a novel or longer book may seem like the most logical thing to use Scrivener for, it is not the only kind of writing that can benefit. If you just figured out how to write a novel, Scrivener is sure to help you.
Scrivener is just as useful for many types of writing: 
Short stories
Essays
Research papers
Screenplays
Comic books
Articles
And many more
Scrivener even comes with templates for all of these writing varieties. Just because you're not writing something with 30 chapters, doesn't mean Scrivener can't help you get organized.
4. Scrivener is Customizable
Scrivener has such an abundance of features designed for every style of writing that you may not find you want to use everything. If this is the case, you can rearrange Scrivener a little bit and make it more suited to your process.
You can customize it from General Preferences easily.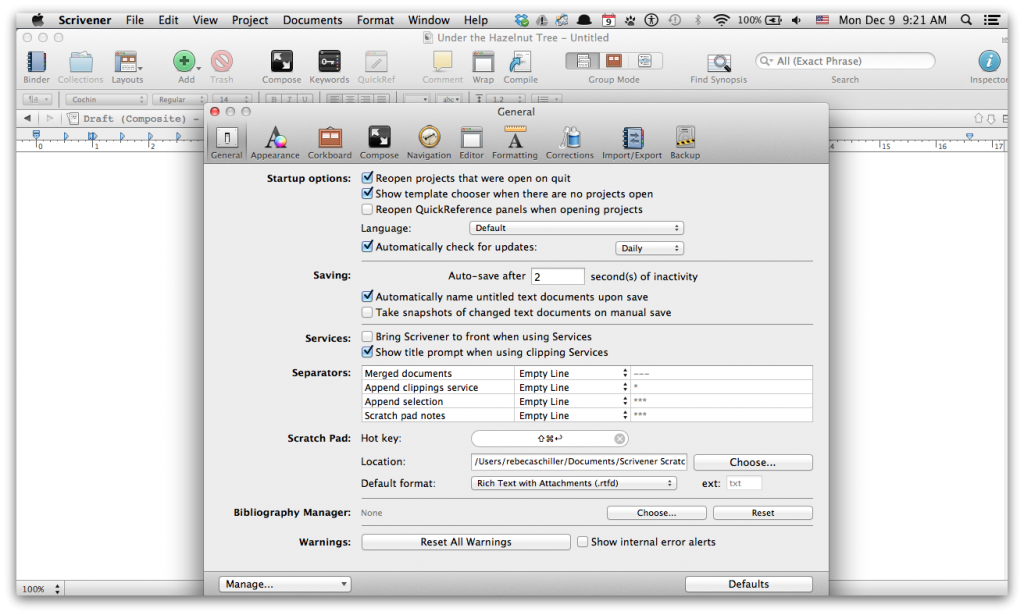 You can customize the toolbar itself. Pick and choose which options and tools you want to have readily available and eliminate the ones you will never use. 
There is also the option for a secondary sidebar. This is known as the "inspector" and can hold a lot of information.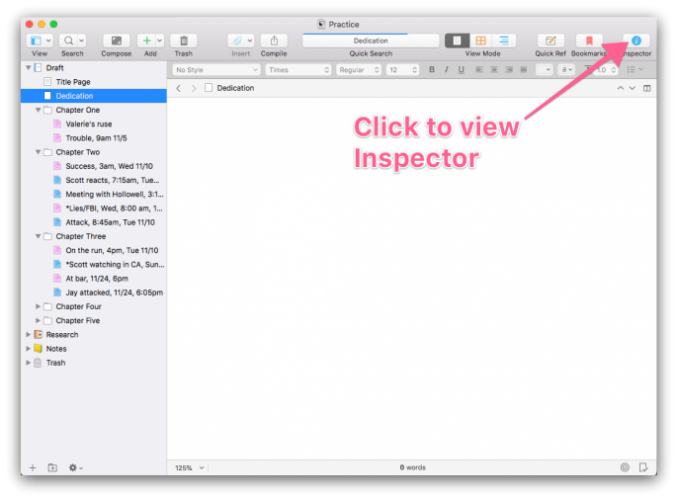 There are sections within it that can hold different types of notes for each chapter you have written. These notes can be detailed or simple and for some, they can be very helpful. Others may find no need for this secondary source of information, and they can choose to hide it completely.
5. Scrivener Covers Everything
Scrivener not only helps you organize your writing but it encourages you to engage in every step of the process that will create a successful book. This eventually helps you write a book from scratch.
Totally winging it can be fun sometimes, but at some point, you will need to sit down and figure stuff out. Scrivener has a solution for everything you will need to do to write that book.
Research
Scrivener has a lot of features in place to help and support your research process. The simplest way to set up your research is to add a "research" tab to your project in the binder.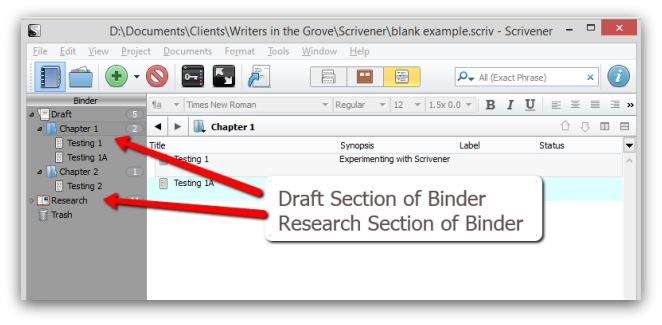 The binder holds your manuscript and organizes it by chapters and scenes. You can easily add a section to the binder that is dedicated to research only. Within this tab you can keep anything: 
Links
General notes
Images
Character notes
Setting notes
Historically relevant information
These are just a few things your research might entail. Scrivener can handle whatever you've got. The best part is that you can import existing files if you have started your research somewhere else.
Outlining
Whether you like to work off just a basic outline or you like to plan every single piece of your novel, Scrivener has tools for you. I used it even to outline my HR course online.
Everyone has different styles of working too so Scrivener actually has a few options for outlining depending on how you like to lay things out. 
The first and most visual tool for outlining is the cork board. The cork board is exactly as it sounds – it is a virtual cork board that truly resembles the real thing. It allows you to pin note cards onto a board.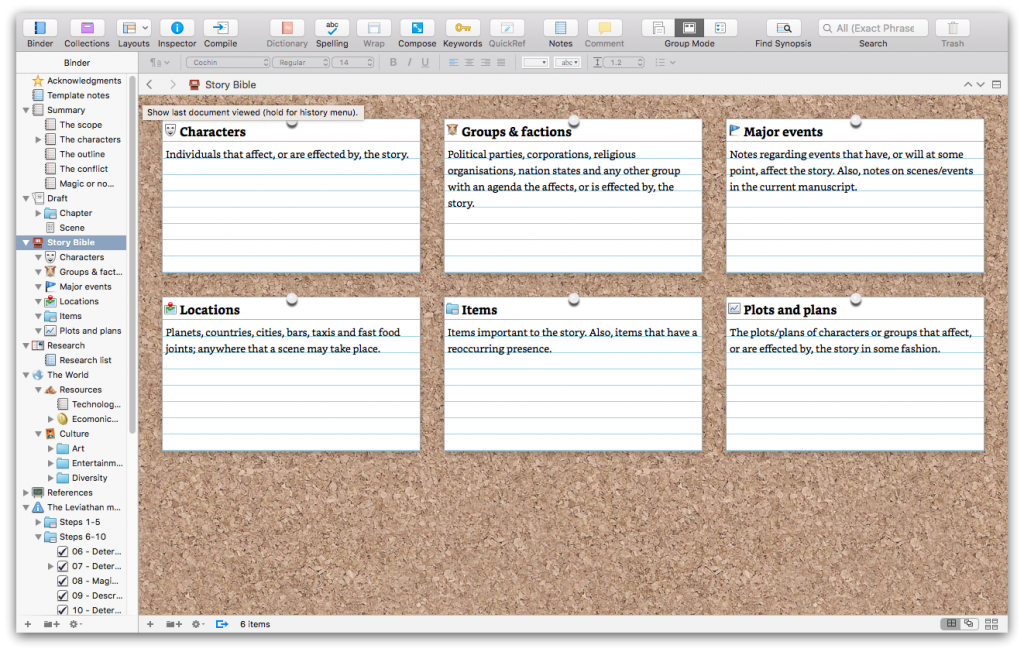 This can be used for different things – but one of the most common uses is creating an outline. The note cards are small so many can fit onto the board one after the other.
Unlike real-life note cards, however, these ones come with a scroll function. This allows you to put as much information as you want onto a single card without taking up too much space.
One way to outline here is to create a note card for each chapter and place them in chronological order on the board. Note cards can be rearranged at any time by simply dragging and dropping. 
Another option is to create a more linear outline on a simple document and place it in your binder.
Character Sketching
If you know how to write a novel, you will know the importance of character development. An important part of writing any story is coming up with your characters.
In order for a novel to be relatable and believable, the characters need to be strong and dynamic. This will require a little bit of thought and planning. 
Creating your characters can also be done on the cork board along with your outline or in a document of its own. You can simply add a "characters" tab to your binder or choose a Scrivener template that has a built-in character section.
Locations/Settings
Similar to creating your characters, you want to flesh out your settings and possible locations before you start. This is more important in some stories than others.
Some stories can take place in a very generic setting because the location is not relevant to the plot. Other stories need a lot of detail and accuracy as the location is extremely important – historical fiction is a good example of this.
Creating a tab for setting and location information is easy and effective. The cork board can be used for this as well.
Brainstorming
Not everyone brainstorms, but if you do, Scrivener is a great place for it. Easily create a tab in your project binder for brainstorming and start taking those notes. 
Brainstorming can be anything – anything that even might add to the story, write it down! This can include: 
Random thoughts
All ideas – big and small
New characters
Possible settings
Potential plot points
Random pieces of dialogue that don't fit into the story yet
Brainstorm everything onto one document, or break the brainstorming tab into many sections and keep it organized – whatever works best for you.
6. Scrivener Will Help You With Publishing
Scrivener is not only designed to help you through every step of writing your book but it offers some support if you want to go ahead and publish after you've completed writing. There are two areas where Scrivener can offer assistance.
Compiling
Once you have your manuscript done exactly the way you want it, Scrivener helps you compile it properly.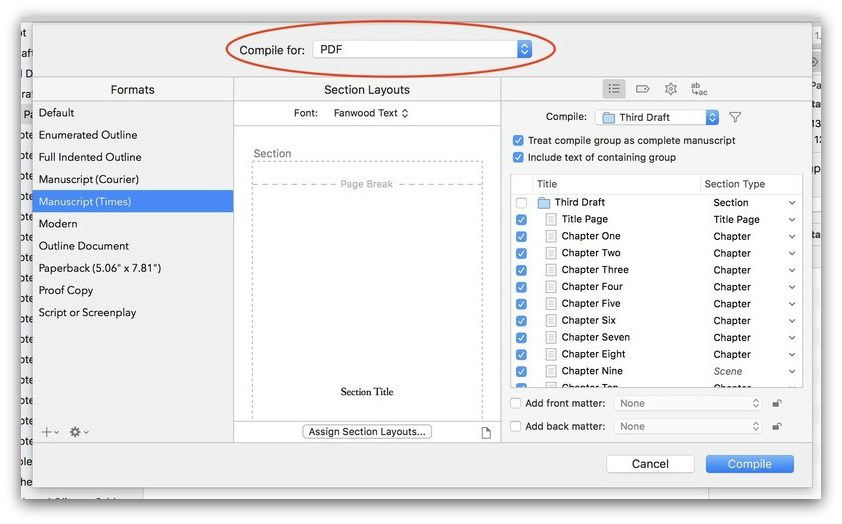 The process can be long and complex but that is because it is comprehensive. There are a lot of steps but it allows you full control over your entire manuscript – you make all the decisions.
Exporting
Once your manuscript is compiled exactly to your liking, Scrivener offers a few options for export. You can format it for both Amazon Kindle and Apple iBooks.
If there is another platform you are hoping to publish to, there is also a third, more universal choice. This step will include filling out a few more options and selecting some preferences, and then you'll be ready.
There is the option to preview the file before you do anything with it so you can ensure you are satisfied. 
Once you are happy with everything, your book is ready to be submitted – it will be formatted correctly for most submission guidelines.
Alternately, you may be interested in going down the path of self-publishing your book. This can be a long process, but the formatting you've done in Scrivener will have you off to a good start.
7. Scrivener is Cost-Effective
Scrivener is not available for free, however, it is very budget friendly. A lot of book writing software out there are expensive or require a monthly fee to maintain access. Scrivener is a little more reasonable.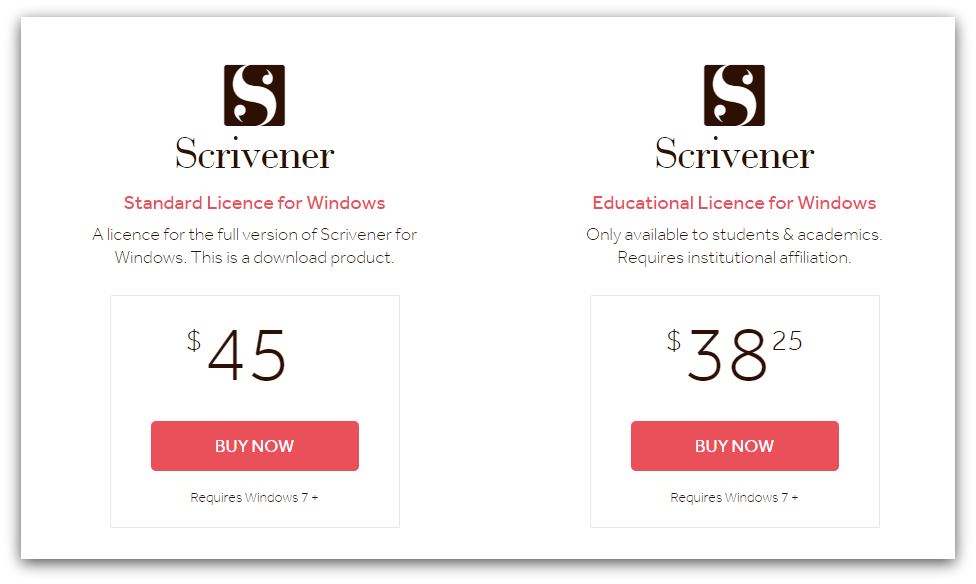 You can purchase a single copy of Scrivener for $45 USD. Discounts are available if you are looking to purchase the software in bulk. The price per copy of Scrivener goes down the more you want to buy.
For example, buying 10 copies gets you about $5 off each copy, but buying 250 or more cuts the price per copy in half. 
The volume discounts can be great for schools who want to purchase the software for their students to use. Scrivener is extremely useful for writing novels and other books, but it can increase productivity in essay and report writing as well.
8. What Scrivener Doesn't Do
Scrivener is amazing and helpful in a lot of ways, but it doesn't do everything. Thankfully, there are other great writing software out there that can assist you in the areas where Scrivener may lack.
Scrivener Doesn't Help You Edit
Scrivener doesn't do much to help you with the editing process, and you can't publish a book without editing it first.
Of course, you can do your own editing within Scrivener – this is simple. Unfortunately, it does not come with much support. It does include a basic spell check function but that's about it. 
There are many elements of editing that Scrivener will not help you with: 
Grammar
Punctuation
Readability
Word choice
Sentence structure
These are all things that you can do yourself, and many try, but it is time-consuming and sometimes it helps to have another set of eyes look it over.
Professional editors are sometimes necessary, but they are extremely expensive. Fortunately, there are programs out there that can scan your writing for things like readability and word choice like Grammarly, Hemingway app, and Prowritingaid.
Scrivener Doesn't Post for You
Writing software like Scrivener isn't just for novels and long books. Scrivener can be used by bloggers and online influencers to create their content as well, however, there is no integration with online platforms like WordPress or Medium.
Once you have completed your piece of writing, you will have to either copy-paste or import the file to wherever you would like to post it online. 
This is not a huge inconvenience and only requires a few extra steps, but it is an important thing to note if this is the type of writing you plan to do with Scrivener.
Now You're Ready
Scrivener is a powerful tool for writers of all types. It helps you stay organized and gets your job done more quickly and effectively. It guides you through every step of the writing process.
Now that you've learned about some of Scrivener's features and benefits, you are ready to begin. Learning Scrivener is not a fast process, but it is one that will be worth it.