As a business grows and its processes become more complicated, it needs to start organizing it all. Organizations start to develop process documentation to help maintain processes, train new employees, and find more efficient ways to do daily tasks. 
It's important to keep track of all the procedures in place because you never know when you might need a change. It may be due to a key employee leaving or your scaling efforts may require a different approach. 
In any case, good process documentation can fill the gap that can help you scale your business efficiently. 
In this article, we'll go over some process documentation templates for different kinds of documents. 
Let's dive right in. 
4 Process Documentation Templates that You Can Use 
There are several kinds of process documentation examples, such as standard operating procedures (SOPs), performance reviews, and service delivery processes. 
You can find ready-made templates for all process documentation in various styles. The following are four places online where you can find the best templates. 
1. Venngage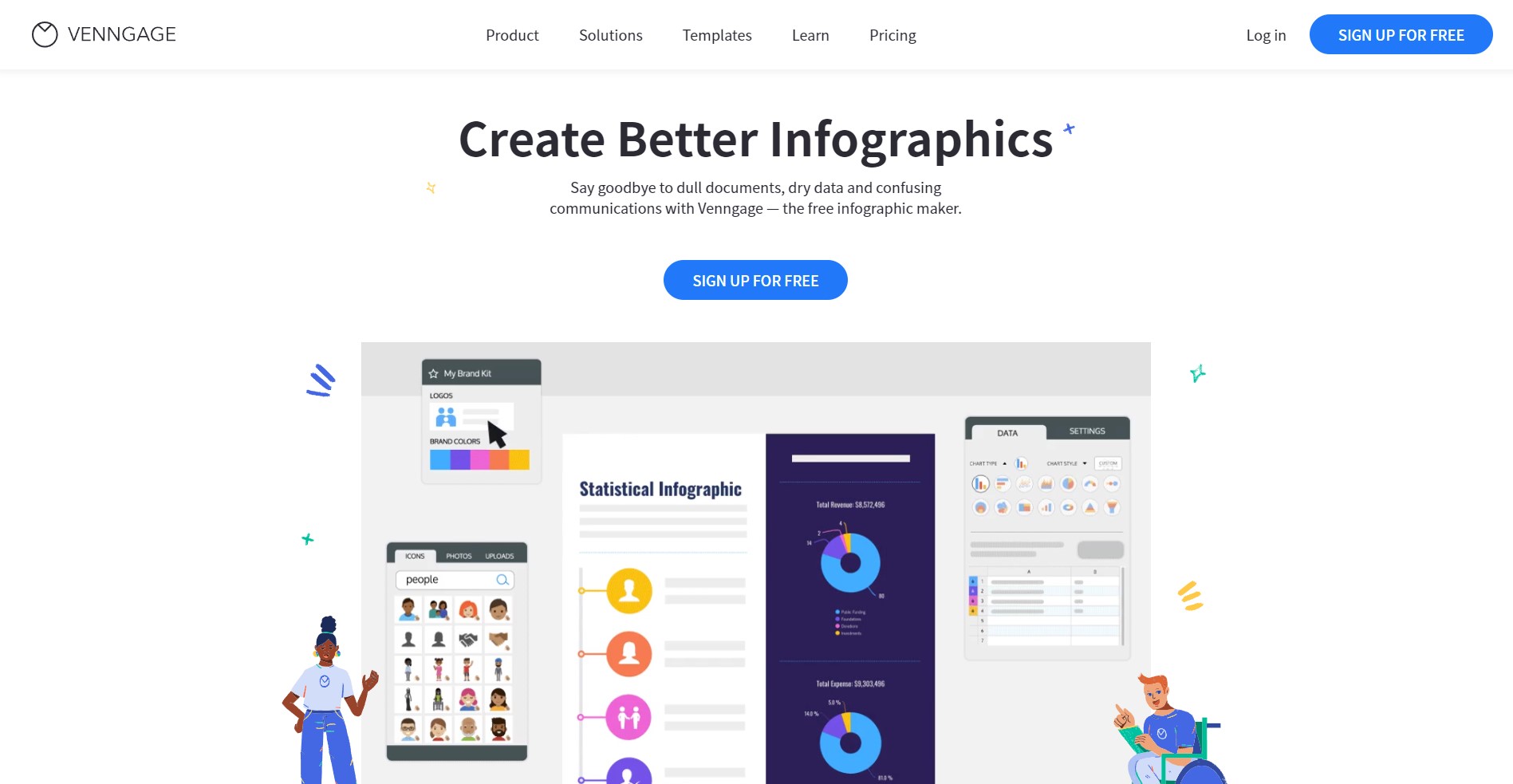 Venngage is a massive online tool for creating infographics, charts, designs, and documentation. 
The site provides tons of templates that help users create what they need easily and quickly. 
You can make use of their easy-to-use editor to create your designs and documentation. 
Currently, you can easily find templates for the following kinds of process documentation. 
Client account collection escalation process 

Pre-event marketing checklist 

Brand kit 

Standard operating procedures 

Employee expense claim process 

Project management workflow diagram 

Order processing workflow 

Client marketing strategy workflow 

Disciplinary process flowchart 

Digital marketing campaign checklist 

Remote monthly SEO checklist 
The examples above are only some of the templates that you can find on Venngage. 
There are different styles of process documentation but Venngage focuses on workflow, flow chart, and checklist templates. 
On top of that, they also provide templates for people that are not used to Kanban and Sprints. 
For that, they provide Microsoft Word templates for process workflow. They also provide a Google Docs flow chart template. 
All you need to do is figure out what format is best for you. For that, consider describing your process to see how it can best be brought to life. 
When you figure out the best way to visualize your process, choose a template and start customizing it. 
Keep in mind that each template is extendable and scalable. You can also merge multiple templates to create more complex process documentation. 
If you already have a text document that details your processes, it's better to visualize it using Venngage's flow charts, checklists, and workflow diagrams. 
You can find out more about Venngage's process documentation templates here. 
2. Nuclino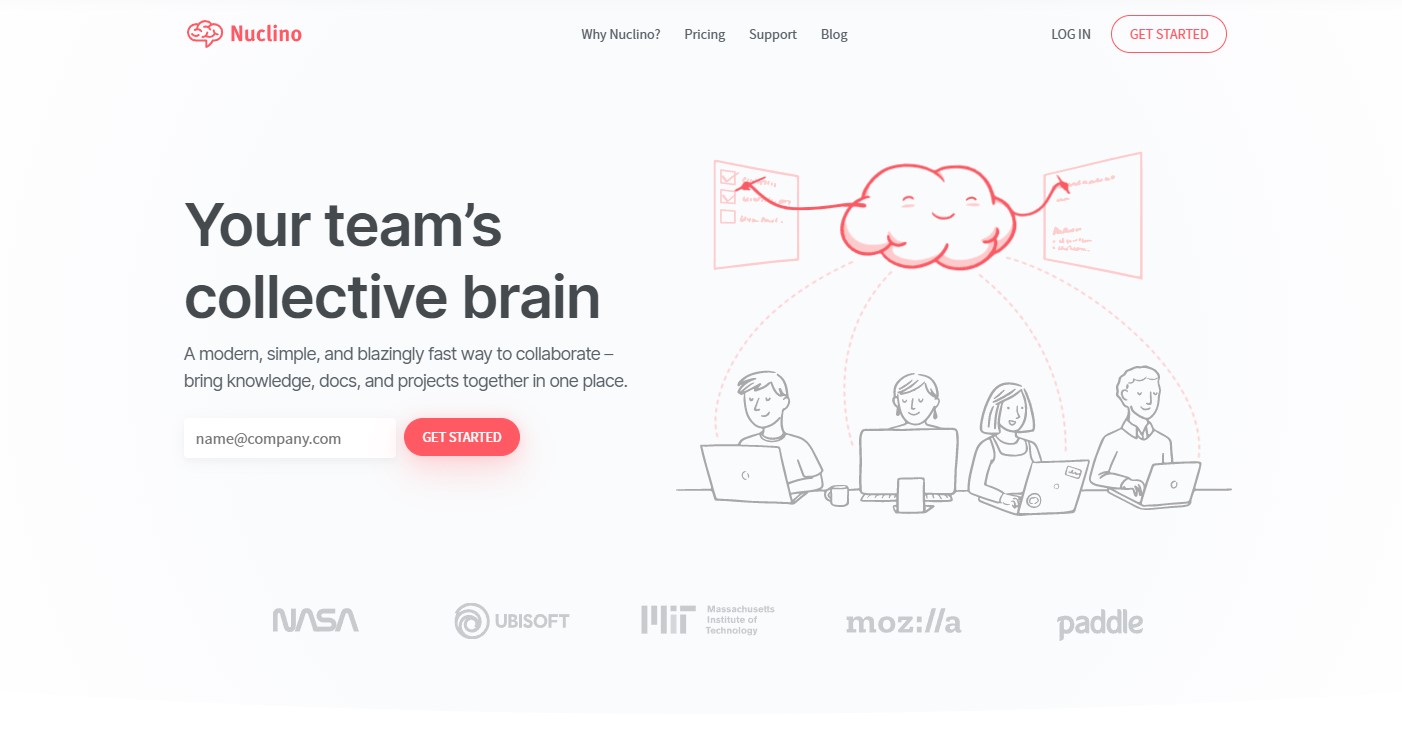 Nuclino is a platform for collaborating using shared knowledge, docs, and projects. It allows teams to centralize their efforts to improve collaboration efficiency. 
They provide complete templates for process documentation, including text and graphic templates. 
That includes templates for policies, tutorials, checklists, forms, and screenshots. A few key process documentation templates you can find on Nuclino include the following: 
Standard operating procedures (SOPs) 

Performance reviews 

Service delivery process 

Billing and collections process 

Customer complaint resolution process 

New employee onboarding 

Equipment inspection and maintenance procedures 
Their focus is on keeping the documentation consistent in format, style, and level of detail it has. 
Since most companies use the same template for their processes, Nuclino provides standard one-size-fits-all templates. 
For example, here's how their typical SOP template goes: 
Heading/title of the SOPs 

Version number 

Name of the person who approves the SOPs 

Date of submission 

Purpose of the SOPs, including a simple statement 

Scope of the SOPs to describe where they apply 

Definitions and acronyms 

Procedures in detail using hierarchical checklists and flowcharts 

Related resources that provide relevant references and links 
Furthermore, you can also easily maintain and edit your process documentation to keep it up to date. 
It's a great tool for creating your process documentation from scratch. 
That's because you can make use of both the document and the accompanying template flowcharts and graphics. 
You can check out the templates at Nuclino here. 
3. Creately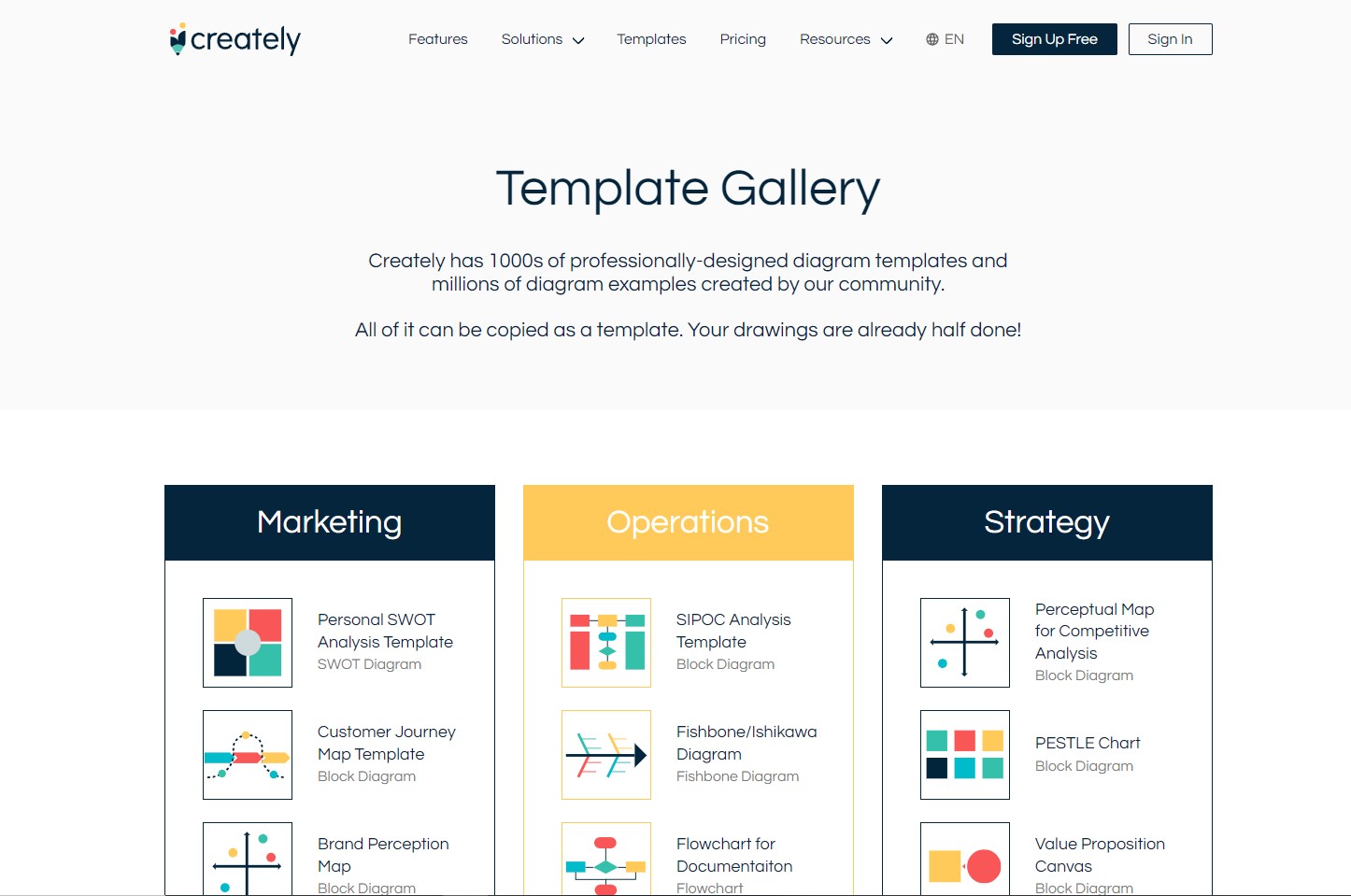 Creately is an online visualizing tool that allows users to think and plan visually, collaborate remotely, design systems & flows, and strategize. 
You can find thousands of custom-built diagram templates, process documentation templates, and mind maps on the site. 
Furthermore, you can also differentiate among the templates according to different departments. 
You'll find different process documentation templates for: 
Marketing 

IT and networking 

Product 

Operations 

Human resources (HR) 

Engineering 

Strategy 

Education 
Therefore, you can easily find process documentation templates for whatever process you want to document. 
Furthermore, the following are some common templates you can find. 
Policies 

Tutorials 

Forms 

Checklists 

Links to other applications 

Screenshots 

Process maps 
The only downside of Creately is that its primary focus is on visualizing processes. 
That means you'll find tons of templates to showcase processes in flowcharts, checklists, and using graphics. 
However, you still need to complete your document by adding the necessary text information. 
Therefore, the tool is best for companies who already have their process documentation draft and are looking to visualize it. 
Alternatively, you can start the process documentation procedure using Creately too. 
Brainstorm and come up with the process flowchart using any of the templates on Creately. 
Once you have the process visuals, you can start working on the rest of the documentation, explaining each step in detail, along with other information. 
You can check out the process documentation templates at Creately here. 
4. Guru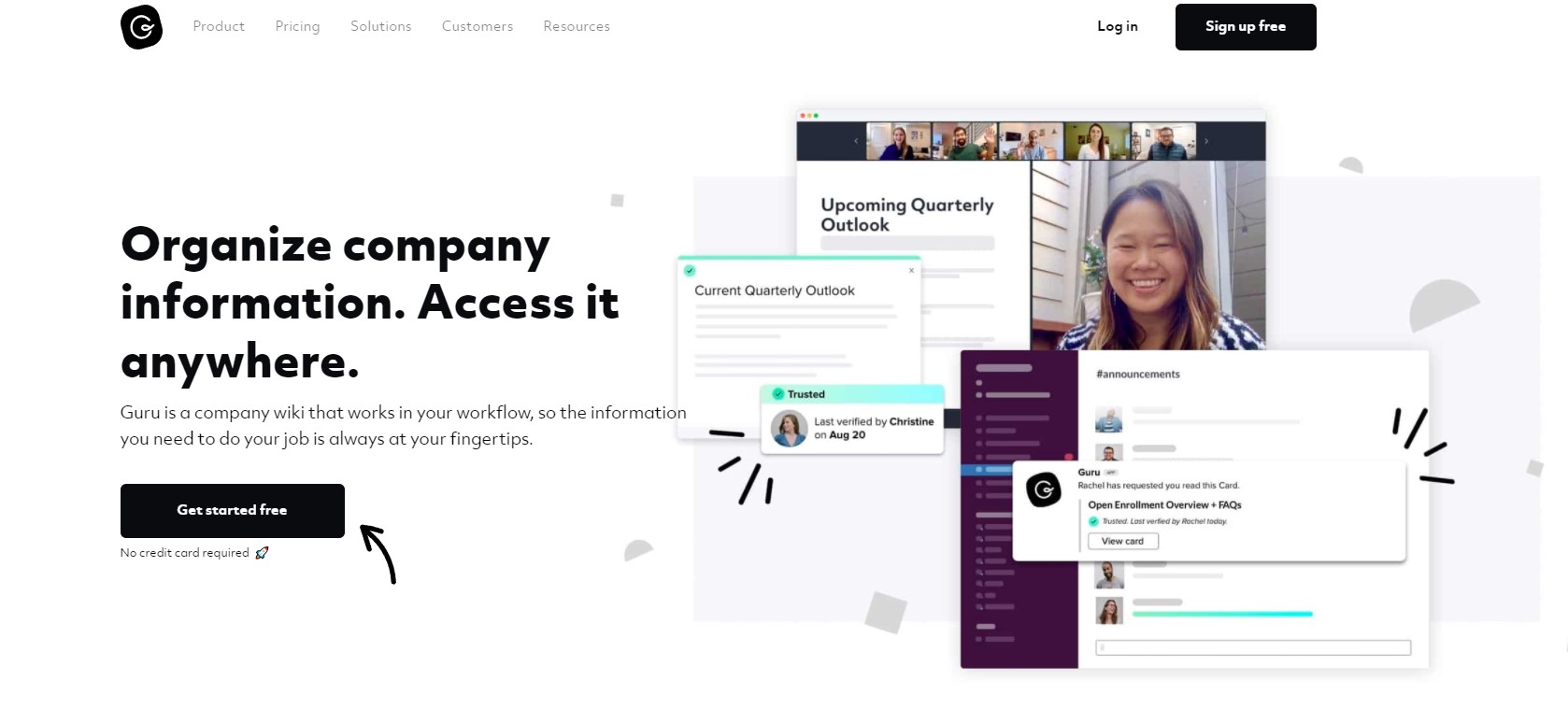 Guru is an online company wiki that allows companies to secure their information online. That includes your company information, workflows, and process documentation. 
You can use the platform to share critical product information with relevant stakeholders and team members. 
It also allows for fast onboarding, better internal communications, and various search functions. 
Users can utilize several templates on the site. Among them, there are also several process documentation templates. 
While the templates lay down the format for process documents, they also provide tools to visualize relevant data. 
In any case, here's what their typical process documentation template looks like: 
Process name 

Purpose of the process in one sentence 

Related resources to help understand the process, including links, sister processes, and examples. 

Summary of the process document, preferably in one sentence. 

How-to part of the document that includes the step-by-step instructions. Each step needs to be assigned to an owner. 

The process owner section includes additional information and contact information. 
Guru also provides a complete tutorial on how to use their templates. 
They also provide information on process documentation, including the steps to creating your documentation. 
It's a good option for a company that's developing process documentation for the first time. 
You can check out Guru's process documentation templates here. You can check out their entire template library here. 
Wrapping It Up 
Creating process documentation is essential for every company, whether it's an enterprise, SME, or startup. 
You not only centralize company data and keep it secure, but you also get ready and quick access to it. 
That allows employees to work more efficiently. Meanwhile, it makes it easy to onboard new employees or share information with relevant stakeholders. 
On top of that, it allows companies to consistently and continuously improve processes. 
It's easy to follow the concept of Kaizen or continuous improvement when there is detailed information on each process. 
Therefore, utilize the process documentation templates above to develop your own documentation. However, make sure you choose the right format and template, according to your industry and organization.