Process documentation is the collection of step-by-step instructions on how to complete any business process. A company must maintain a directory of its business processes to track and record company information. 
Creating process documentation means writing down the exact steps and procedures, along with the tools. This can be a hectic task; therefore, organizations utilize process documentation tools and software to maintain this information. 
In some industries, process documentation is also called the standard operating procedure (SOP). 
In this article, we'll go over some of the best process documentation software in the market today. 
Let's dive right in. 
5 Best Process Documentation Software 
There are a lot of process documentation and business process documentation tools in the market today. It can be hard to decide what's the best one for your organization. 
Therefore, here are a few things to keep in mind when determining the best process documentation tools for your company. 
Consider the total number of users in your company because most software charges per user per month. 

Note down why you might need the software. Some use cases may be outlining current processes, making processes more efficient, doing process comparisons, and testing bottlenecks. 

Take a look at the automation features to see how efficient you can be. For example, you may look for advanced modeling features, pre-built process connectors, automated task management, real-time analytics, and machine learning. 

Check out all the collaboration features that will assist communication efforts among coworkers and external stakeholders. For example, some companies emphasize real-time communication over asynchronous communication. 

Consider the integration support and how many third-party integrations any software supports. You'll need to integrate invoicing tools, accounting software, CRM, email platforms, project management tool, document management tools, and even analytics software. 
The points above should allow you to choose the ideal process documentation software to document processes at your organization, regardless of your company size. 
Moving on, the following are some of the best process documentation software solutions you can choose from.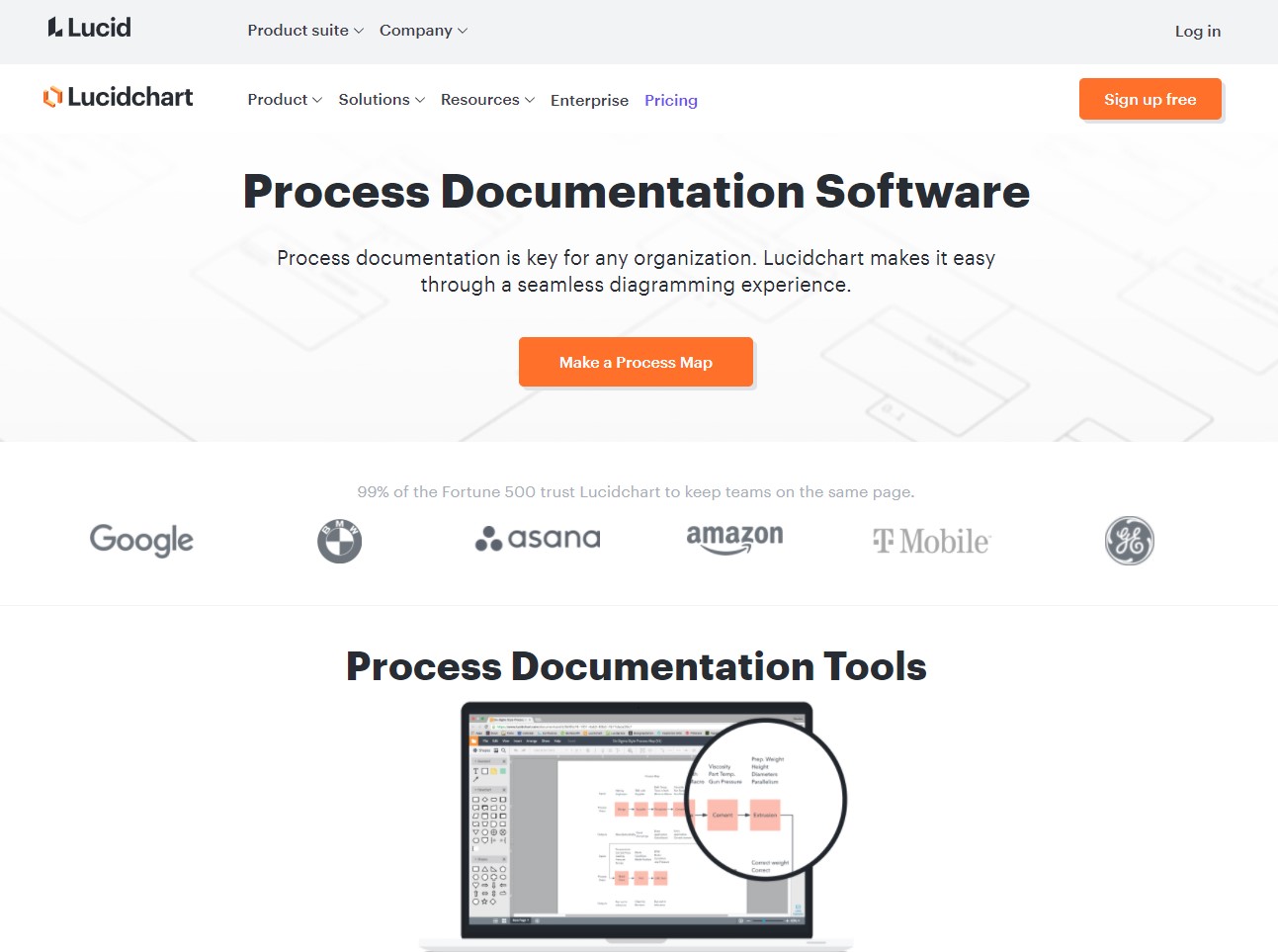 Lucidchart is a well-known intelligent diagramming application that offers a business visual process management tool. 
It has an extremely intuitive and user-friendly interface, cloud capabilities, and step-by-step mockups to assist users. 
The fully automated diagramming tool offers a drag and drop builder that is easy to master. Users can create complex technical diagrams, simple flowcharts, and practically all sorts of processes. 
Using various integrations, users can also import data or connect live data to create and build organizational charts, ERDs, and various other visuals. 
It has excellent collaboration features, allowing multi-level communication with fellow users. Other small features like the ability to directly leave feedback or comments in a document help make matters more efficient. 
On top of that, every user in the organization has an array of formatting tools and capabilities. It allows them to customize each diagram according to their needs. 
Creating process documentation can be a hard task if you need to design everything. However, Lucidchart eliminates the need for design, allowing users to only focus on ensuring they have their processes right. 
Key Features 
The following are some key process documentation tool features of Lucidchart. 
Various diagram templates, including circuit diagrams, fishbone diagrams, and PERT charts 

Real-time collaboration features 

Integration with G-Suite, along with Microsoft Word and Visio import/export capabilities 

Fully-functioning iOS app with drag and drop interface

A free version is available to help users adjust to the software 
Users can try out the software in its entirety before making a buying decision. 
Pricing 
Here's a breakdown of Lucidchart's pricing. 
Free version with 100 templates and 3 editable documents – Free 

Individual plan with unlimited documents and 1000+ templates – $7.95 

Team plan with advanced collaboration and integrations – $9.00 per user per month 

Enterprise plan with admin controls, SSO, and advanced automation – Custom pricing 
You can continue the free plan indefinitely without having to pay anything. 
To learn more about Lucidchart, you can go here.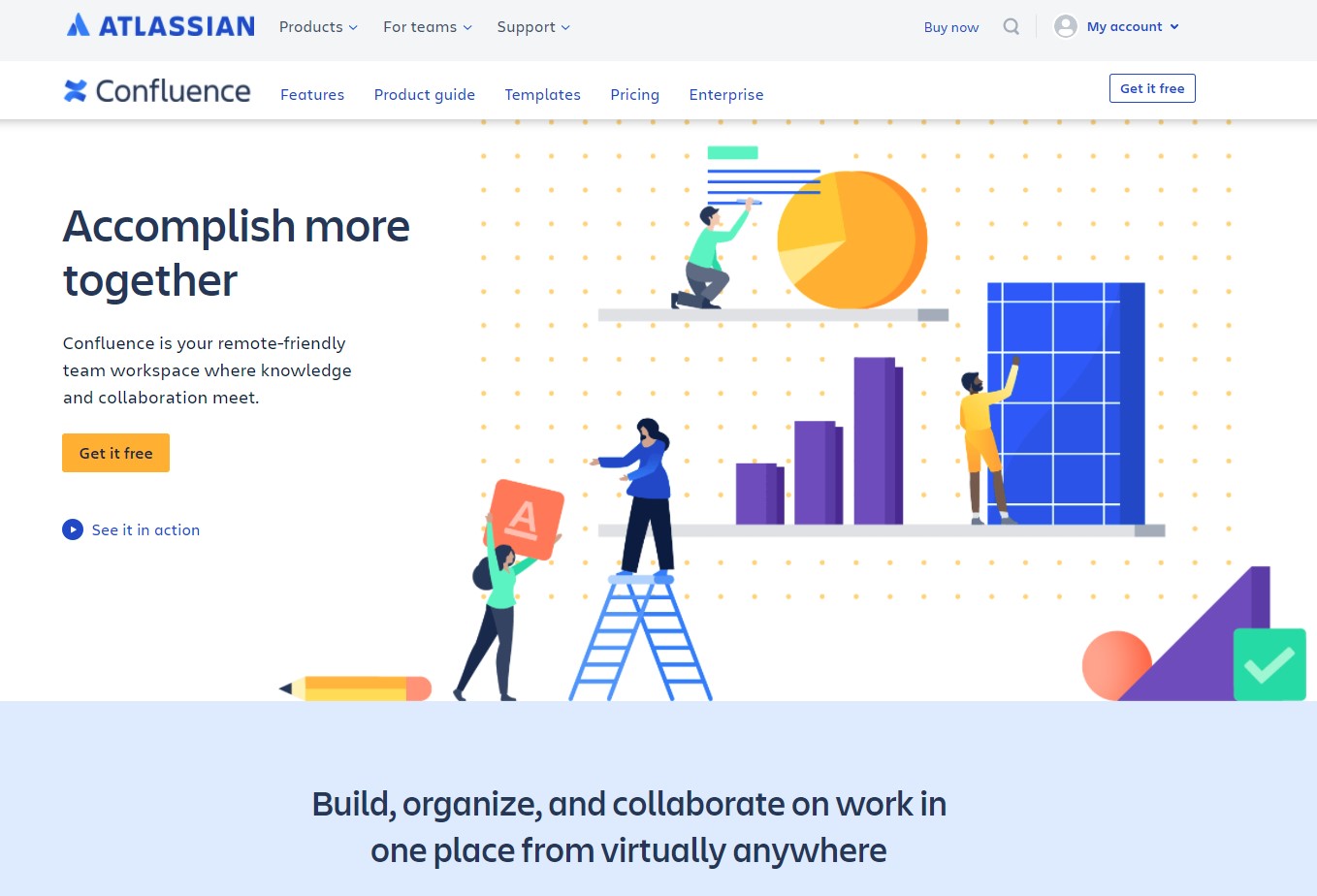 Confluence by Atlassian is a collaboration software that has a robust business process documentation tool. It allows teams to create, share, edit, and save process documents from a single dashboard. 
Each business process needs a separate process document. That's why a lot of companies find it hard to document processes. However, Confluence simplifies the process by offering to standardize business operations and set up a different process documentation project for each department. 
That helps improve process efficiency as team members can create process maps. The process map can be in PDF formats, image form, or even Google Docs. Users can track each version of the document and all the changes made to any page. 
If you connect it to Jira, it will help provide additional insights. That includes all the development work with quick issue creation, reports, and automatic linking. 
Furthermore, as process complexity increases, Confluence offers other tools. For example, users can leave feedback on documentation through a page, inline, and file comments. 
On top of that, users can individually check process timelines. This helps automatically create process reports reducing operational costs. 
It also doubles as a process management tool so users can assign and distribute tasks. Each project can receive full visibility, real-time reports, and oversight through visual representation. 
The software can also support knowledge base interfaces to maintain all company knowledge. Combining the two tasks ensures all your company information remains centralized and secure on the cloud. 
Key Features 
The following are some key process documentation tool features of Confluence. 
Remote-friendly with several collaboration tools with the ability to delegate tasks 

Built-in knowledge management to facilitate explosive growth 

Modern intranet system that improves project collaboration among different departments 

Various templates for creating process documentation 

Integration-friendly to help companies centralize organizational knowledge 
Users can make use of custom templates for all core processes, including new employee onboarding, sustaining excellent service delivery, dedicated support, and even a user manual. 
Pricing 
Here's a breakdown of Confluence's pricing. 
For up to ten users per month – Free 

Standard plan with 1-100 users with more support – $5.50 per user per month 

Premium plan with 1-100 users and additional features – $10.50 per user per month 

For companies with more than 100 users – Custom pricing 
You can continue the free plan indefinitely without having to pay anything. 
To learn more about Confluence, you can go here.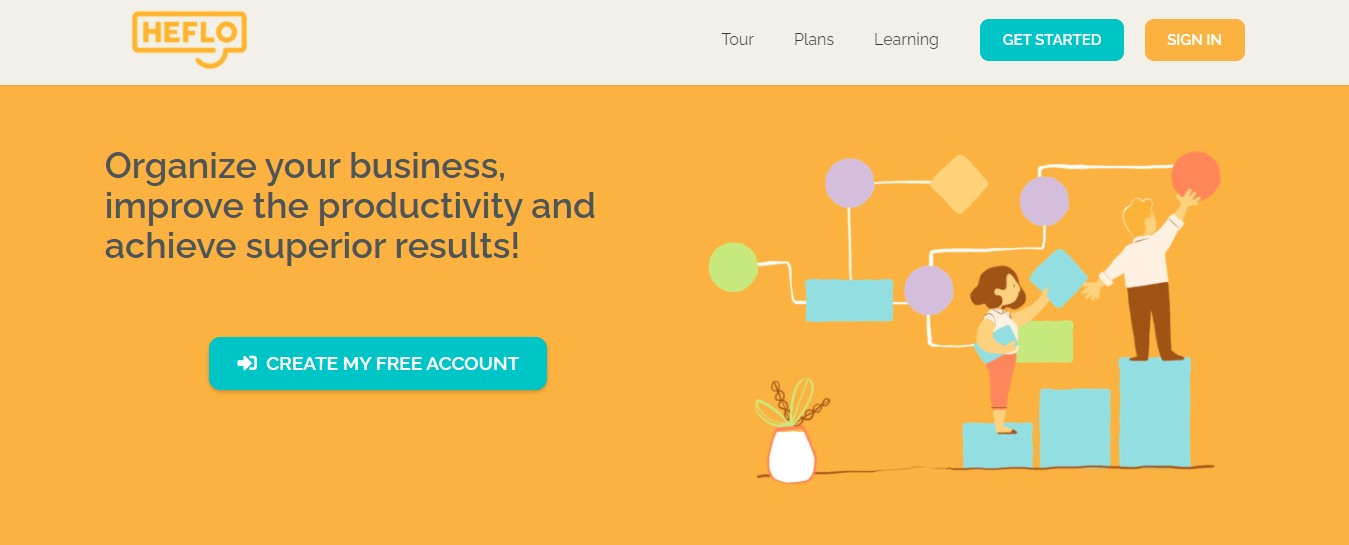 Heflo is a visual process management software that provides a business process management (BPM) suite to users. Every team loves visual representation of processes, making Heflo an ideal tool for them. 
It's a cloud-based tool that allows documenting processes in real-time from anywhere. Users can also add publications, give approval, and provide feedback on documentation. 
Furthermore, Heflo has an intuitive user interface that provides quick access to all your processes. Users can easily define each process, set responsibilities, and set up deadlines. 
After all the process inputs, users can assign certain tasks and view all the progress. To check how it's going, there are several visual reports and different ways to view the data. Using that data, users can create simple flowcharts. 
Depending on how you want to use the software, users can adjust their plan settings. If you need it for your entire organization, you'll be able to automate, control, and scale business processes. 
Since you can automate specific process steps too, it allows users to create efficiencies where there's a requirement. That makes it a great tool for small businesses too that are looking to start documenting their processes, becoming a more productive business. 
Key Features 
The following are some key process documentation tool features of Heflo. 
Complete modeling and documentation on the cloud, eliminating the need for Word documents 

Automation options and complete control over operations allow task management and better process information 

Educational material provides free training 

Task management leads to better employee engagement 

Clean UI makes documentation easily accessible at all times 
Having all your process knowledge in one easily accessible dashboard is a huge boost to productivity. 
Pricing 
Here's a breakdown of Heflo's pricing. 
Academic plan for people learning how to diagram – Free 

Business plan for companies looking to scale – Starts at $10.00 per month 

Enterprise plan for large organizations – Custom pricing 
You can continue the free plan indefinitely without having to pay anything. 
To learn more about Heflo, you can go here. 

Bit.ai is a modern process documentation software that also has a robust knowledge management tool. 
It's ideal for companies looking to store all company knowledge in one place, allowing teams to collaborate, track, manage, and share relevant documentation. 
Compared to a Microsoft Word document, Bit documents are more interactive, allowing users to plug in their Google drive, videos, PDFs, slides, and audio. 
The software can support process documentation, training manuals, SOPs, sales prospecting, and more. Users can deliver documentation on any given process with additional context, content, and media. 
Furthermore, multiple collaborators can simultaneously work on documents together, making it ideal for remote workers. Since it keeps all documents up to date using different document versions, you can also revert to other versions. 
The software also has a robust permissions management system that is adjustable according to organizational hierarchy. On top of that, there are tools like document tracking that allows for real-time updates, regardless of whether you're using computers or mobile devices. 
Key Features 
The following are some key process documentation tool features of Bit.ai. 
Easily create documentation and notes, and utilize document tracking for different versions 

Client portals allow clients with permission-based access to relevant documents 

Knowledge base tool allows companies to create in-house and external Wikis 

Data rooms allow for better data management 

Website embed allows direct control from your website 
The best tools always allow for multi-task management in a single software/dashboard.  
Pricing 
Here's a breakdown of Bit.ai's pricing. 
Free plan with up to five members and 50 documents – Free 

Pro plan with unlimited members and documents – $8 per user per month 

Business plan with trackable documents and unlimited storage – $15 per user per month 

Enterprise plan with success manager and dedicated servers – Custom pricing 
Annual payments tend to have a discount on them. On top of that, educational companies, non-profit organizations, and startups can get special pricing. 
To learn more about Bit.ai, you can go here.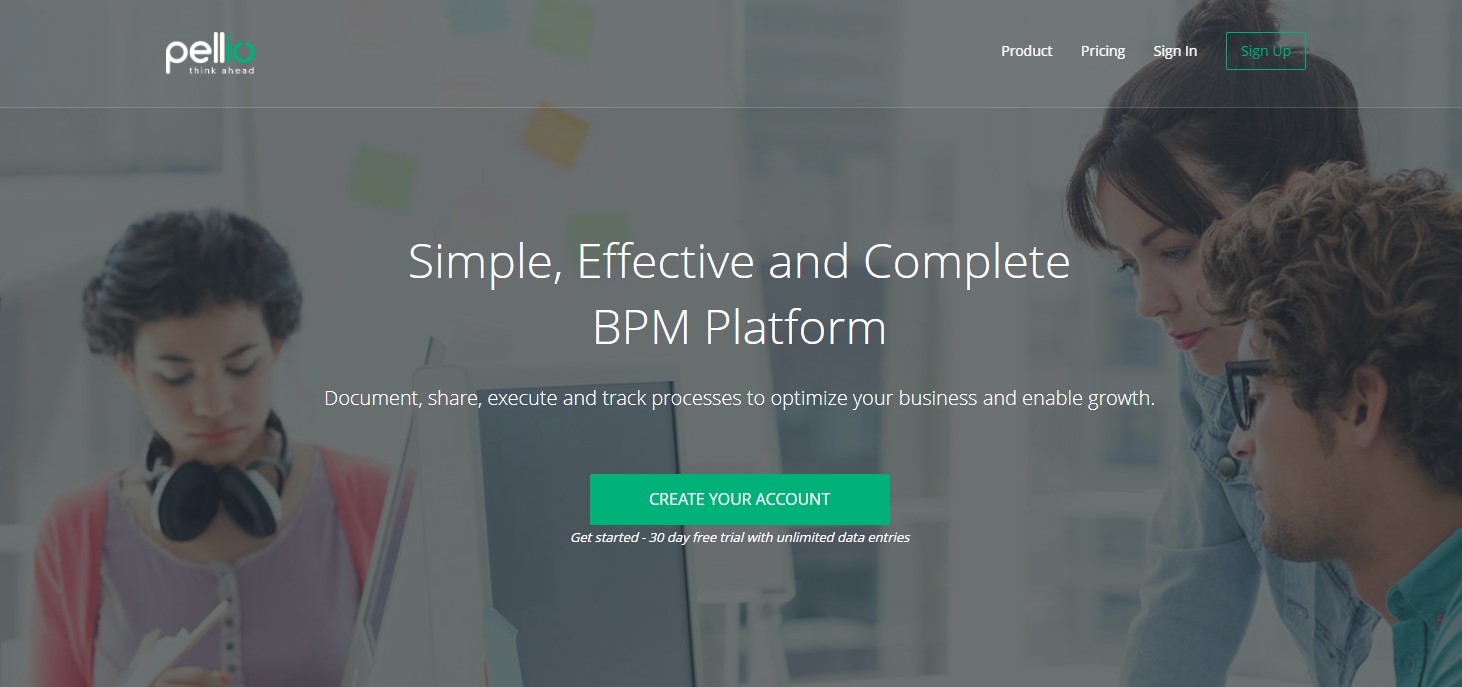 Pellio is a quick process documentation tool that simplifies the documenting process into three steps. 
It's only a matter of time before companies start to make process documentation more efficient. Pellio provides that option in the form of an easy-to-use text editor that supports videos, attachments, images, and HTML. 
The simple dashboard provides a clear view of customized dashboards for each employee. Companies can preset tasks based on employee positions using forms. 
That allows team members to start working immediately with little lag. It also helps a lot when onboarding new employees as they can quickly understand what to do and how along with what order they need to do it in. 
Furthermore, the software gives managers the autonomy to create departments, set permissions, and add or remove users. They can also have a central view of all employees, tasks, and processes in real-time for progress updates. 
Using the data, users can generate in-depth reports on any given process. That allows them to see how they can improve and refine each process, thus improving the company's efficiency. 
Key Features 
The following are some key process documentation tool features of Pellio. 
Users can create process documentation in three simple steps 

It's easy to share the workflow with excellent admin features 

Intuitive and personalized dashboards improve efficiency 

Real-time task and document tracking 

Automatic in-depth report creation 
The ability to include clients and external stakeholders as users are extremely beneficial. 
Pricing 
Here's a breakdown of Pellio's pricing. 
Lite plan with 300 data entries per month – $15 per month 

Startup plan with 1500 data entries per month – $47 per month 

Pro plan with 4500 data entries per month – $97 per month 
There's a small additional fee for every additional data entry. 
To learn more about Pellio, you can go here. 
Wrapping It Up 
Each organization needs to create process documentation to figure out how they can become more efficient. Only then can a company scale at its full capacity. 
When choosing a process documentation software, make sure you go over your organizational needs. Take a look at the factors above to make the right decisions. 
Most importantly, make sure the software can easily integrate with the rest of your systems and tools.